We are the country with the most negative view of its own tourists
An international YouGov study shows that tales of British rowdiness overseas are now part of the popular consciousness; Britons are the most likely among 26 countries to take a negative view of their own tourists.
More than half of us (57%) hold an unfavourable opinion of British tourists, and just 29% take a positive view.
We are, in fact, the only country that feels so much more negatively about our own tourists; the next comparable country is Germany where the 43% who think Germans behave badly on holiday is largely matched by the 40% who think their brethren give their country a good name.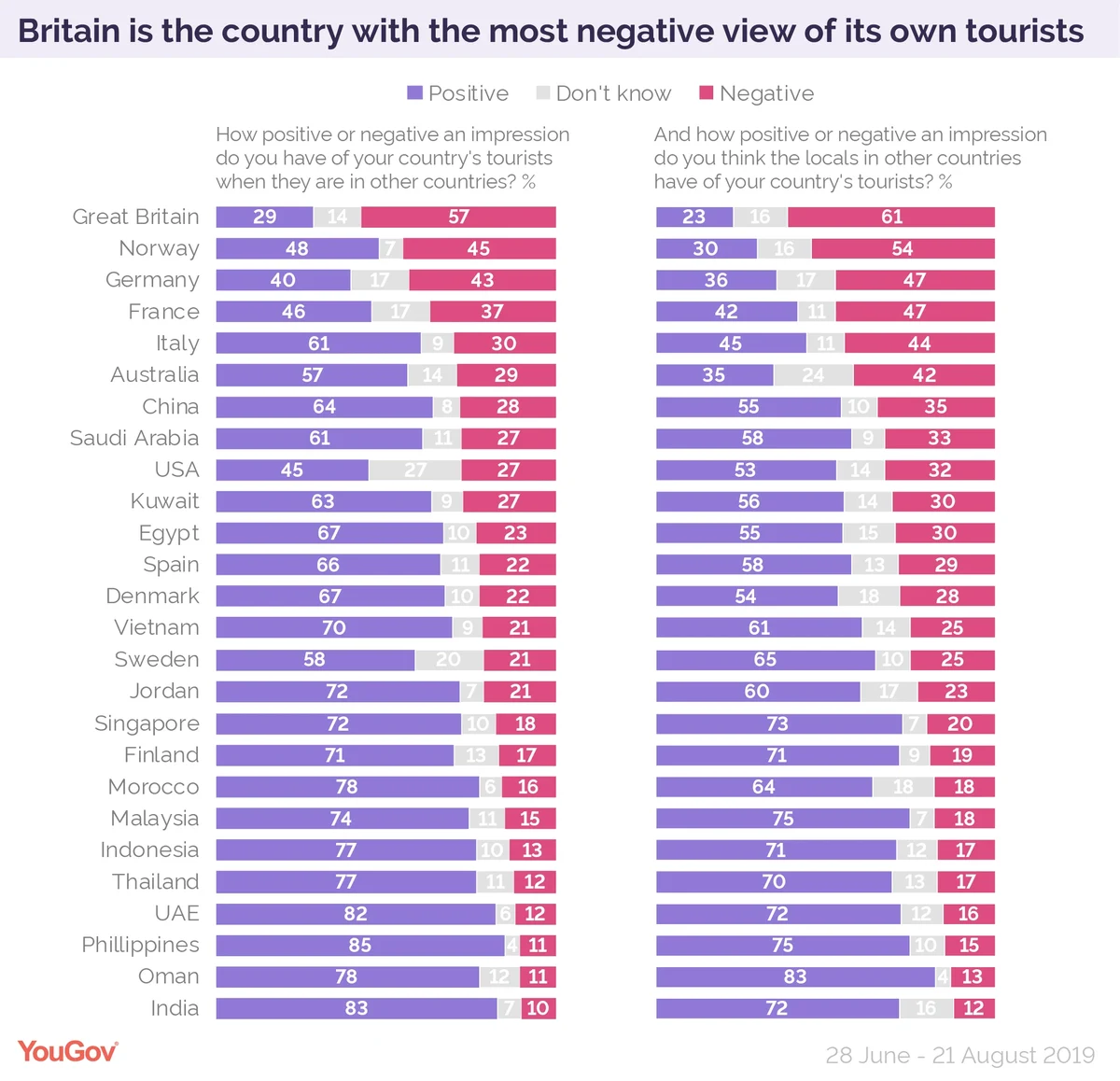 These figures are a far cry from those from the Philippines, where a whopping 85% hold a favourable view of Filipinos vacationing abroad and only 11% feel the opposite way.
Unsurprisingly, Britons are also the most likely to think that the locals in foreign resorts also take a dim view of our holidaymakers. More than six in ten (61%) think that residents have a negative opinion of British tourists, and only 23% believe that we are gladly received by natives.
We are joined in this by the French (54% of whom think their own nation's holidaymakers are an irritant to the locals, compared to 30% who do not), Germans (47% versus 36%) and Norwegians (47% versus 42%).
Again, at the other end of the table, Filipinos are the most likely to think their tourists are greeted with a smile (83%).
Britons' belief that other countries take a dim view of our tourists is hardly unfounded. Asked to name up to three countries from which the worst tourists originate, almost half of Spanish people (46%) named Britain.
We also topped the list in Germany (39%) and also in our own country (23%). We in Britain are only marginally less likely to hold a negative view of American tourists (22%).
Also unpopular among Europeans are Russian tourists, particularly in Denmark, Sweden, Finland and Norway, where they top the list (at between 24% and 38% in each nation), as well as Germany where 36% of people named them among the world's worst tourists. Germans themselves were also frequently cited by other Europeans (including themselves) as being among the worst tourists, as were the Chinese.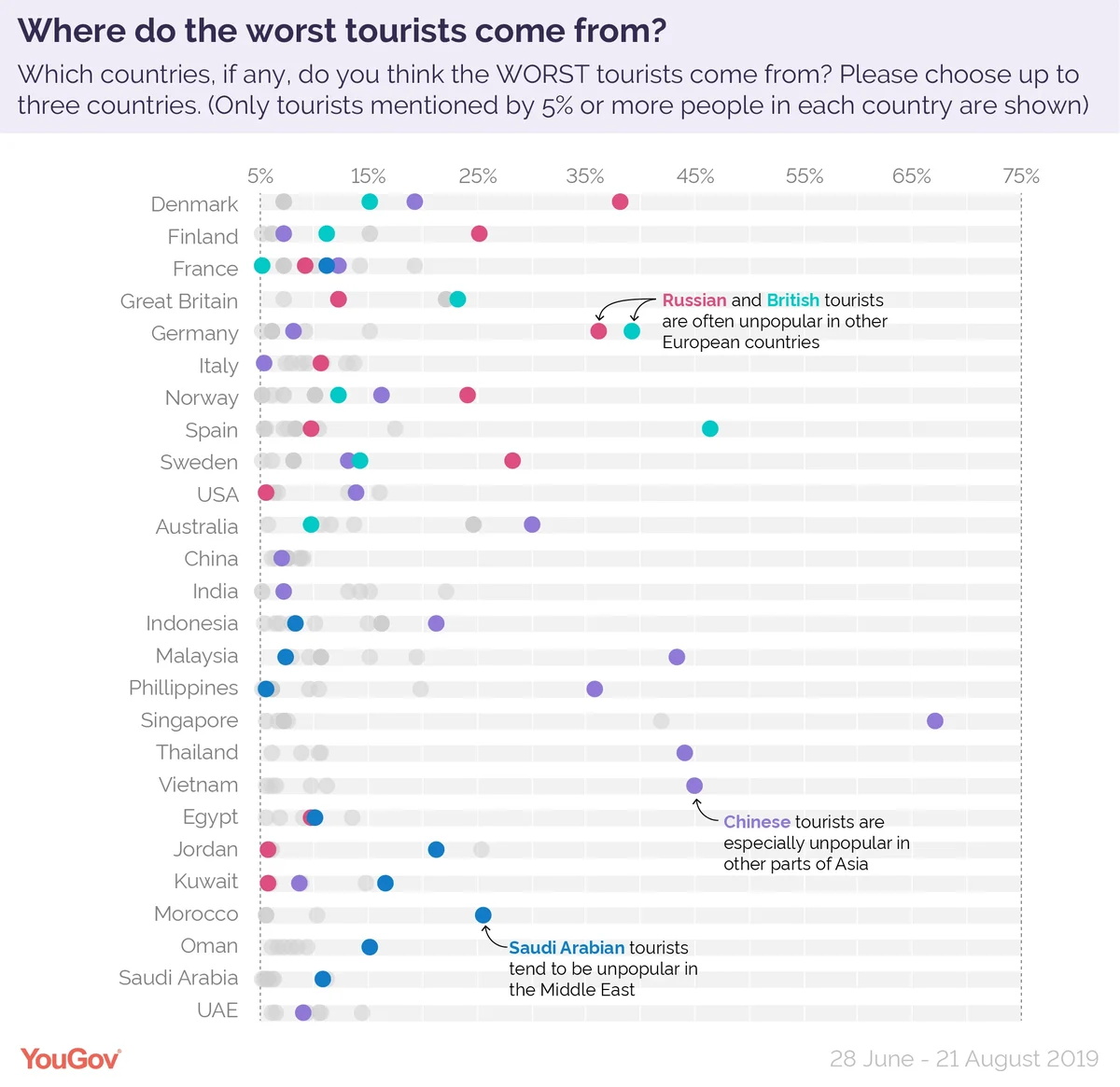 Chinese tourists are even less popular in other parts of Asia (including China itself), being named as the worst tourists in Australia, Indonesia, Malaysia, the Philippines, Singapore, Thailand, and Vietnam. In fact an enormous 67% of Singaporeans included Chinese tourists in their list of the world's worst holidaymakers (they are also pretty unimpressed with Indian tourists, at 42%).
Asked where the best tourists come from, one nation stands out above all others: Japan. With Japanese football fans having make headlines around the world during the World Cup by helping to clean the stadiums after matches, the nation is consistently cited as being home to the most gladly received tourists the world over.
This is particularly the case in Finland, France, Germany, Indonesia, Malaysia, the Philippines, Singapore, and Thailand, all of whom placed Japanese tourists at the very top of their lists.