Roughly one in three Londoners are fans of what will be the city's second tallest building, and about the same number are against it
A new skyscraper dubbed 'the Tulip' has been given planning permission by the City of London. When complete in 2025 it is due to be the city's second tallest building, bettered only by the Shard.
But a new YouGov Realtime survey finds Londoners are split on whether or not it will have a positive impact on the skyline. More than a third (37%) think it will improve the city's silhouette, but a further 32% think it will change it for the worse. A further 22% don't think it will make much difference at all.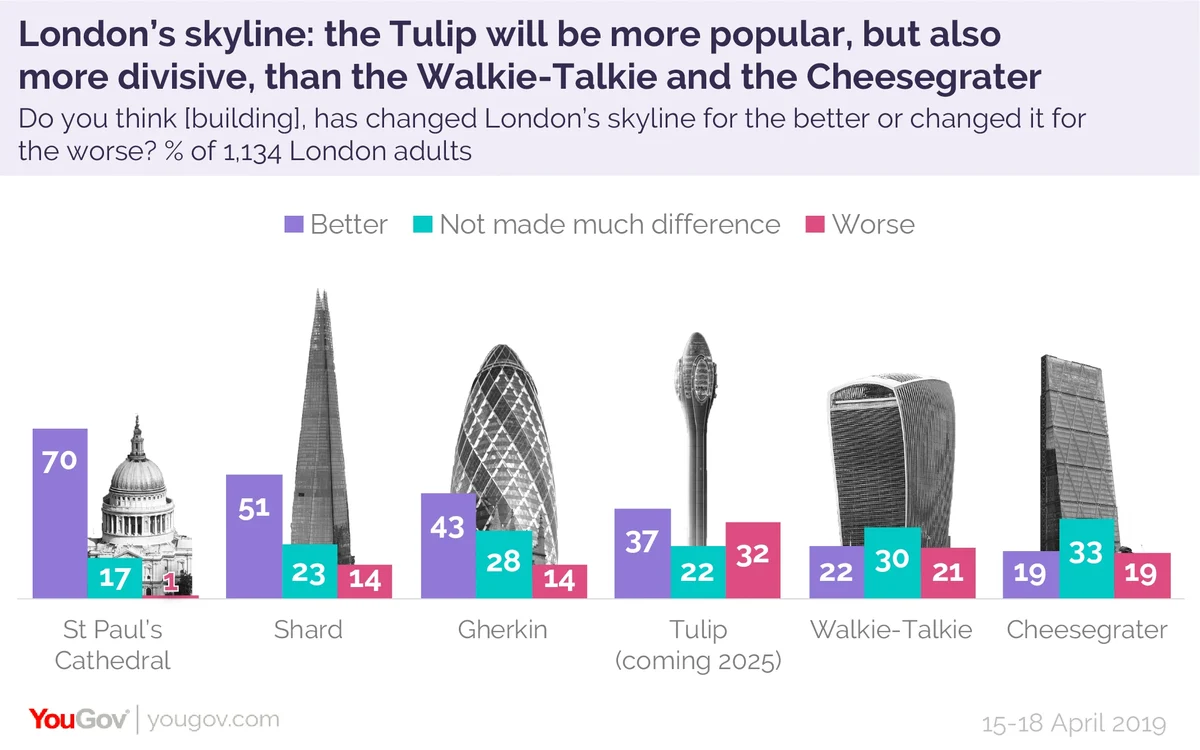 If these opinions remained static until the building is complete the Tulip would be more popular, but also more divisive, than recent London skyscrapers the Walkie Talkie and the Cheesegrater, which were both completed in 2014.
The 19% of Londoners who think the Cheesegrater has improved the skyline are matched by the 19% who think it has degraded it. Likewise, the 22% who like what the Walkie Talkie has done for London are counterbalanced by the 21% who aren't fans.
By contrast, the Shard has proved a far more popular addition to the London skyline. Half (51%) of Londoners say they like what Europe's tallest building – completed in 2012 – brings to the city, with only 14% not finding it to their taste.
The Gherkin too is much more widely liked than disliked: 43% say the 16-year-old building has changed the skyline for the better, and only 14% think it has made it worse.
The figures of those in favour are, however, lower than they were the last time we conducted this survey in April 2014, with the Gherkin down nine points from 52% and the Shard down six from 57%. That's not to say that people have grown to dislike the buildings, though, as virtually all of the change is down to larger numbers of people selecting "don't know".
It would seem, however, that the classics really are still the best: 70% of Londoners think St Paul's Cathedral has changed London's skyline for the better. A mere 1% think it has done so for the worst.
Photo: DBOX for Foster + Partners