Close to half of those people believe that the same actions would be cheating if it took place away from Christmas
Britons should be wary of their partner's office Christmas party, as new YouGov Omnibus research has found many Brits see mistletoe as a free pass for more than just a friendly peck.
While only 14% of Brits believe passionately kissing someone other than their romantic partner does not count as cheating, this figure rises to 25% when you add mistletoe and Christmas into the equation.
This means that one in nine Britons (11%) think that snogging someone other than their partner would normally be cheating, but is acceptable if they can position themselves under festive flora as they do it.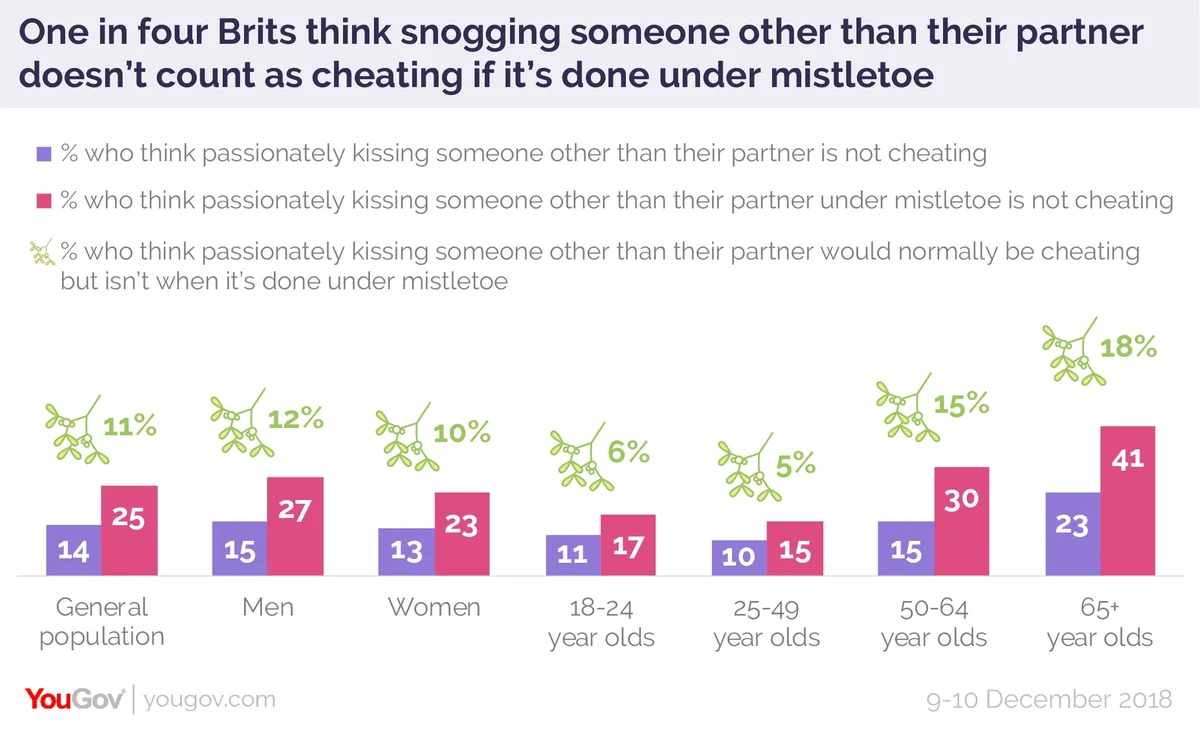 Male and female attitudes are roughly the same in this regard. The presence of mistletoe leads an extra 12% of men and 10% of women to see smooching as acceptable (rising from 15% to 27% among men, and from 13% to 23% among women).
Between the generations, however, it's a different story. While among 18 to 24 year olds the proportion who think it wouldn't be cheating only goes up from 11% to 17% (an increase of +6 percentage points), and from 10% to 15% (+5) among 25 to 49 year olds, it jumps from 15% to 30% (+15) among 50 to 64 year olds and from 23% to 41% (+18) among those aged 65 and older.
The fact that the difference is so much bigger among older Britons than younger Britons could be down to a wilful desire to not see certain activities as cheating, as previous YouGov research has found that older people are more reluctant to rock the relationship boat.
For instance, while 92% of 18 to 24 year olds say they would want their friends to break it to them if they discovered their partner was cheating on them, this figure falls to just 58% among those aged 65 old older.
Photo: Getty