While four in ten students back funding universities out of general taxation, a similar proportion support say universities should be paid for by students
Newly released figures from a YouGov Omnibus survey conducted in June show that students are divided on how university education should be funded.
Four in ten 40% say that "It should be paid for by everyone, funding it through general taxation like income tax", while a similar number (37%) say "it should be paid for by the people who go to university, funding it through tuition fees or some sort of graduate tax". A further 11% answered "neither of these" and 13% don't know.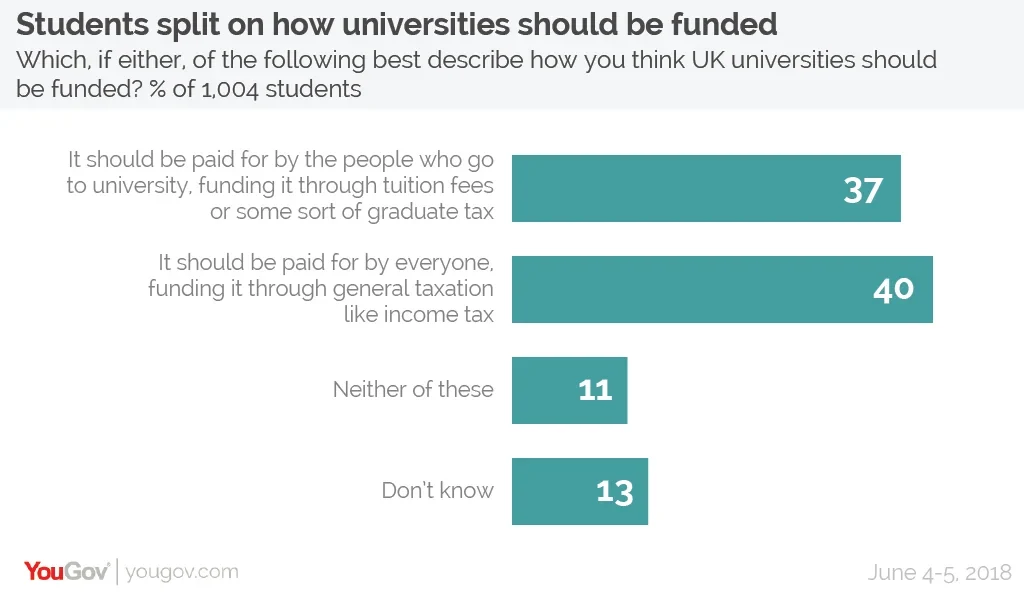 Labour voting students are the most likely to say universities should be funded from the public coffers rather than tuition fees, with almost half (48%) choosing this option. Just over a quarter (27%) backed funding through fees or a graduate tax.
By contrast, almost two thirds of Conservative-voting students (64%) and half of Liberal Democrat-voting students (50%) back the student-funded approach. Again, around a quarter of both voting groups took the dissenting view, with 25% and 24% respectively supporting a system of taxation-funded universities.
Students believe they would most benefit from a fees cut
The survey also asked students to ask which of the following potential policy changes the government could make that would most help students: a cut in fees, a cut in student loan interest rates or raising the student loan repayments threshold. (Students were told that the amount of funding for the policy was fixed and would not change depending on the policy.)
The majority of students (59%) believe that the option to cut tuition fees would be of the biggest benefit to students. Close to a quarter (23%) think the same of the interest rate cut, while only 11% backed the higher repayment threshold.