One in five favour the Arsenal manager for the England role
Sam Allardyce will forever live in infamy for his miniscule stint as England manager. Standing down after 67 days and with an unconvincing victory against Slovakia in the only match he oversaw, he was forced to go by undercover reporters for the Daily Telegraph who caught him offering to help get around FA regulations.
There is no question among English adults with an interest in football as to whether or not Sam had to go once the revelations had been made. The overwhelming majority of fans - 80% - say that Sam Allardyce was right to resign as manager.
The Football Association must now conduct its second search for a new manager in three months. New research from YouGov finds Arsenal manager Arsene Wenger is the most popular replacement for Allardyce – of the managers listed, 21% of football fans with an opinion chose Wenger.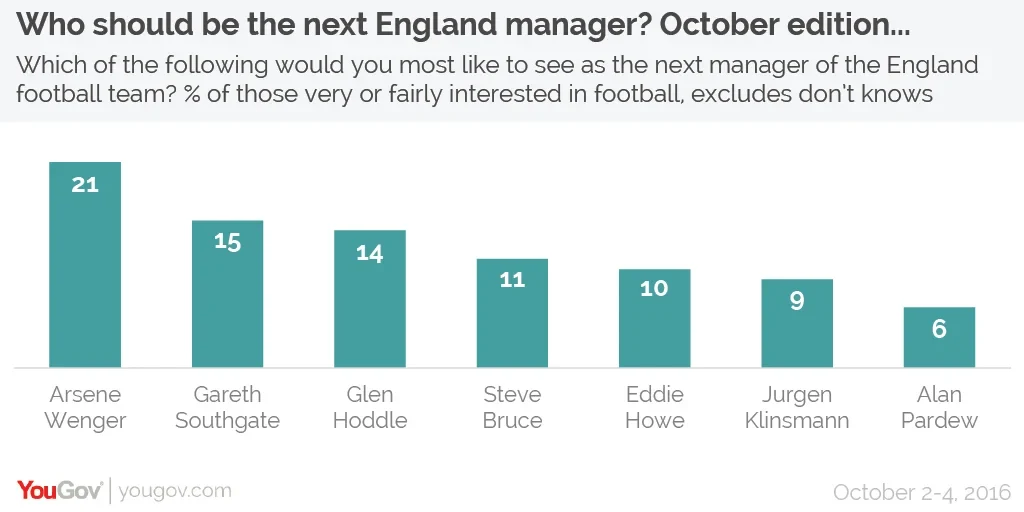 Gareth Southgate – the current manager of the under-21 side and who will be taking charge of the senior team for four games – comes in at 15%, whilst a further 14% support a second stint as manager for Glenn Hoddle.
One potential drawback for a Wenger offer is that there is a perception that it is best for an Englishman to hold the post – Alan Shearer made an impassioned case for the next England manager to be English earlier in the week.
Football fans themselves are split on the importance of the England manager's nationality. Overall, 55% said that it was either very or fairly important that the England manager is English, compared to 43% who said that it was either not very or not at all important.
Photo: PA