People would overwhelmingly rather be cremated and scattered than buried after they die, new YouGov research on attitudes to death finds
Nearly six in ten people (58%) want to be cremated when they die – more than three times the 17% of people who want to be buried, a new YouGov survey on attitudes to death reveals. Of these people, the vast majority (79%) would then like their ashes to be scattered somewhere. Just 7% want their ashes to be kept after they've been cremated.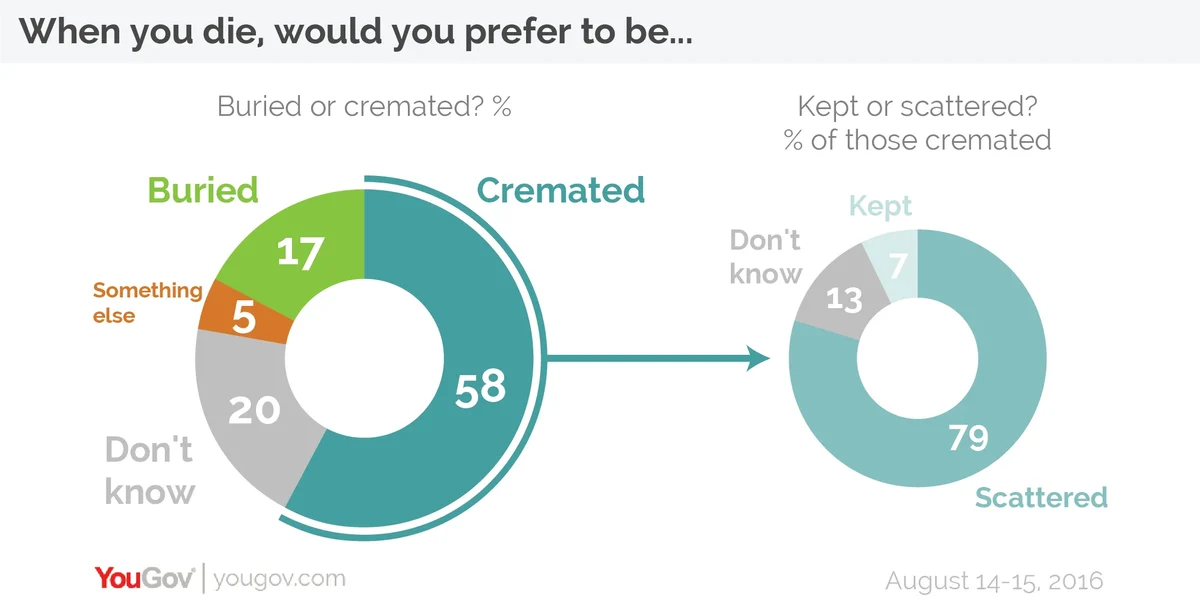 There is a strong trend towards preferring cremation as people get older, perhaps as our bodies wear out and we no longer idolise the idea of trying to preserve them. Whilst four in ten (42%) of 18-24 year olds want to be cremated, this figure rises to more than seven in ten (71%) people over the age of 65.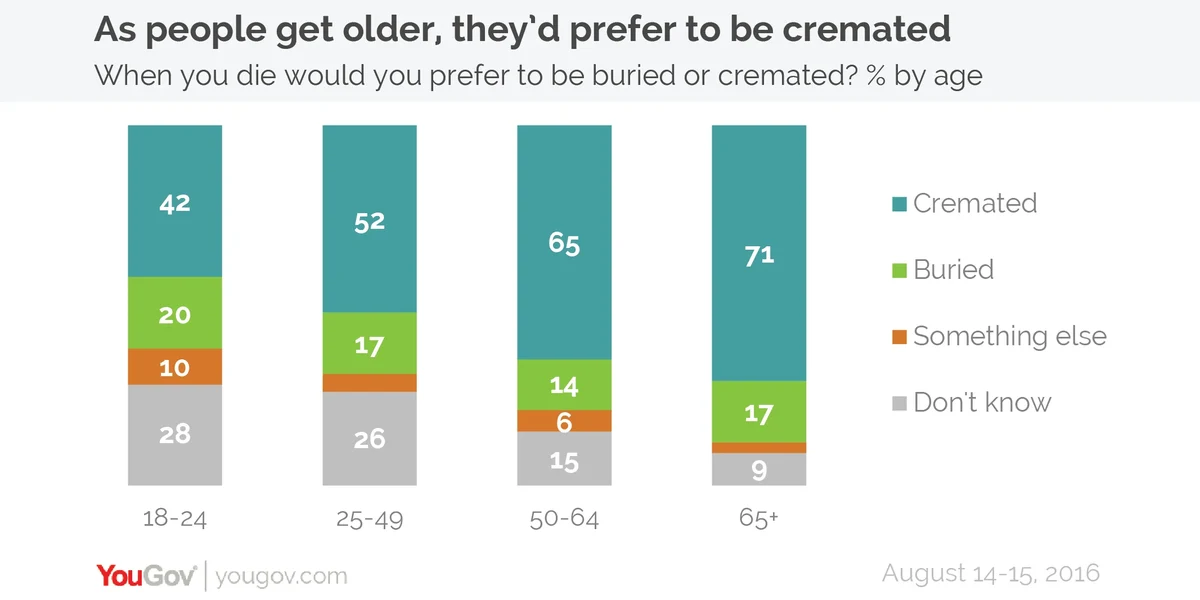 Asked how long they would like to live for, at 44% the most popular answer was to be between 81 and 100 years old. The current UK life expectancy is 81, according to data from the World Bank. This age range was the most popular choice across all age groups, with those aged 65 and older being the most keen at 60%.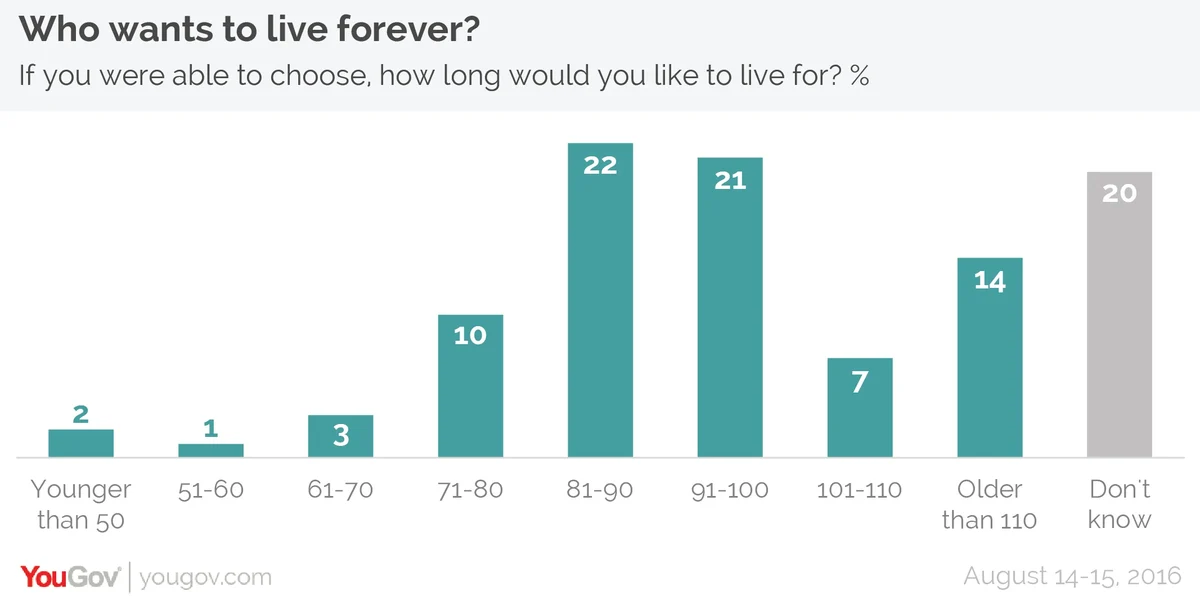 Only a fraction of people seem to want to live for as long as they possibly can. The highest option – to live to be 110 or older – was chosen by just 14% of people overall and this figure was broadly consistent across all age groups. Men, however, are significantly more likely to choose this option than women, with 19% of men wanting to live to be 110 or older compared to 9% of women.
Despite their desire to live for longer, men are significantly less likely to be scared of death than women, with nearly six in ten (58%) of men saying they were not afraid of death compared to 42% of women. Overall, half of the population say that they are not afraid of death, whilst a third (32%) say that they are and two in ten (19%) don't know.
Wondering what is appropriate attire for a funeral will be a dilemma for many, especially first time funeral-goers. Whilst black clothes are traditionally worn, many people will not already own a black suit or dress and will be worriedly weighing up the potential expense versus potential offence.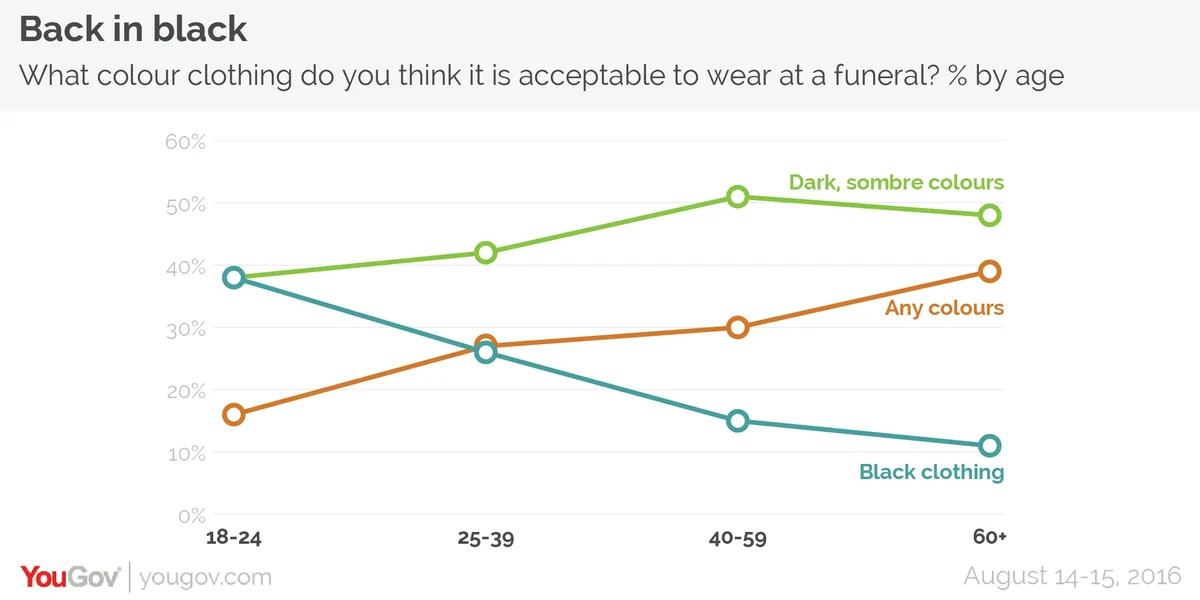 Wearing black is now only seen as a requirement at funerals by 22% of people. Twice as many (45%) think that wearing other colours is ok, so long as they are dark and sombre, whilst another 29% think it is ok to wear any colour clothing to a funeral.
Whilst older people might be expected to be the ones most wedded to tradition, they are in fact the most relaxed, with 39% saving any colour of clothing is ok at a funeral, against 16% of 18-24 year olds who think it is ok.
Overall 58% of the population do not have a written will, whilst 39% do. Unsurprisingly, the number of people with a will gets higher as you get older, with 5% of 18-24 year olds having a will against 80% of those aged 65+. Surprisingly, given their advancing years, nearly half (45%) of people aged between 50 and 64 still don't have a will.
Photo: PA