Whilst very few think the bride should agree to obey her husband, most people also don't think she should get to speak at her reception
Weddings are a joyous occasion, and people seem to be particularly fond of many of their traditional aspects. Of twelve wedding traditions surveyed by YouGov, seven traditions were still favoured by more than half of people. The most popular wedding traditions are the groom having a best man (78%), the bride and groom's first dance (75%) and the best man's speech (73%).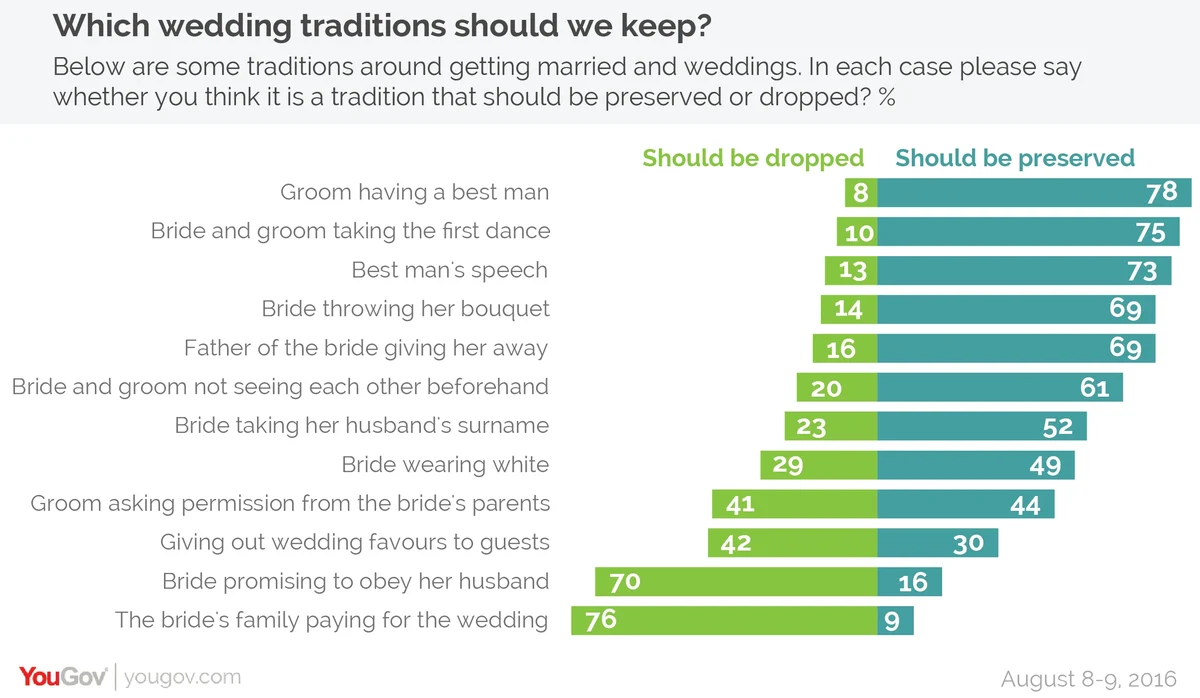 People were only in favour of dropping three wedding traditions. The bride's family paying for the wedding was the most unpopular, with 76% saying it should be dropped against 9% saying it should be preserved. Indeed, the majority of people (56%) feel that the bride and groom should bear the main cost of the wedding, followed by both sets of parents (30%).
The other two wedding traditions people would like to see dropped are the bride promising to obey her husband (70% of all respondents, and 80% of women), and giving out wedding favours to guests (42%).
Seen but not heard: still the case for women at weddings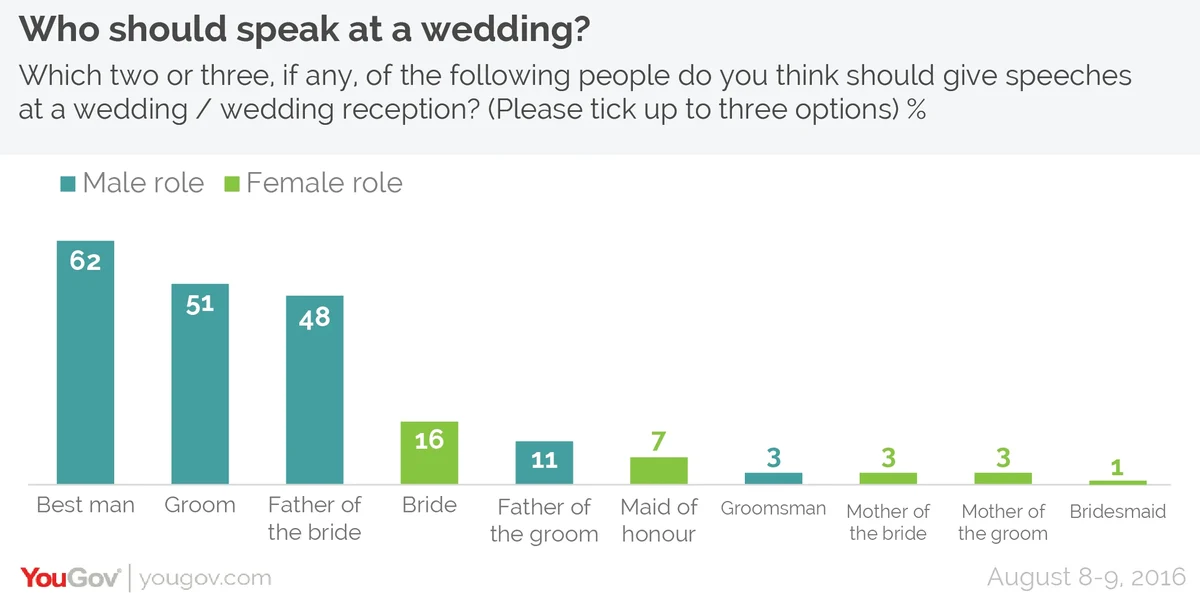 The speeches at wedding receptions are traditionally a male-dominated affair. The groom, best man and the father of the bride all expected to make a speech, and people seem to be broadly happy with this arrangement. Six in ten (62%) believe the best man should give a speech, as well as 51% for the groom and 48% for the father of the bride. Despite the increasing popularity of the bride giving a speech, though, just 16% of people think that she should.
Indeed, this view is just as widely held among women as men. Women are actually more likely than men to want the best man, groom and father of the bride to speak (particularly those last two – possibly because men can imagine themselves having to give that speech and don't want to), and are marginally less likely to think that the bride should speak than men.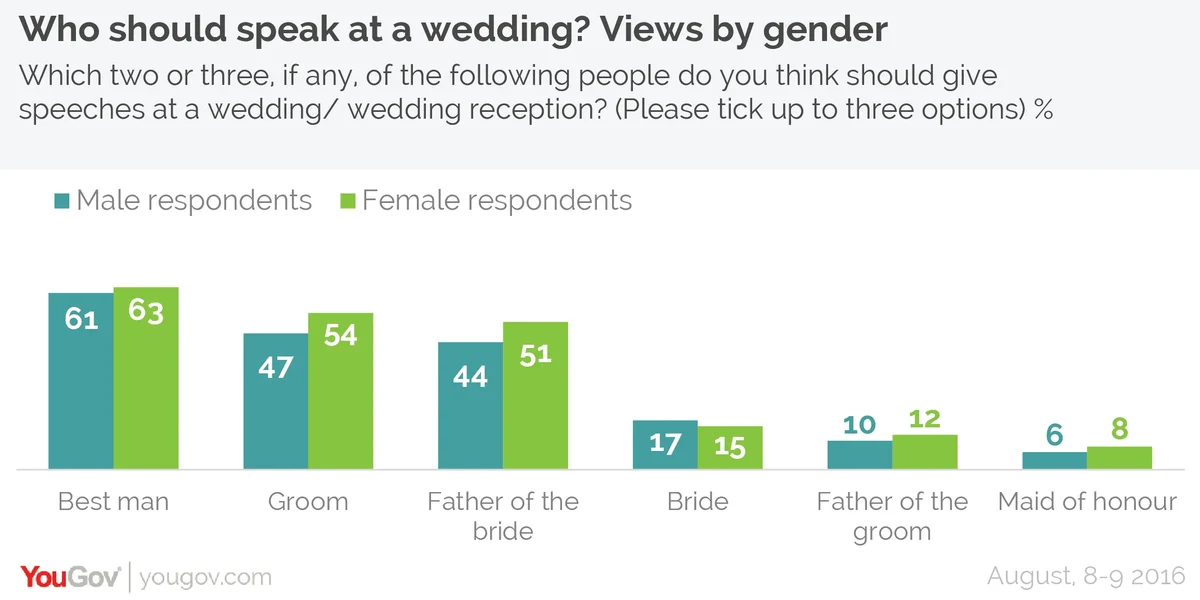 Common wedding dilemmas for couples…
The survey reveals attitudes on common dilemmas that many engaged couples may face in planning their wedding.
Starting from the very earliest point in the weddings process, the most accepted time for a couple to be together before getting engaged is between six months and two years, according to 57% of people. Being together for at least a year is the most popular choice, with 27%, followed by at least two years (18%) and at least six months (12%). Women are slightly more likely than men to favour a longer run-up, with 56% thinking couples should wait for at least a year, compared to 50% of men.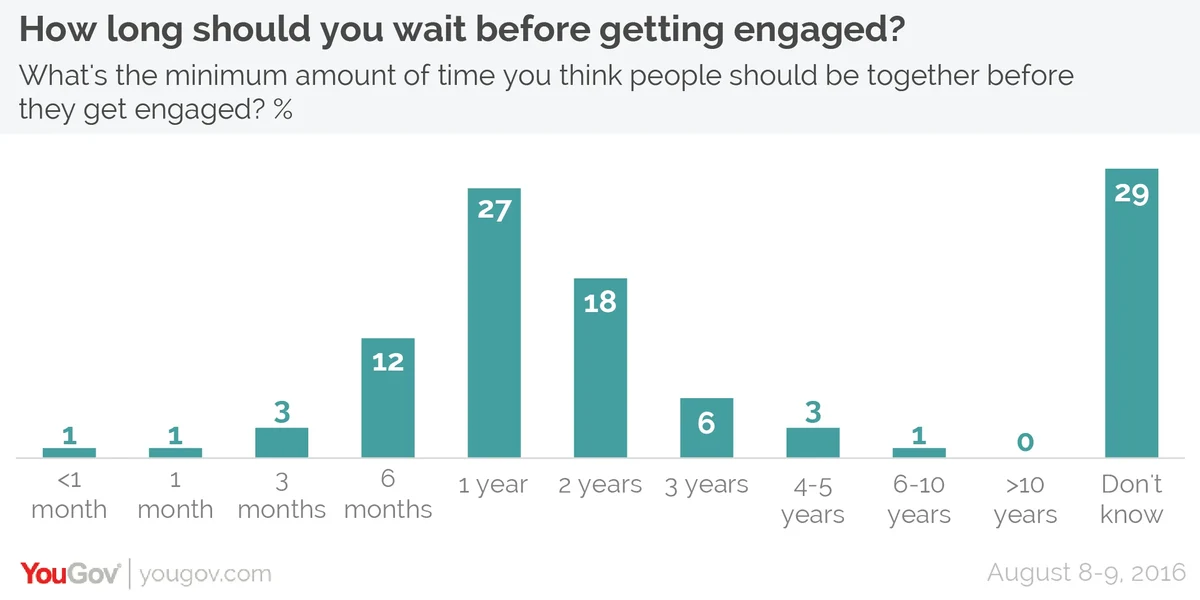 In terms of picking a date, couples will be pleased to find they are afforded plenty of flexibility, with the vast majority (87%) of people think that it is acceptable to have a wedding on a weekday.
Opinion is split on which guests should be allowed to bring children to a wedding. Three in ten (29%) think that only children of close friends and family should be allowed to attend. A further 25% think that all guests should be allowed to bring children, whilst 21% think that only children of close family should be allowed. Only 9% of people think that children shouldn't be allowed at all.
Knowing whether to invite younger children can present a more complex dilemma, with the potential for the ceremony to be disrupted by noise. Couples should be aware that slightly more people would prefer for children under the age of 6 to be able to attend rather than be excluded (40% vs 36%).
In terms of getting invitations sent, most people would prefer to receive a wedding invitation by post (61%). A further 26% don't care one way or the other, whilst only 3% would prefer some sort of online or email invitation. They also feel it is perfectly acceptable for the couple to register a list of wedding presents (74%) or to ask for money instead (59%).
…and for guests
Likewise, the survey also provides help for wedding attendees. Should a couple send a wedding invitation with no information or guidance on presents, the majority of people opt to either: give money to the couple (28%), give a gift voucher (26%) or a boxed present (21%). Similarly, if the wedding invitation doesn't provide information on bringing a plus one, the majority (52%) of people believe this means that you should not bring a guest.
Photo: istockphoto