When asked whether athletes who have undergone gender reassignment should be allowed to compete in sporting events, there is no clear consensus
Perceptions of transgendered people are evolving across the world. While some are becoming more tolerant, however, opinion is still split. In the US, for instance, one in three still think identifying as transgender is morally wrong.
As attitudes continue to change, rules and regulations governing transgender athletes in international sport are being challenged and reconsidered.
In perhaps the most significant example, in January the International Olympic Committee announced that gender reassignment surgery would no longer be necessary for transgendered people to compete in the Olympics. Other good news for transgender athletes includes the Court of Arbitration of Sport's ruling in July last year that there could not be a set testosterone limit in Track and Field.
These new rulings reportedly affect at least two athletes, one of whom – South Africa's Caster Semenya, a female athlete with hyperandrogenism – is a favourite to win the 800m gold medal. She won silver for the competition in the 2012 games.
Whilst perceptions are clearly shifting, there is still much disagreement amongst the governing bodies of international sport on what restrictions, if any, should be placed on transgender athletes. This reflects the uncertainty that also exists among the public.
When asked whether they think transgender athletes should be allowed to compete in sporting events for their new gender, people are largely split.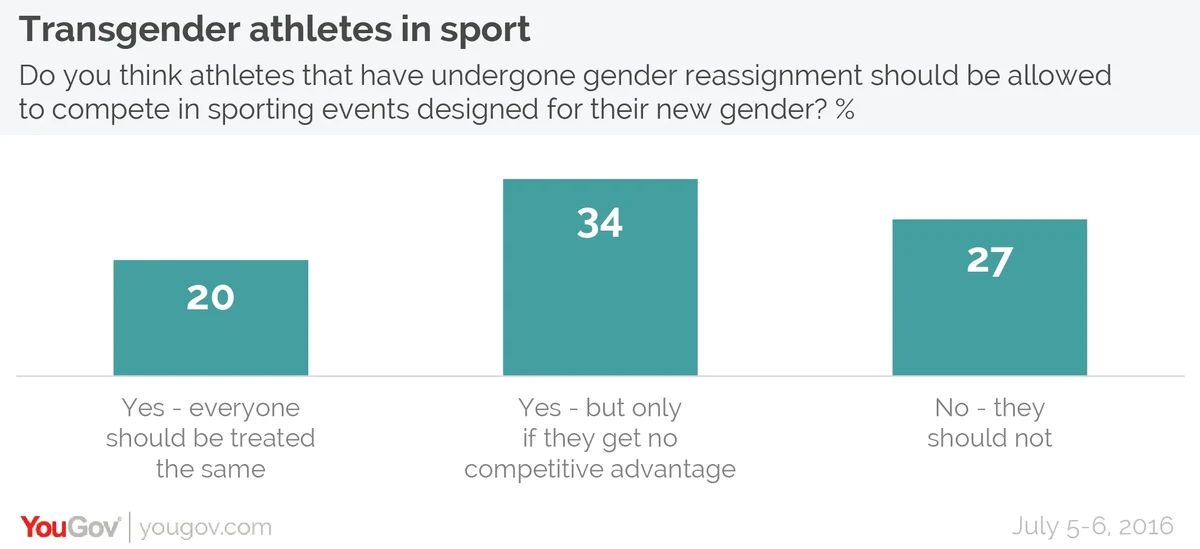 The governing bodies of sport and society at large have not come to a consensus on a solution to this very complex issue. However, with the Olympics starting on Friday, it is bound to be at the forefront of many minds, both on the field and off.
Photo: PA