Two-thirds of Top Gear viewers preferred the old line up, but most people still think the BBC was right to sack Jeremy Clarkson
The new series of Top Gear premiered on Sunday. The new series is the first featuring new presenters Chris Evans and Matt le Blanc, following the sacking of Jeremy Clarkson and dissolution of the previous line up in March last year. The show opened to negative to mixed reviews from critics, with many criticising the lack of chemistry between the hosts and the shows failure to differentiate itself from the previous incarnation.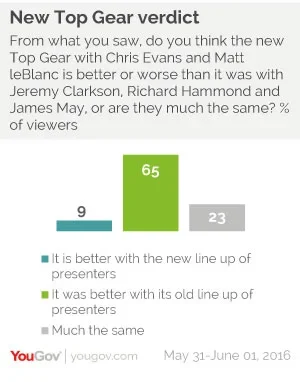 New YouGov research shows that viewers of the programme agree with the critics.
65% of viewers thought the programme was better with the old set of presenters, with just 9% preferring the new line up. A further 23% thought the programme was much the same.
Despite the apparent distaste for the programme, both viewers and the wider public still think it was the correct decision to sack Jeremy Clarkson. When we asked whether the BBC was right to sack Jeremy Clarkson in March last year, 59% of the public thought it was the right decision compared to 29% that thought it was the wrong decision. Following Sunday's episode, the result is exactly the same. Those that actually watched the programme also back the decision by a margin of 56% to 35%.
Jeremy Clarkson and the old band of presenters' new show "The Grand Tour" is scheduled to be released on Amazon Video later this year.