Over a third of British women have received unwanted, sexual physical contact in public – and most take precautionary measures to stay safe at night
According to the World Gender Gap report Britain is the 18th most gender equal country out of 145 worldwide, behind France and Germany (15th and 11th respectively) but ahead of Spain and the US (25th and 28th respectively). According to the report, in Britain women are now earning the amount men did in 2006, and it might take until 2133 for the global gender gap to be closed.
YouGov research for End Violence Against Women confirms the everyday disparity between women and men's sense of safety in public places and at night.
Fully two thirds of British women have in public received unwanted sexual attention (e.g. wolf whistling, sexual comments, staring or exposure) or felt unsafe. This compares to only 8% and 45% of men respectively.
A third of women have received unwanted physical contact of a sexual nature when in public (35% compared to 9% of men).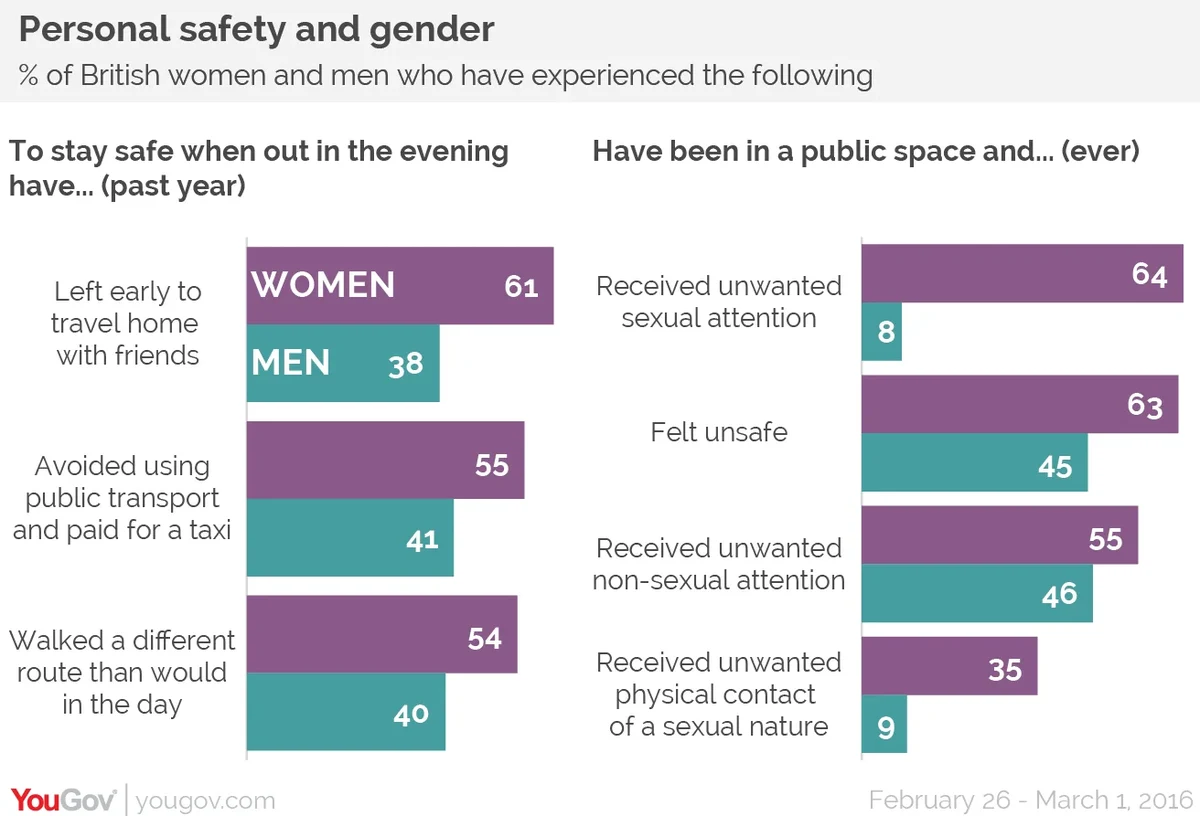 Young people are significantly more likely to have received all three of the unwanted behaviours.
In order to remain safe, most women who have gone out in the evening over the past year have left early to travel home with friends (61% compared to 38% of men), walked a different route than they would in the day (55% compared to 41% of men) or avoided using public transport and paid for a taxi (54% compared to 40% of women).
International Women's Day, on March 8, aims to "celebrate the social, economic, cultural and political achievement of women" but also to create awareness of how "progress has slowed in many places across the world, so urgent action is needed to accelerate gender parity". 40% of women say there is a need for Women's Day in the world today, while 37% say there is not a need.