33% of British under-40s have used an internet dating service or app at some point – while match.com and eHarmony are the highest scoring services in both fame and respectibility
One of the founding ideas of the internet was its potential to eradicate isolation, and yet some people claim it has achieved the opposite. In terms of romance the story is more promising – it might never have been easier to find a date, and as social stigma around internet dating fades there's every reason to believe the trend will continue.
When YouGov asked British people in 2015 if the rise of internet dating and dating apps was a good thing, the response was positive. Rather than saying the trend had shifted the focus to superficial, short-term relationships (18% said this), more people (34%) said it had enabled millions of people who would never have met to get together.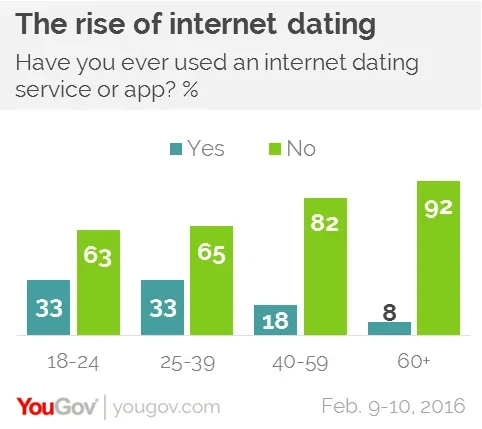 New YouGov research reveals the scale of the phenomenon in Britain. Fully one in three under-40s have used an internet dating service or app at some point, compared to 18% of 40-59 year olds and 8% of over-60s. Half of all 25-39 year olds know at least one couple who met online, compared to only 34% of over-60s.
Tinder, a mobile dating app that allows people to connect if they have both swiped right on each others' profile, has become so popular 'the Tinder generation' is now a phrase. But among people who've used internet dating services and apps it's got a seedy reputation. At -26 its respectibility is behind only Grindr, the mobile app geared around gay and bisexual men, which scores -40 for respectability.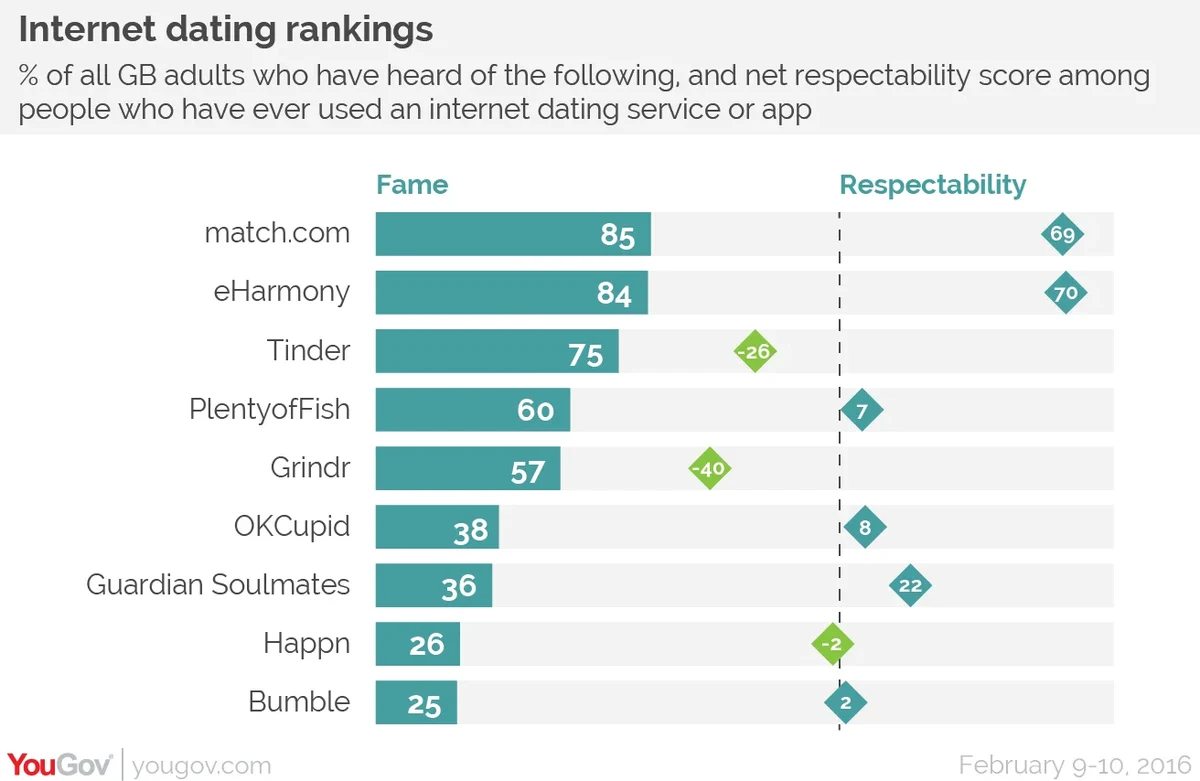 Internet services match.com and eHarmony, pitched at long-term relationship seekers rather than hook-ups, have the best reputation for respectability – and they're also the most widely-known.
Online dating is worth $2.2 billion in America alone, and Tinder boasts 26 million matches a day. eHarmony claims to have married a million Americans, but it's founder is cautious about younger hook-up apps – "if the only thing you're looking at is whether or not the person's looks turn you on, I worry about that", he said.
Getty image