68% of British people support Russia being banned from the 2016 Rio Olympics – and perceptions of athletics' problem with doping have worsened for the third time
A World Anti-Doping Agency report has accused Russia of running a 'state-sponsored' doping programme which 'sabotaged' the London 2012 Olympics. Russia finished fourth overall and won 82 medals in total, but the report recommends five runners and five coaches should be given doping bans, including the gold and bronze-medal winners in the 800 metres, Mariya Savinova and Ekaterina Poistogova. It is even alleged the Russian intelligence service spied on Moscow's anti-doping laboratory by posing as engineers to intimidate staff. The commission's chairman wants a ban on Russian athletes from next year's Olympics in Rio.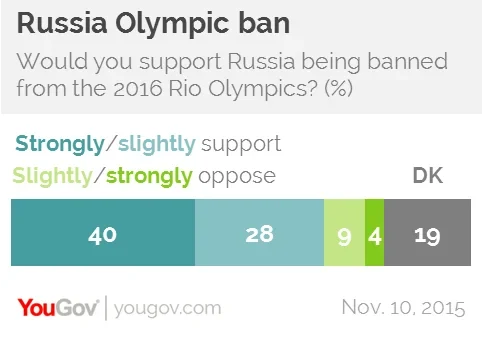 New YouGov research reveals strong support for a ban among British people. Fully 68% of British people say Russia should not be allowed to compete at the 2016 Olympics, with only 13% opposing the idea and 19% unsure. The Kremlin has said the accusations are 'groundless', however Australia and the UK have backed the call to ban Russia from all competitions including the Olympics.
YouGov has been monitoring perceptions of different sport's problems with doping since October 2012, a few months after the Olympics finished. Public trust in athletes to not dope has been steadily declining since 2012, and now fully 72% say it has a problem or a widespread problem with performance enhancing drugs.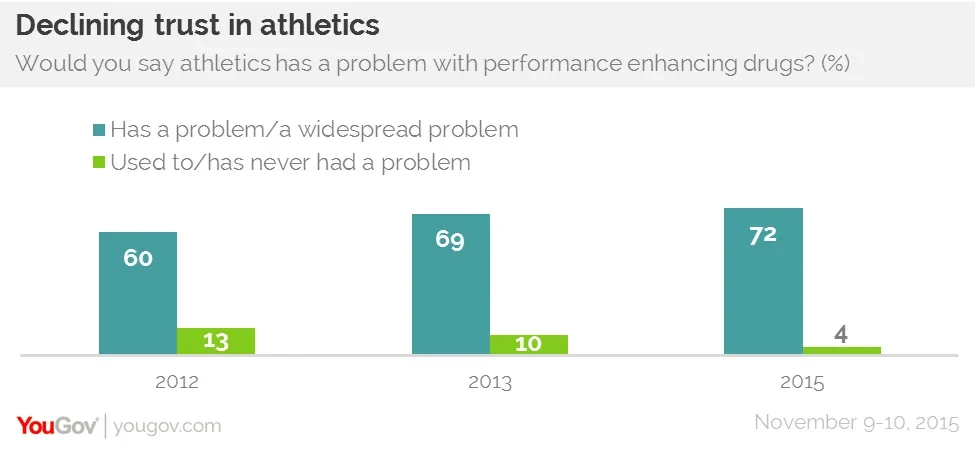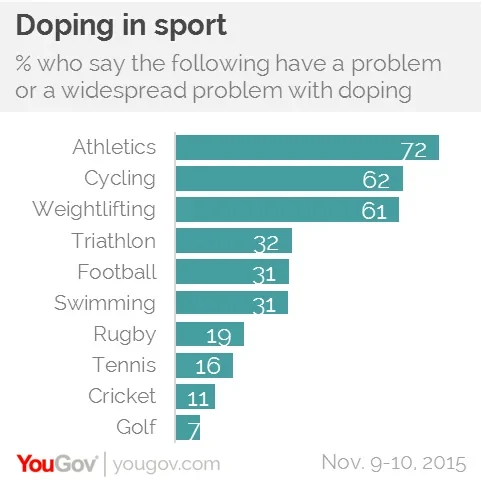 In 2012 cycling was seen as having the worst problem (64% said the sport had an issue with performance enhancing drugs, compared to 60% for athletics), as brands severed ties with Lance Armstrong and the Tour de France stripped him of his titles. But now athletics is easily seen as having the worst problem, and cycling has even made a slight improvement (62% now say it has a problem).
Football, swimming and triathlon are seen as having less of a problem in comparison, but on balance more people tend to say they have a problem than do not. The sports which people tend to say do not have a problem are rugby (net -13), tennis (-19), cricket (-29) and golf (-38).
Arsenal manager Arsene Wenger claimed yesterday that football also has a widespread doping problem, after the World Anti-Doping Agency chairman said Russia's problem was "probably the tip of the iceberg". While Wenger insists his own side has never doped, he says his side were unfairly beaten in the Champions League this season by a 'doped' opponent, when Dinamo Zagreb midfielder Arijan Ademi failed a drugs test after the game.
PA image