As Prince Charles begins his New Zealand tour, most British people think it would be a shame if they vote to remove the Union Jack from their flag
New Zealand starts the process of deciding whether to keep the Union Jack in the corner of its flag this November in a series of referendums – first New Zealanders will be asked to rank five flag alternatives (none of which feature the Union Jack), with voting closing in December, and then to choose between the current New Zealand flag and the winning alternative in a vote in March 2016. Australia and Tuvalu are the only other countries out of the 53 Commonwealth nations to still have the Union Jack on their flag (Fiji aims to remove it this year), but prior to decolonisation this was the norm.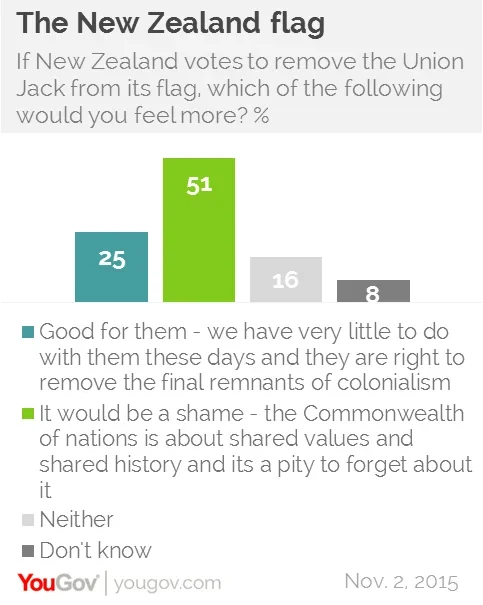 New YouGov research reveals that most British people will find it a shame if New Zealand does decide to remove the Union Jack. 51% say their reaction is that the Commonwealth of Nations is about shared values and shared history and it's a pity to forget about it, while 25% say it would be good for them if they change their flag as we have very little to do with them these days and they are right to remove the final remnants of colonialism.
Two thirds of over-60s (66%), many of whom lived through the tail end of decolonisation, say it would be a shame for New Zealand to remove the Union Jack – in contrast only 32% of 18-24s feel the same way. Scottish people tend to say it would be good for New Zealand to remove the Union Jack.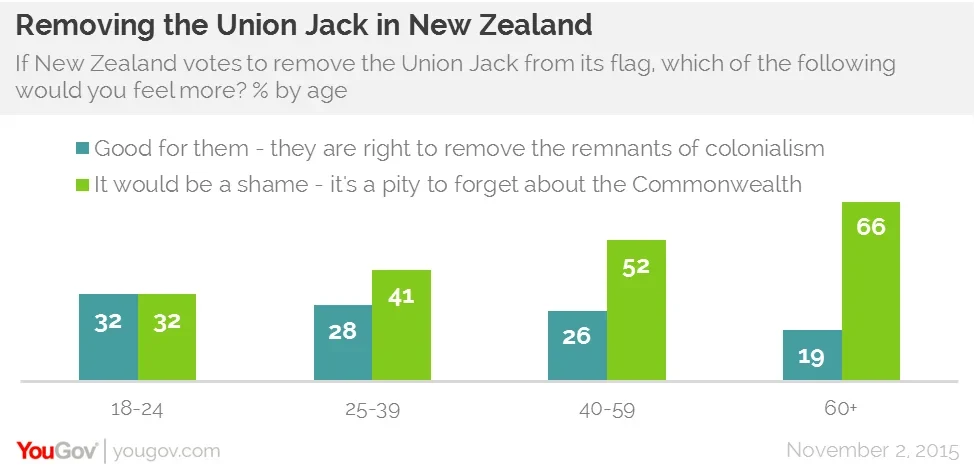 The finding comes in the same week as Australia decided to no longer appoint Knights and Dames – orders to which the Queen was appointed Sovereign – under its honours system. The orders had been brought back by Tony Abbott during his brief time as Australian prime minister, a move which was seen as a blunder, however the current Prime Minister Malcolm Turnbull (who led Australia's unsuccessful 1999 campaign to abandon the monarchy) said they were "not appropriate in our modern honours system".
PA image