Daniel Craig is now only two points away from being Britain's favourite James Bond actor – and is already the favourite for under-40s
Spectre opens on Monday, with previews showing this weekend and critics already publishing reviews. Even though Daniel Craig, only into his fourth James Bond film, has berated the character – calling his previous incarnations 'sexist', 'misogynistic' and 'very f***ing lonely' – his cut-back, troubled Bond is commanding a new respect for the franchise. In new YouGov research, British people tend to say he should continue in the role, something Daniel Craig and director Sam Mendes have been reluctant to confirm.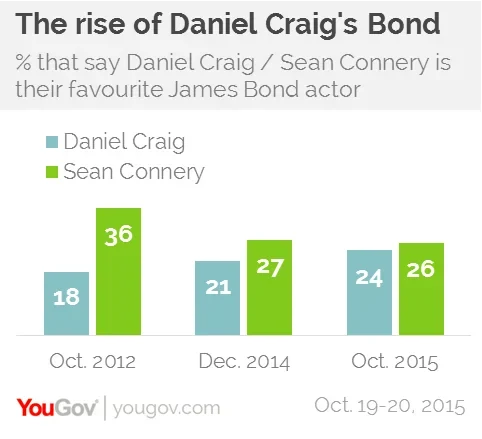 When YouGov first began polling on Britain's favourite James Bond actor, just before the release of Daniel Craig's third outing as Bond in Skyfall, controversially lauded by some as the best ever Bond movie, he lagged far behind the classic answer – Sean Connery (36% to Craig's 18%).
Now he is only two points behind Connery, who spent 21 years as Bond. 24% say Daniel Craig is their favourite James Bond actor, while 26% say it's Sean Connery. In 2014, after a decent period for Skyfall to settle in, 27% chose Connery and 21% chose Craig.
Although having been the firm favourite among 18-24 year olds since 2014, that opinion has now cemented itself even further, and has spread to the 25-39 age bracket. Almost twice as many (30%) mid-twenties-to-mid-thirties Britons now prefer Daniel Craig to Sean Connery (17%).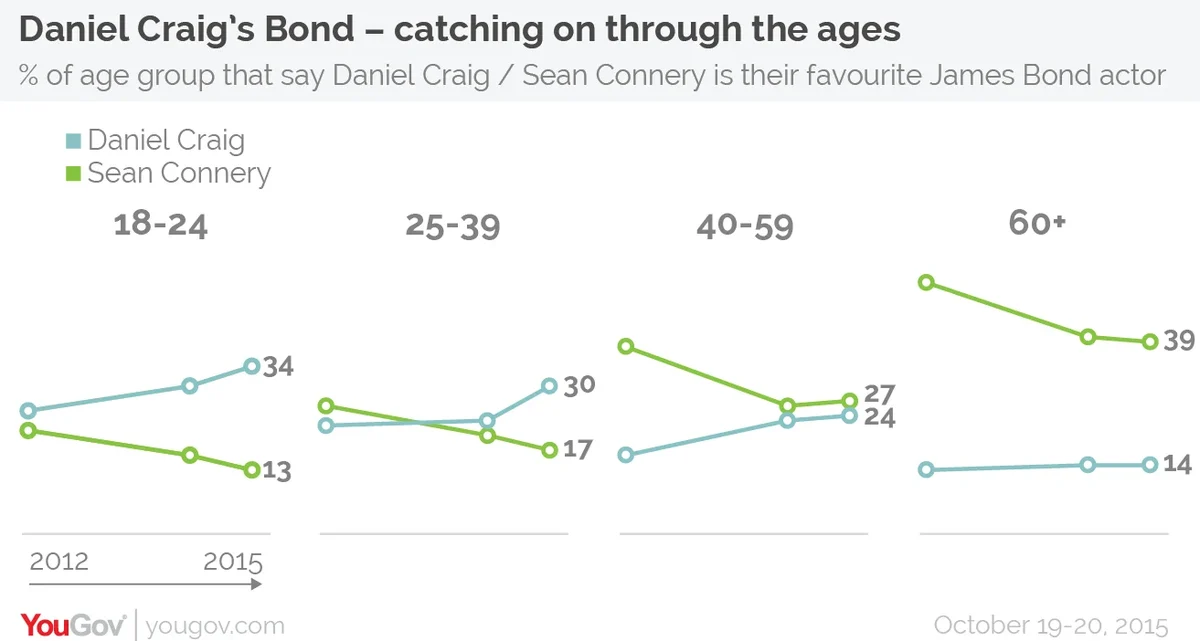 Connery has only a three point lead among the 40-59s, which may well collapse depending on the public's reception of Spectre, however a reversal in favour among over-60s looks unlikely. Fully 39% of the oldest generation who grew up with Sean Connery say he is their favourite Bond, while only 14% choose Daniel Craig.
Spectre's Monica Belluci is the oldest-ever Bond girl at 51, 22 years older than the average age for a Bond girl, 28.8, and 7.5 years older than the average Bond, 43.5. Sean Connery was the youngest-ever James Bond, 32 in Dr. No, while Roger Moore was the oldest, 58 in A View to Kill.