Only Fools and Horses is the highest scoring British comedy series from a shortlist of all-time greats – but Fawlty Towers and Blackadder are a close second and third
Fawlty Towers is 40 years old today, and new YouGov research reveals that in all the time since its first episode aired on BBC2 in 1975 the only British comedy to have topped it in terms of public opinion is Only Fools and Horses.
Six years younger but also six years longer (33 if you include the specials) the Peckham-based story of get-rich-quick scams is easily the nation's all-time greatest British comedy series, with 20.6 points to Basil and Sybil Fawlty's 12.4. Blackadder only just misses out on second place, with 12.3 points.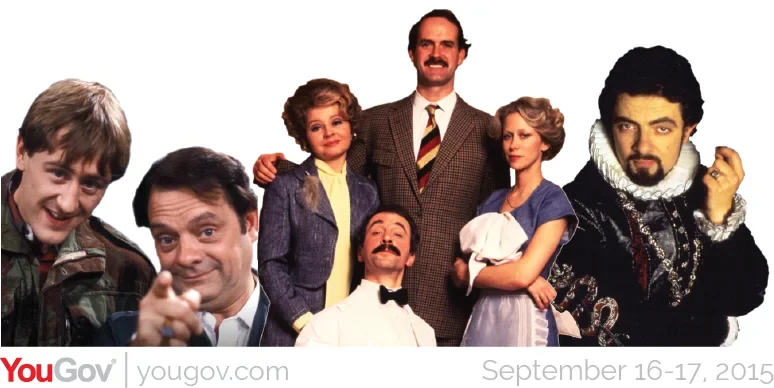 After gathering a shortlist from open-ended responses to the question 'what is the best British comedy series of all time?', a score has been calculated for each series by balancing breadth of appreciation (the percentage of people who say they like the comedy at all), with intensity of appreciation (the percentage who like the programme most out of the list of 10).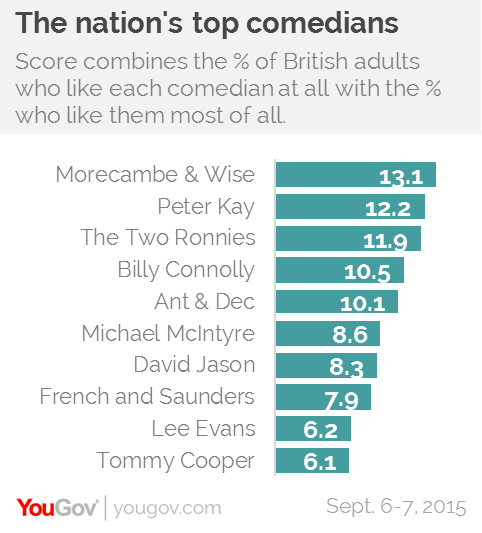 Blackadder has the highest score on the list for 18-24 year olds (19.8), and Fawlty Towers actually does best among the younger generation (scoring 14.3 compared to 12.3 with over 60s). A shortlist chosen exclusively by younger people may produce a different result, however.
With the all-time greatest comedians the old ones also tend to be the best. Morecambe & Wise top the list with 13.1 points, and the Two Ronnies come in at second with 11.9. But more recent acts (relatively) such as Peter Kay, Billy Connolly, Ant & Dec and Michael McIntyre all score highly. Michael McIntyre is the youth choice from the list.
Back in 2000 the British Film Institute named Fawlty Towers the greatest British TV programme (not just sit-com) of all time, after questioning industry professionals on a list of 650 shows. Monty Python was their second choice in terms of comedy, with Yes Minister / Yes, Prime Minister in third.