42% of British football fans predict Chelsea will win the Premier League, and 21% expect it to be Arsenal – but relegation is seen as almost certain for Watford
The Premier League begins today and £500m has already been spent on transfers, just under four weeks before the window for new players closes. It may be early for predictions but betting is already in full swing and new YouGov research reveals football fans have some pretty clear predictions for the result of the season.
Chelsea are currently the favourites to win the Premier League, which begins today with Manchester United vs Tottenham just before 1pm. Despite failing to win a single one of their pre-season games, they are chosen as by far the most likely to win the premiership this season - 42% of football fans predict their victory.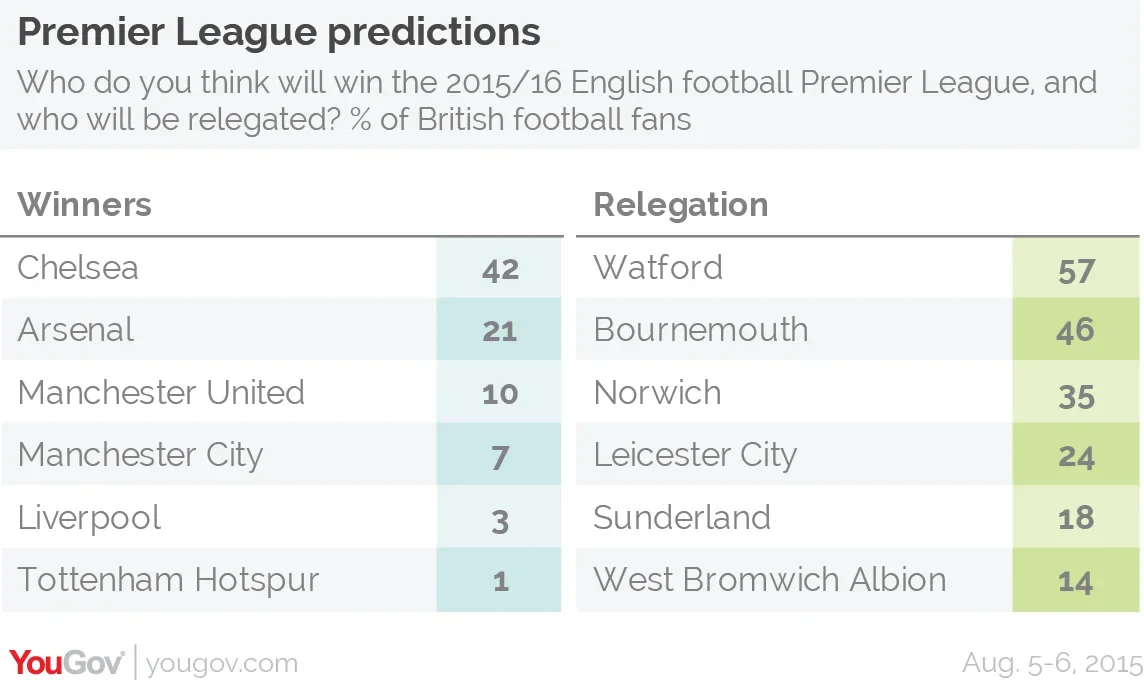 Arsenal, who have recently bought the seasoned Chelsea keeper Petr Cech, a previous premier league winner, are the second favourites with half as many votes as Chelsea (at 21%). Although they have failed to win the league since 2004, their two successive victories in the FA cup and their purchase of a competent goal keeper seem to have restored confidence in the team.
Manchester United, and Manchester City are found to be lagging behind at only 10% and 7% respectively. This contrasts with the odds on betting sites, where Chelsea are again the favourites but Man. City, the 2013/14 victors, usually have the second highest odds to win.
The three teams seen as most likely to be in the relegation zone are Watford (57% expect them to go down), Bournemouth (46%) and Norwich (35%). These are the three teams promoted from the Championship last season.
Manuel Pellegrini, Man. City's manager, has recently extended his contract to 2017, demonstrating confidence in his ability to manage the club, though given our recent poll, perhaps this confidence is misplaced.