British women would like to see a wider range of sizes stocked in clothing stores, even though many believe it 'normalises' people being larger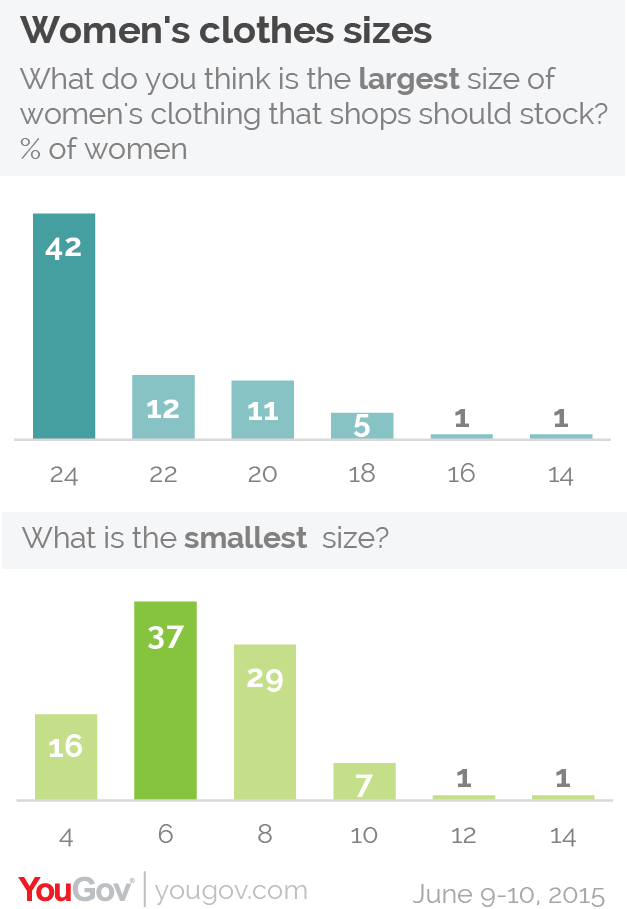 Earlier this year, the former pop star Jamelia Jamil was heavily criticised for suggesting that clothes shops should not stock clothes above and below a certain size. She argued that, though a range of sizes should generally be available, having certain sizes such as size 0 as well as much larger sizes in the majority of shops normalises unhealthy lifestyles.
A new survey for YouGov shows that British women are very much in favour of larger sizes of women's clothing being available – much larger than the usual range of 8-16 found on the high-street. 42% of women say that 24 should be the largest size shops stock, with some choosing even larger sizes, and there is little desire for shops to stock sizes lower than 6. Men also tend to say 24 should be the largest size available, however many are unsure.
38% of the public – including 41% of women – agree with Jamelia's comment that stocking larger sizes helps to 'normalise' people being a larger size. However, asked another way, over half (58%) feel the availability of larger sizes does not have any effect on people's likelihood to lose weight and be healthy or not.
The survey shows that, in practice, the majority (51%) of people find it relatively easy to find clothes that fit them, however a third of women (36%) and 16% of men do find it difficult.
Perhaps some women are hindered by the fact that, according to 71% of the women surveyed, clothes sizes are not very well standardised across different stores.