Ever since our records began, most British people have called for the Fifa president to step down – now only 2% think he should remain in post
Fifa President Sepp Blatter has told an emergency meeting of football's governing body that he will not resign, despite growing pressure in the midst of a corruption scandal. Not only is he defying calls to stand down, he is confidently standing for re-election tomorrow. Head of Uefa Michael Platini expects Blatter to win the vote, but adds that "he has already lost… Fifa has already lost".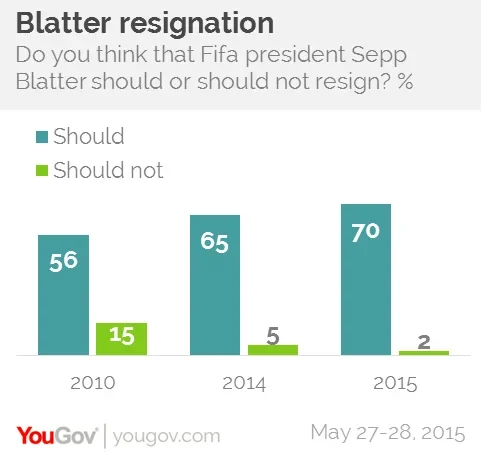 The Fifa exposé is being lauded as a triumph for the FBI, but the British press has relentlessly pursued the story since a whistleblower aroused suspicion in 2011 over the awarding of the 2018 and 2022 World Cups to Russia and Qatar. YouGov has been tracking public opinion on Sepp Blatter since 2010 (after he told gay people attending the 2022 World Cup to "refrain from sexual activities") and even back then a majority of British people (56%) thought Sepp Blatter should resign.
The difference now is that while five years ago a not insignificant minority (15%) thought Blatter should retain the position, the figure is now so small (2%) as to indicate a (rare) near-unanimous public verdict.
The scandal immersing Blatter centres on corruption allegations against seven Fifa officials going back to 1991, which could lead to prison terms, as well as an inquiry into the bidding process for the forthcoming World Cups. A key figure is ex-executive committee member turned FBI supergrass Chuck Blazer, reportedly the source of much of the detail. Multinational corporations that sponsor Fifa are now under pressure to withdraw advertising.
PA images