Mark Lamarr and Bill Bailey are Britain's favourite Never Mind the Buzzcocks presenter and team captain – but Simon Amstell and Noel Fielding have won over the younger generation
The BBC music comedy panel show Never Mind the Buzzcocks has been pulled after 18 years and 28 series, due to ratings falling from an average of 2.5m viewers in 2008 to 1.1m in 2014. Named after the Sex Pistols' Never Mind the Bollocks album, the show's loose format and habit of offending guests was similarly anarchic.
New YouGov research finds the original Buzzcocks host, Mark Lamarr, who presented the show from 1996-2005, to be Britain's favourite. Among those with an opinion, 41% choose Lamarr, while 24% prefer the days when there were guest presenters and 20% favour Simon Amstell.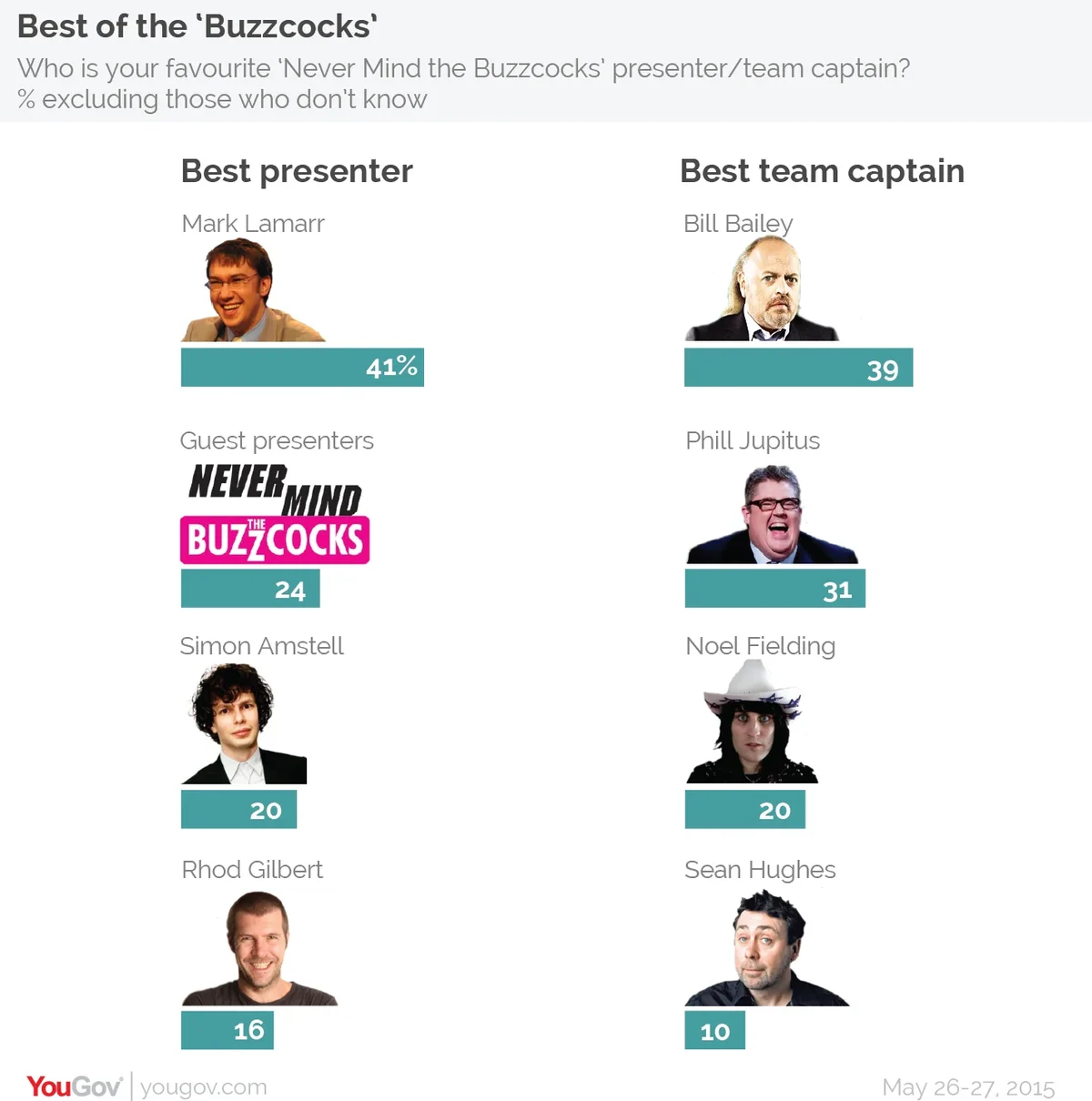 Amstell, who hosted the Buzzcocks from 2006-2008, has a firmer following among 18-24s – he's favoured by 35% and ranks first in the age group.
Phill Jupitus was a team captain since the show's inception, when his opposite number was Simon Hughes. Despite this, Jupitus is Britain's second favourite captain, on 31% compared to Bill Bailey's 39%.

Noel Fielding, also of BBC3's surreal sitcom The Mighty Boosh (2004-2007), is the most popular captain among 18-24s, ahead of Bill Bailey on 32%.
Motörhead's Lemmy, The Ordinary Boys' Preston and Huey Morgan of the Fun Lovin' Criminals all walked off the show, taking offence from panellists' jokes. An episode with Russell Brand as team captain was pulled by the broadcasters in 2008 and not aired until 2011.