Manchester is the clear public favourite to be the UK's second capital – with Birmingham in second place
Since George Osborne delivered a speech last June calling for a 'Northern Powerhouse' that could take on the world, the phrase has become commonplace. Now there is a minister for the Northern Powerhouse to devolve powers and address the north-south economic imbalance, and Manchester will be run by an elected Mayor from 2017. The Chancellor wasn't talking about one city, but a "collection of Northern Cities sufficiently close to each other", however the choice to deliver the speech in Manchester fuelled speculation that the Northern revival would be focused there.
New YouGov research reveals that from a list of the UK's ten most populated cities aside from London, Manchester is the public's top choice to be the UK's second capital. Manchester is chosen by 30% as the city to rival London, well ahead of Birmingham at 20%.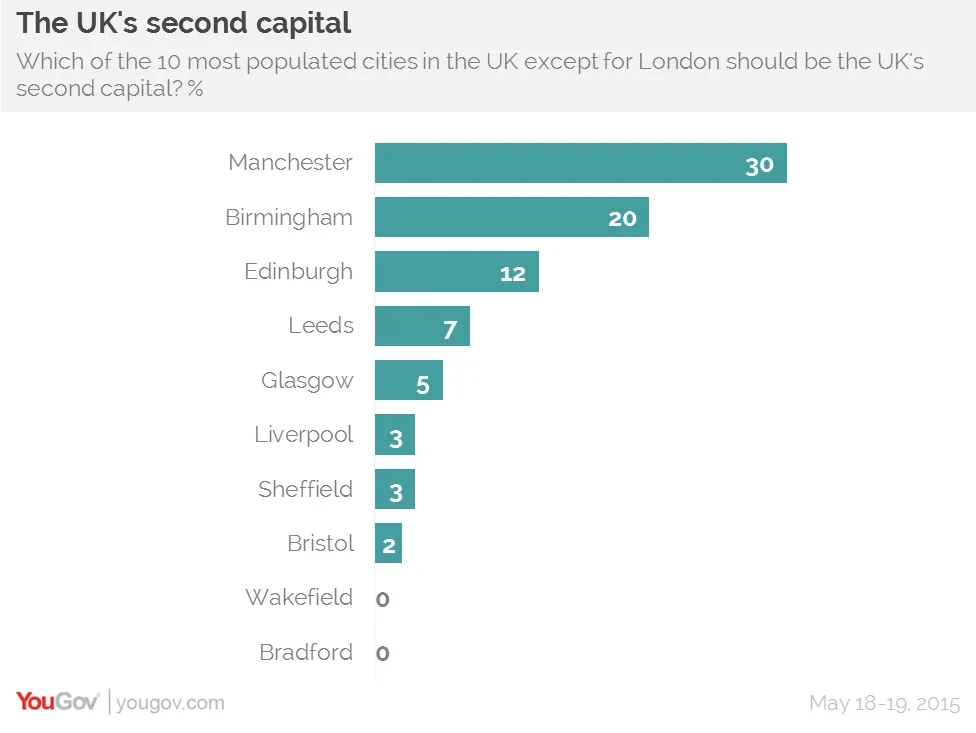 Edinburgh, the third favourite on 12%, is preferred by Scottish people to Glasgow (42% and 27% respectively). Londoners favour Manchester to a greater degree than average, with 33% choosing it compared to 18% for Birmingham.
George Osborne has signed off a £235m institute for advanced materials research to be based in Manchester, and the city will get a £78m theatre and arts venue on the site of the former Granada TV studios, which will host the Manchester International Festival.
YouGov has previously found the Manchester accent to be the third most unattractive to British people, however Birmingham again fared worse, with 'Brummie' considered the least attractive accent in the British Isles. The trend was the same when YouGov polled on the safety of British cities – Manchester came in 7th place and Birmingham in 10th, only one place ahead of Bradford, seen as the most dangerous British city.