Most women say the 'are you beach body ready?' advert is offensive – but most men don't
After thousands of people were angered by an advert for weight loss products featuring a bikini-wearing women in front of the slogan "Are you beach body ready?", the Advertising Standards Agency has now launched a formal investigation into whether it is socially irresponsible and has said the advert will not be allowed to appear in its current form. The advert has drawn criticism for promoting an unrealistic body image and creating physical inferiority – many have even defaced it on the London underground.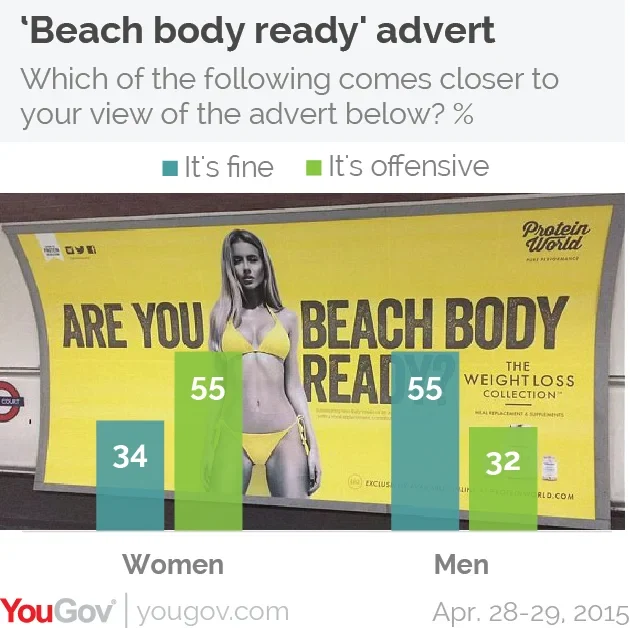 New YouGov research finds that the majority of British women (55%) say the advert is offensive – making women feel self-conscious, like they have to be slim to wear a bikini. A sizeable minority (34%) of women say the advert is fine, however – and most men (55%) agree it is just a way for a company to make money and help people lose weight.
Most 18-24 year-olds (52%) say the advert is offensive, while the other age groups are either divided or tend to say it's fine.
There is little sympathy for defacing the advert however, as over 60% of both men and women say this is unacceptable. 40% of 18-24 year-olds say it is acceptable while 42% say it is not.
The ASA said "It's coming down in the next three days and, due to our concerns about a range of health and weight loss claims made in the ad, it can't appear again in its current form". Bosses of the company behind the advert, Protein World, told Channel 4 that the people campaigning online and defacing the advert were "terrorists".