British people (apart from Top Gear fans) tend to say that Jeremy Clarkson should be sacked by the BBC – and that the show should go on without him
An online petition calling for the BBC to "reinstate" Jeremy Clarkson, after they suspended him for allegedly punching a producer, has reached over 700,000 signatures. Even the Prime Minister, a friend of Clarkson's, has said people would be "heartbroken" if Top Gear was taken off air – something that looks likely, as Sunday's programme will not be shown.
The British public as a whole are less quick to jump to his defence however, new YouGov research has found.
45% say that Jeremy Clarkson should be sacked by the BBC for reportedly punching a producer, while 36% say he should not. Most Conservative voters (52%) say he should not be sacked, while most Labour voters (57%) say he should be.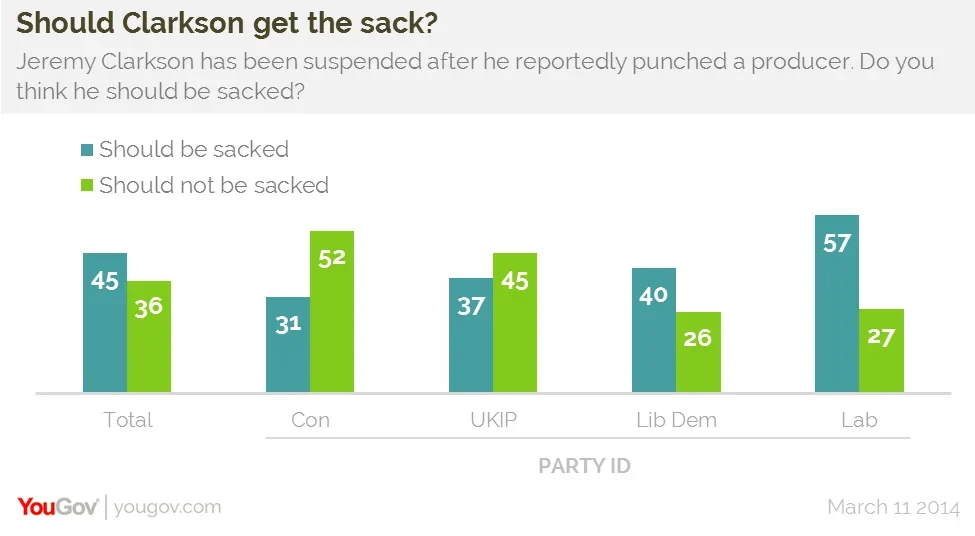 Very frequent viewers of Top Gear, unsurprisingly, are firmly opposed (78-9%) to his dismissal, while fairly frequent viewers tend to oppose this by a smaller margin (49-32%).
Clarkson, who has presented the show since 2002, was given his "final warning" last May after footage appeared to show him using the N-word in a nursery rhyme to decide between two cars. His popularity on YouGov.co.uk has been waning since a year earlier.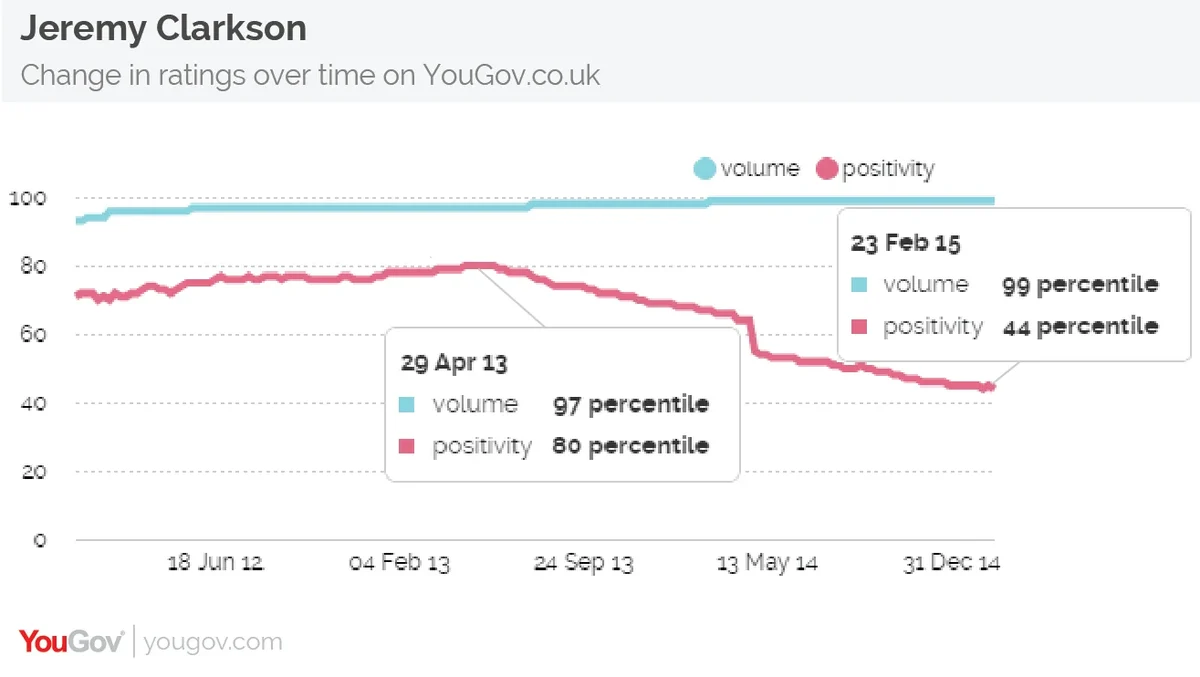 Half of the British public say that Top Gear should continue with a different presenter if Clarkson is sacked, and 35% say it should not. Those who view the show fairly often agree, by 48-43%, however very frequent viewers would oppose the show being presented by anyone else by 65-28%.
The Sun newspaper says a source close to Jeremy Clarkson has vouched for his innocence, and quotes a local at the hotel where the fracas went down: "The staff knew the BBC crew were arriving late so they organised meat and cheese platters… Clarkson didn't like the idea of sandwiches and demanded a juicy steak… Clarkson didn't hit him [the producer] — but he did use every possible swear word you can imagine".
PA images