31% of UKIP voters think there will be an apocalyptic disaster in their lifetime compared to 21% of Conservatives
From previous research, we know that UKIP voters are more pessimistic about the direction the country is going in than supporters of other parties. For example, 83% say the world as a whole is getting worse and 70% say life for families like theirs is in decline, compared to 71% and 55% of the general public, respectively.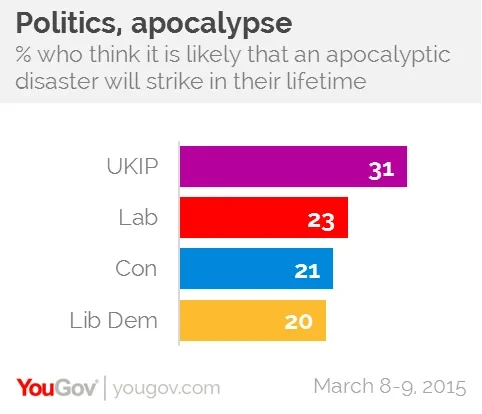 New YouGov research reveals that this tendency extends to a more existential fear – UKIP voters are more likely (31%) to think that an apocalyptic disaster will strike in their lifetime than average (23%).
Within the older demographic (aged over 40), 30% of UKIP voters expect an apocalypse in their lifetime compared to 20% of 40+ non-UKIP voters.
When YouGov conducted parallel research in America, Republicans (43%) were more likely than Democrats (22%) to think they would outlive their neighbours in the event of an apocalypse. There is no equivalent partisan difference in Britain.
However, British people think they would survive longer in an apocalyptic disaster. Most British people (54%) say they would live a week or more, compared to 46% of Americans.
British people are more likely (37%) to think the end of days will be brought about by nuclear war than Americans (28%).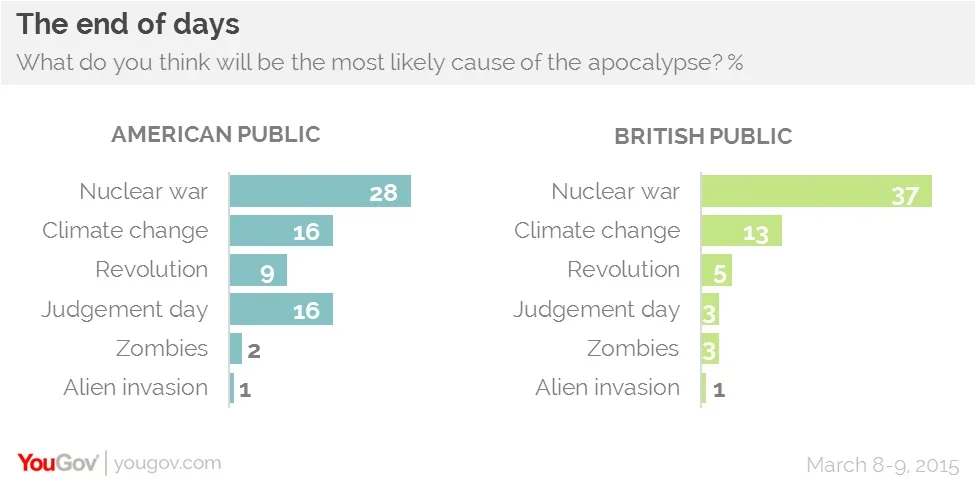 The higher proportion of religious Christians in the US means that one in six Americans (16%) think the apocalypse will be brought about by Judgement Day, compared to only 3% of Brits.