Older users want their Facebook pages deleted after death, but young people want their pages to stay up
What happens to your Facebook page after you die? The social network has introduced new settings to allow users more control.
Recent changes allow you to name a "legacy contact" who will look after your account after death. Once activated, your legacy contact can post announcements, change your profile photo and accept friend requests, but they cannot see private messages or post under your name. Previously, an account would be automatically frozen, or "memorialized" after Facebook received notification of death (such as an obituary). Family and friends could continue to view and post memories on the page, but no one would be able to sign in.
Users will also now have the option of setting their profile to be deleted after death.
YouGov asked adult Facebook users in Britain and the United States what they would like to happen to their own account, and found that preferences vary greatly depending on age. In particular, younger users are much more likely to want their Facebook pages to survive in some form after their own deaths.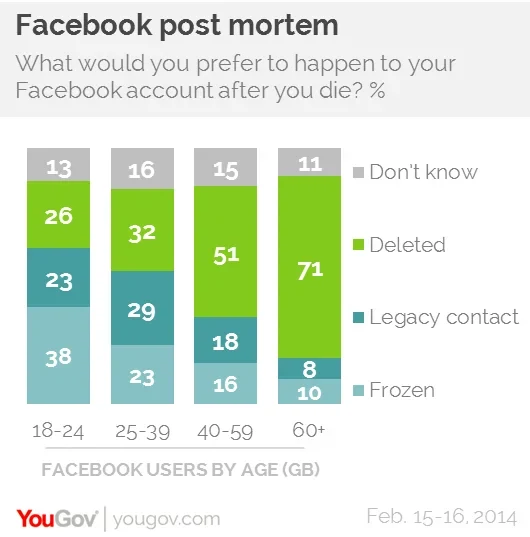 Just 26% of 18-24 year old Facebook users in Britain choose deletion, compared to 32% of 25-39 year olds, 51% of 40-59 year olds and 71% of Over 60s.
Most of the remaining 18-24 year olds (38% of the total) wanted to have their account frozen as a memorial, which is currently the default setting. However, nominating a legacy contact was more popular than a frozen account amongst users between 25 and 39 years of age.
YouGov found the same pattern in the United States. The majority (52%) of American Facebook users aged 18-29 want their account to stay up after their deaths, while those aged 65 and up overwhelmingly (66%) opt for having it deleted.
Overall, 15% of British adults using the social network have posted a message on the page of someone who had passed away. In the United States, one in five (20%) have.
PA image