27% of British people aged 18-39 would like to try BDSM – and 19% already have
More people have heard about the Fifty Shades of Grey movie (73%) than any other movie for over a year, in our weekly YouGov movies tracker. The film adaptation of what many call the bestselling book in history is set to smash the box office, already being the most watched YouTube trailer of 2014. But it will not be without controversy. It is already banned in Malaysia, is the target of protests in Britain and has prompted the fire service to expect a spike in people getting stuck in handcuffs.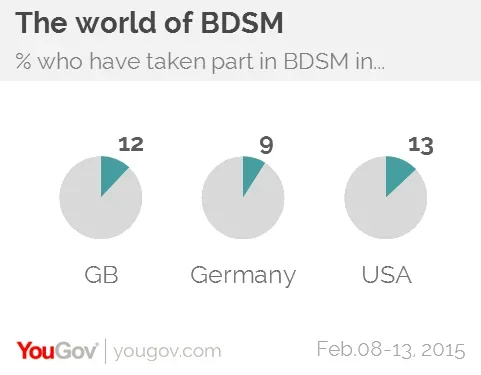 As the movie has brought 'BDSM' sexual practises - standing for bondage, discipline and sado-masochism - into the limelight, YouGov research reveals the extent of this behaviour in British bedrooms.
12% of the overall British population say they have taken part in BDSM. In America 13% have, and in Germany slightly fewer (9%) have.
Among British 18-39 year-olds, however, one in five (19%) say they have tried it, compared to 8% of over-40s.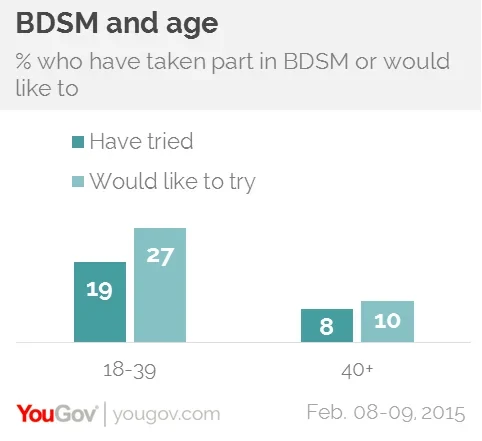 Of those who have tried BDSM, 88% would like to do it again, while 5% would not. And more than a quarter (27%) of British adults under 40 years old would like to try it in the future. Of course, the numbers could be higher, as another 26% say they are unsure if they'd like to, or would rather not say.
Almost exactly equal numbers of men and women have already tried BDSM (13% and 11% respectively), but more men than women would like to try it in the future (20% and 13% respectively).
Although only 19% say they have a definite preference for being dominant or submissive in bed, men (13%) are more likely to prefer dominance than women (3%), and women (13%) are slightly more likely to prefer submission than men (9%). Among those who have tried BDSM, submission is the more popular role (38% compared to 21% who prefer dominance).
Overall, people take an unfazed attitude to the issue - there is very little support for society trying to discourage these sexual practices (13%); the vast majority (71%) say that as long as people freely consent it is no one else's business.
Controversy
Some say that Fifty Shades of Grey normalises out-dated power structures, presenting female submission to a powerful, aggressive man as a sexual fantasy, or a means to expedite success. Sam Taylor-Johnson, the film's director, however, argues that being a feminist "doesn't mean you can't be submissive. It doesn't mean you have to be on top".
British people tend agree with Taylor-Johnson. By 50-10% the public say it is possible for a woman to be a feminist and to want to be sexually dominated by a man. There is little difference between men and women, however 40% are unsure.