With British people and spirituality, 'it's complicated' – and many young people are opting out altogther
While religious issues continue to stir controversy in American politics, they haven't featured at all in the general election campaign in the United Kingdom, despite the fact that this time around two major party leaders – Nick Clegg and Ed Miliband – are openly atheists. Part of the explanation may be cultural – as Tony Blair said in 2013, "One big difference between the U.S. and the U.K. is that it's okay to talk about faith openly. In the U.K. we're a little more ... British about that."
But as a new YouGov survey for the Times shows, the lack of religiosity in British politics also reflects the varied and often non-traditional beliefs of many British voters.
Overall, a third (33%) of British adults do not believe in God or a greater spiritual power of any kind – roughly the same number as believe in "a God" (32%). The rest either believe in a higher power but not a God (20%) or don't know what they believe (14%). This is a slight shift from 2012, when YouGov found that 37% believed in a God, and 29% did not believe in a God or a higher spiritual power.
Younger Britons tend towards non-belief. Only 25% of 18-24 year olds believe in a God and 46% deny the existence of any greater spiritual power whatsoever. Among over-60s the numbers are flipped: 41% believe in a God and 24% are non-spiritual.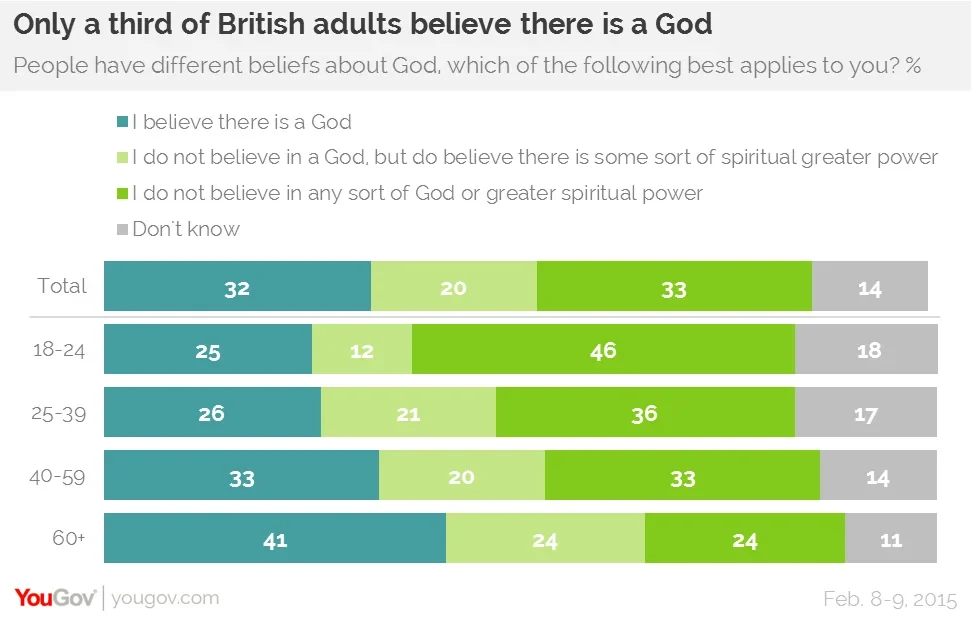 In comparison, Gallup has consistently found more than nine in ten Americans believe in God or a universal spirit of some kind.
Religion
The findings also show that 42% of British adults don't have any religion, while about half (49%) identify as Christian.
Here, too, there are big differences between older and younger generations. 60% of 18-24 year olds and 53% of 25-39 year olds have no religion, compared to 41% of 40-59 year olds and just 26% of over-60s.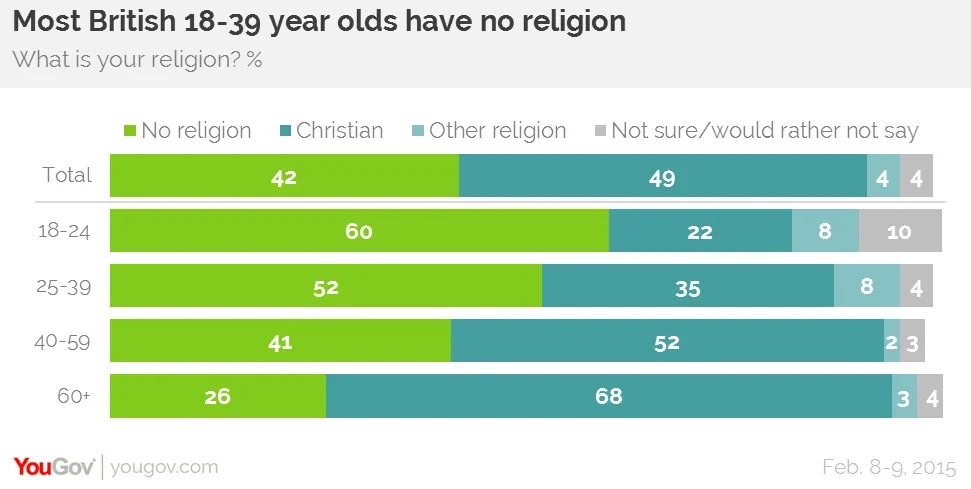 The survey also reveals how much British Christian identity does not line up with a conventional belief in God.
Only 55% of self-identified Christians believe in a God while 23% believe in "some sort of greater spiritual power", but not a God. Nearly one in ten Christians (9%) don't believe in any higher power, and 12% don't know what they believe in. At the same time, 22% of non-religious people believe in some kind of higher power.
This may have something to do with having an officially established church. As YouGov's previous research has shown, most people consider Britain to be a "Christian" country, even though most people don't see themselves as religious.
PA image