Abi Branning is the public's prime suspect in the Lucy Beale murder plot on Eastenders
The Eastenders murder plot that has been running for almost a year is nearing its conclusion. Starting February 16, as part of a week of Eastenders episodes performed live to celebrate the show's 30th anniversary, the 'week of revelations' will expose Lucy Beale's killer.
In April last year viewers saw the body of Lucy Beale, daughter of the sole remaining original character Ian Beale, lying dead in the middle of Walford Common. For most of the whodunnit plot, the marketing campaign focused on everyone being a suspect, but after DC Emma Summerhayes was dropped from Lucy's case she stumbled upon some evidence, narrowing the list of suspects down to 14.
New YouGov research reveals that Abi Branning is by far the public's prime suspect for the murder of Lucy Beale. 18% of British adults who watch Eastenders at least a few times a month think she was the killer; twice as many as think the joint second suspects committed the crime (Max Branning and Ben Mitchell, both suspected by 9%).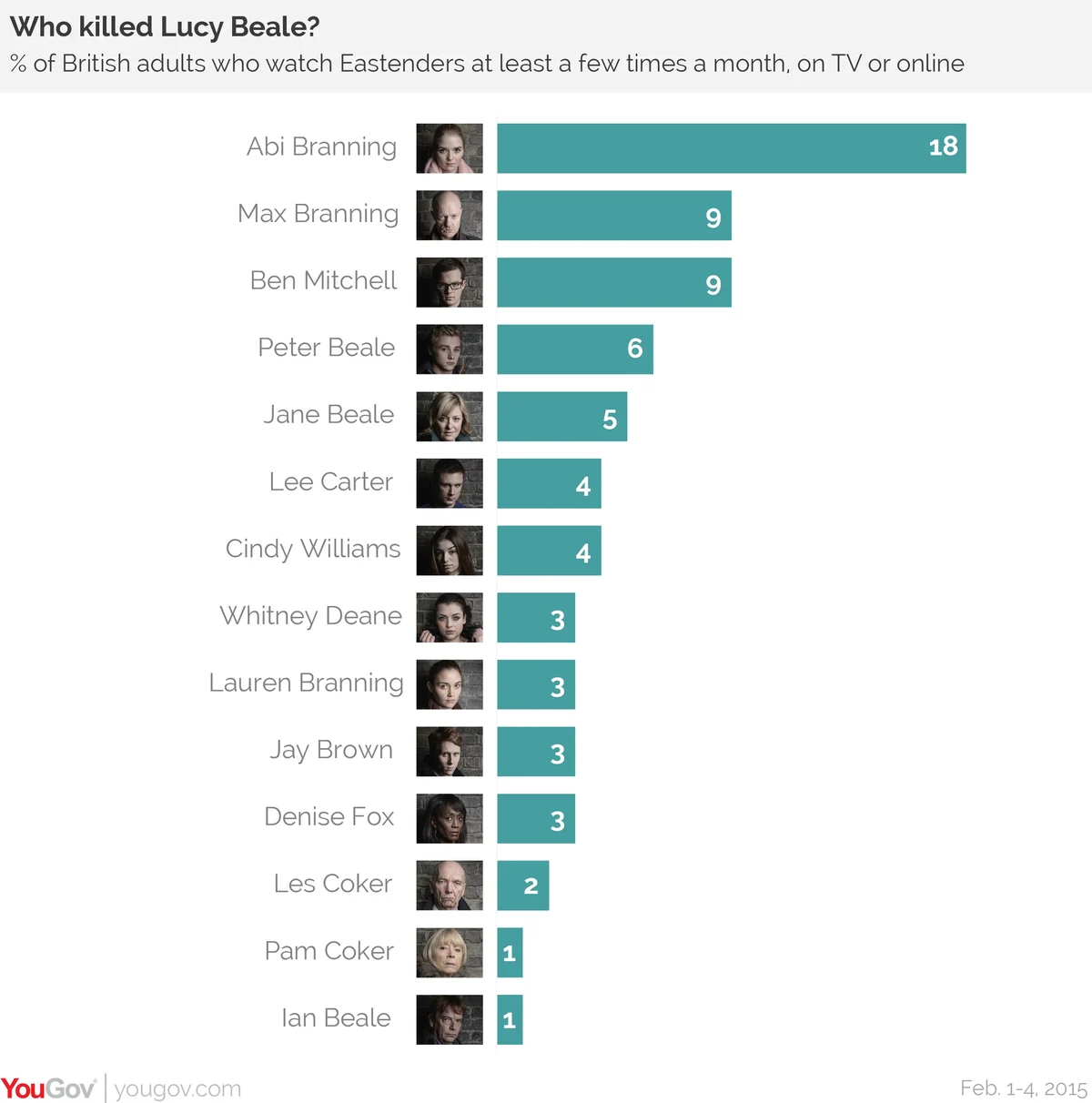 Female viewers (22%) are twice as likely as male viewers (11%) to think that Abi is the culprit.
Lucy's former step-mother, Jane Beale, and her own brother, Peter Beale, are suspected by more than 5%.
The Lucy Beale murder plot is intended to kick off a new era for the soap. Adam Woodyatt, who plays Ian Beale, hopes the new approach to British grieving will be as respected as popular dramas: "The executive producer summed it up in one word which sold it to me, and that word was 'Broadchurch'. Hopefully we'll do it even better, because we've got longer to tell the story", he said.