Young people think cannabis is as safe as adults think alcohol is – but cannabis is seen as twice as safe in America
Drug use has come down significantly among young people in the past 18 years. In 1996 around 30% of 16-24 year-olds had used illicit drugs – in 2014 the figure was around 20%. If you were nearing the end of secondary school, at college or a young undergraduate in 2005, chances are one in four of your peers had smoked a joint that year; if you weren't at that stage until 2014, only one in six would have.
Many argue that this supposedly new, steady youth are simply not interested in getting wasted. It's not that there's renewed moral panic about drug use – kids just have better things to do, or they can't afford them, anyway.
New YouGov research may support this view, revealing that young people are more relaxed about drug safety, despite use lessening by the year.
Alcohol is unsurprisingly seen as the safest drug, but what is interesting is that young people think cannabis is as safe as adults think alcohol is (34% of those over 25 say alcohol is safe, 35% of 18-24s say cannabis is safe).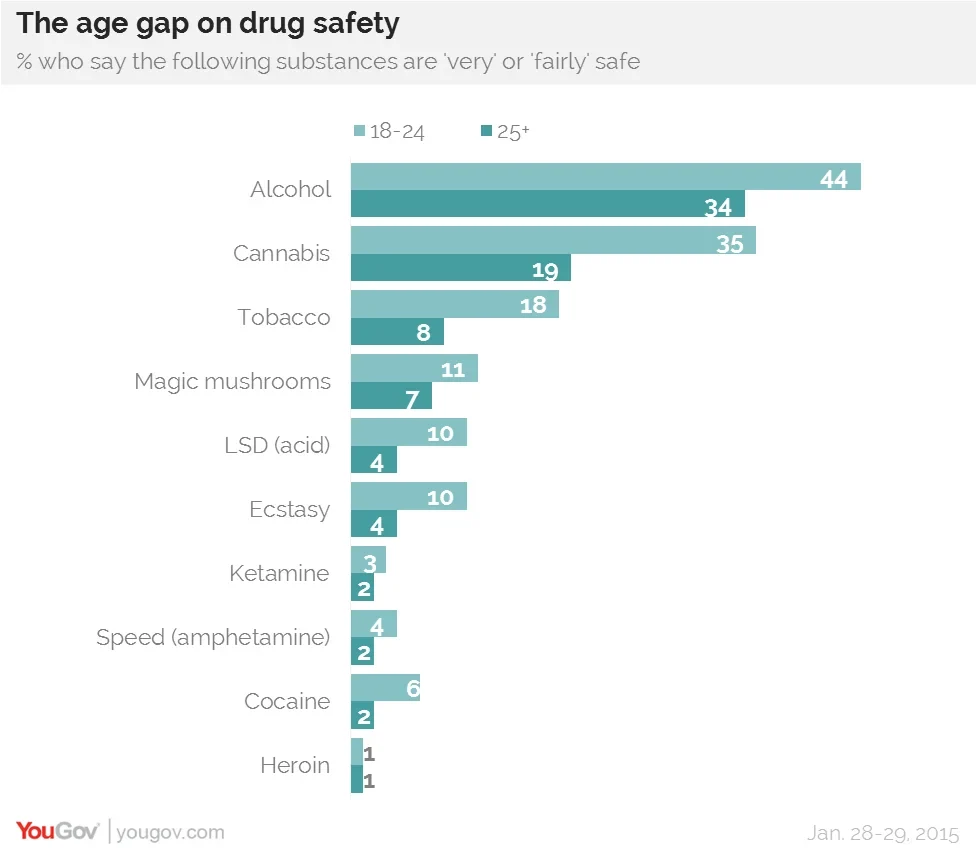 11% of young people say magic mushrooms are safe; greater than the 8% of adults who say tobacco is safe. And men seem more relaxed about drug safety, with 41% saying alcohol is safe compared to 29% of women, and 25% saying cannabis is safe compared to 17% of women.
Despite ramped up advertising on the ill effects of smoking, young people (18%) are still twice as likely as adults (8%) to say tobacco is safe.
America
Cannabis is now legal in some form in 23 states of the USA. In the majority of these states, sales are restricted for medicinal use only, but in 2015 there will be four states where cannabis can be used recreationally. By contrast, cannabis is not recognised as having any therapeutic value under the law in England and Wales, and posession carries a range of offences.
The differences between the legal systems have a marked effect on public opinion. In 2013, research by YouGov in America found people divided 45-48% on whether cannabis was safe or dangerous, respectively. In the UK, however, fewer than half as many (20%) say cannabis is safe.
PA images