63% of British men say it is possible to be a feminist and to pose topless for a newspaper or magazine – compared to 40% of women
Today's issue of the Sun features a topless woman on page three, ending days of speculation that the feature was finished. Page Three did not appear in its usual form from Monday to Wednesday – breasts were covered up when they appeared – however today there is a picture of a topless woman under the headline 'clarifications and corrections'. A notice under the picture reads: "We would like to apologise on behalf of the print and broadcast journalists who have spent the last two days talking and writing about us".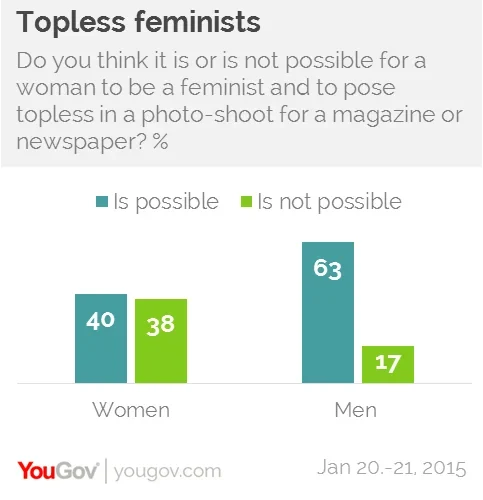 Responding to initial reports that Page Three had ended, models for the Sun claimed the feature was not anti-feminist. New YouGov research finds some sympathy for this view, although there are serious reservations.
Most British people (51%) say that it is possible to be a feminist and to pose topless for a magazine or newspaper. 28% say it is not. Men are significantly more confident in the possibility of topless feminists in the news (63% say it is possible, 17% say it is not), whereas women are divided (40% say it is possible, 38% say it is not).
The strongest arguments on each side of the debate are, in the pro-topless photos camp, the freedom of choice of women to do whatever they want (seen as strongest by 42%), and, in the anti-topless photos camp, ending the portrayal of women as sex objects (seen as strongest by 31%). Again, men are greater advocates of the freedom of women to pose topless than women are (52% and 33% respectively). And women are more concerned about the exposure of children to sexualised imagery than men (19% and 10% respectively).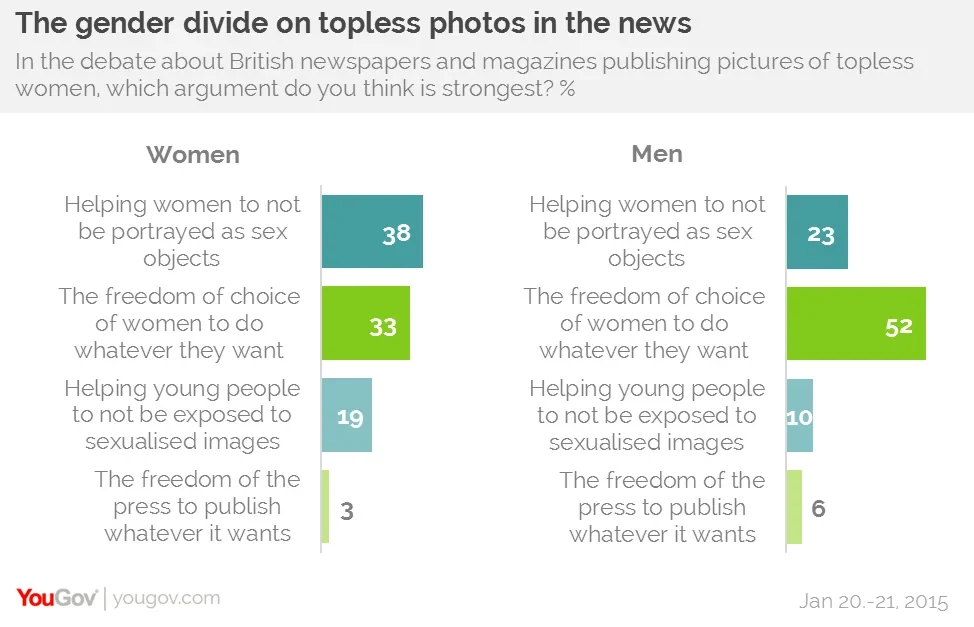 Commentators saw what they thought was the end of Page Three as only a modest victory for feminism – what undoubtedly would have been a significant moment was in reality eclipsed by the surge of online pornography. Likewise, most British men and women say that even if all British newspapers and magazines stopped printing topless photos this would make no difference to the feminist cause, even though women do tend to say the print media protray them in a negative (44%) rather than a neutral (36%) light.
PA images