Michelangelo's masterpiece easily tops Leonardo Da Vinci's Mona Lisa
Art critics may have lists of their own, but YouGov can now reveal the greatest artistic achievement in history as determined by the British public.
The clear favourite is Michelangelo's Sistine Chapel ceiling, painted in Rome between 1508 and 1512. Leonardo Da Vinci's Mona Lisa and his Last Supper are next on the list, followed by Claude Monet's Water Lilies (technically a series of over 200 paintings).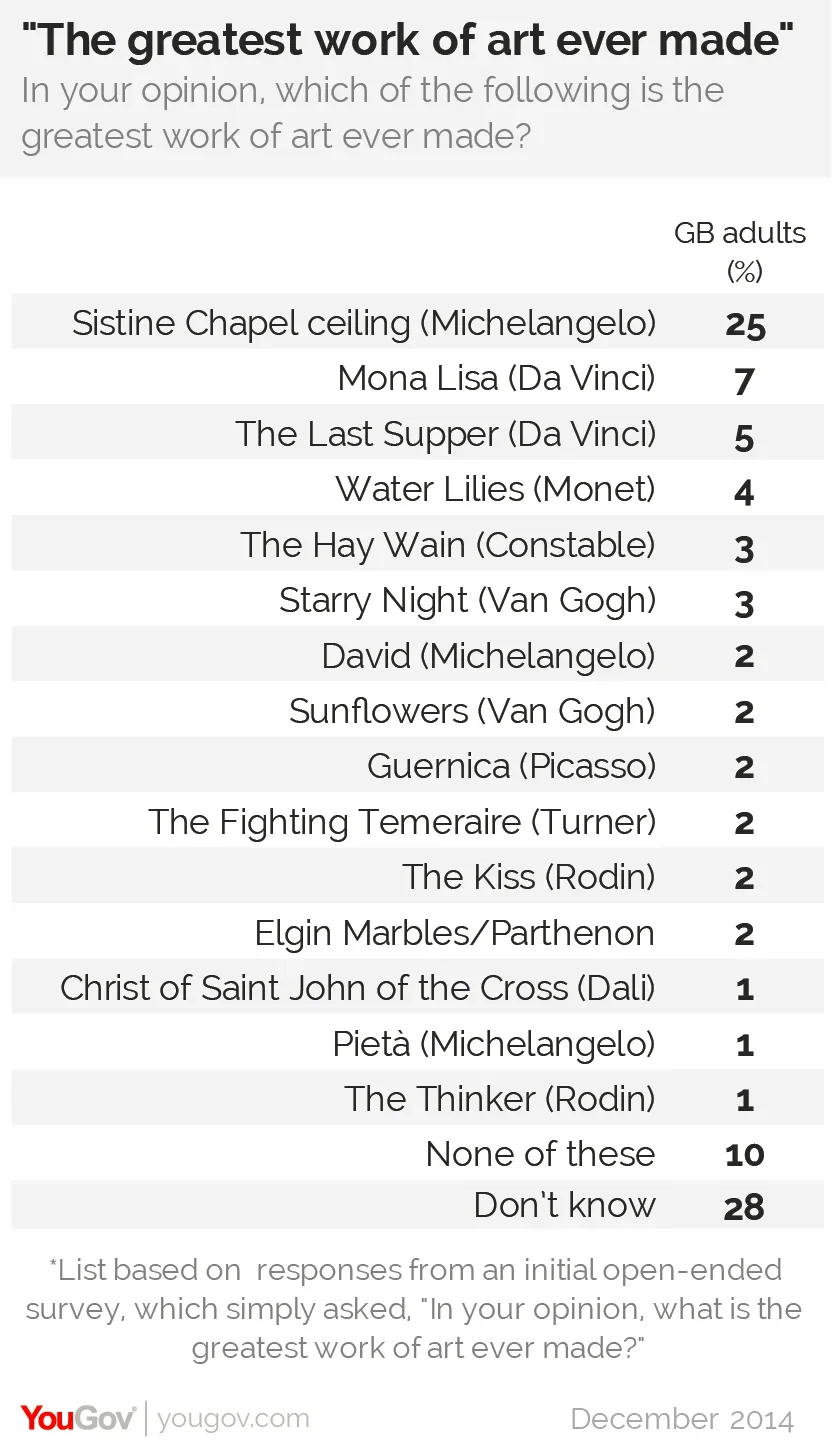 The Sistine Chapel painting is a fresco, meaning it was painted directly into wet plaster. Popular mythology has it that Michelangelo painted the ceiling while lying on his back, but in fact he painted it standing and looking upward from scaffolding, craning his neck just inches away from the surface. The ceiling, which depicts a number of different Biblical scenes, is one of relatively few paintings by the Old Master, who preferred sculpture.
Michelangelo might be especially pleased to come out on top of Da Vinci, one of his contemporaries and rivals.
How did we produce this list?
YouGov conducted its poll in two stages: first, we asked people with no prompting, "In your opinion, what is the greatest work of art ever made?" Then, in a separate survey, we asked the question again, using a list of the top 15 volunteered responses (the results seen above).
In both instances, the Sistine Chapel ceiling emerged as the outright victor. The rest of the rankings varied, though Leonardo Da Vinci's Last Supper and Claude Monet's Water Lilies ranked in the top four both times. In the open-ended version of the question, Michelangelo's David sculpture comes in second.
The nation's aesthetic tastes appear to be shaped by Western and British cultural traditions. All of the top 15 works were created by Europeans, including two paintings by British artists (John Constable's The Hay Wain and J. M. W. Turner's The Fighting Temeraire). Also notable, there are only 10 different artists who feature (if you count the sculptors of the Elgin Marbles as "one") – Da Vinci, Vincent Van Gogh and Auguste Rodin all appear twice, while Michelangelo appears three times.