In a poll of seven European countries, hardly anyone would defend FIFA from allegations of corruption
European defenders of global football governing body FIFA aren't extinct, but they are an endangered species. That's according to the latest data from YouGov's EuroTrack survey, which polls people in seven countries across Europe.
Within these seven countries, between 54% and 78% of people say there "probably has been corruption" in the running of the governing body for world football. And FIFA has remarkably few defenders. In Britain, only 2% are prepared to say there probably isn't corruption, while the most in any country to say the same thing are the 4% from Germany – currently home to the World Cup trophy – France and Finland (the remaining people fall in the "Don't know" category).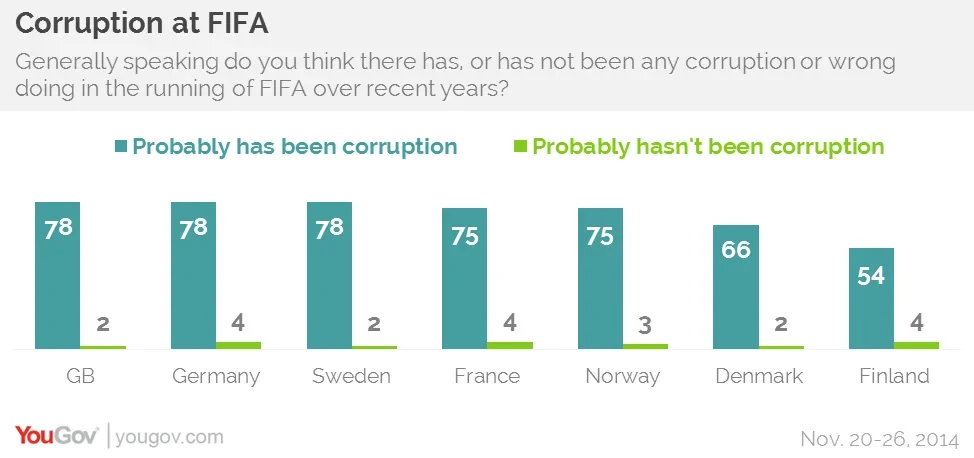 Allegations of corruption have dogged FIFA since at least since 2006, but they have been especially intense over the past four years. Most recently, an independent investigator resigned after FIFA refused to hear a complaint regarding a report on alleged corruption in the Russia and Qatar bids for the 2018 and 2022 World Cups. The investigator, U.S. lawyer Michael Garcia, accused FIFA of mischaracterising his findings in their summary of the report, but FIFA has since said they will release the full report.
The spectacle has amplified calls for a boycott of the World Cup, but national football teams are reluctant to abandon the world's largest sporting event on their own, without assurances it would lead to real changes at FIFA.
Asked about taking such a move, many Europeans are reluctant. People in France and Germany are about evenly divided on their national teams boycotting the World Cup, while Finns tend to oppose the idea. People in Britain, Norway, Sweden and Denmark, however, are generally supportive of a domestic boycott.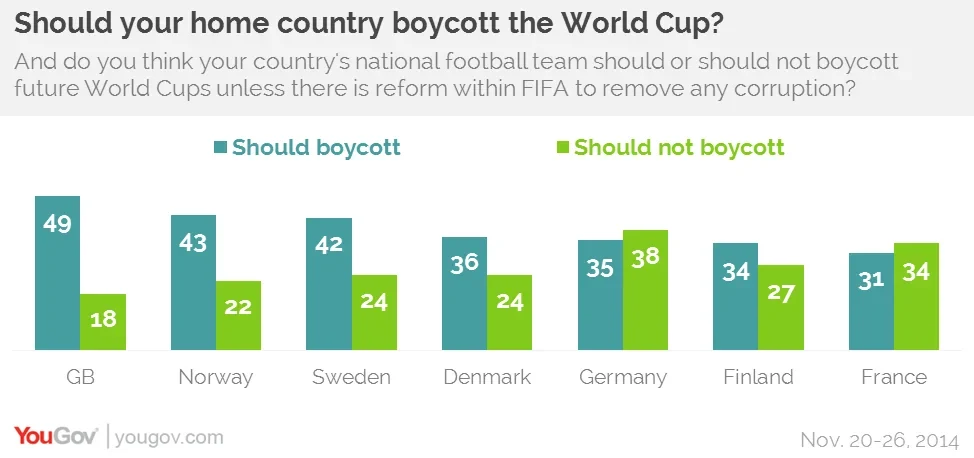 One alternative that receives wider support is a boycott spearheaded by UEFA, an administrative body that is part of FIFA and incorporates 54 football associations, mainly from Europe.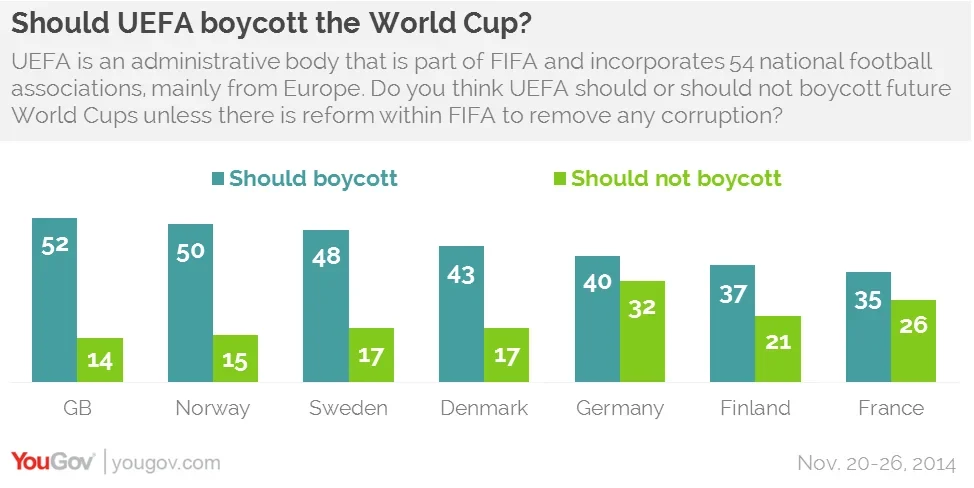 Around half of people in Britain, Norway and Sweden back a UEFA boycott of future World Cups unless there is reform within FIFA to root out corruption. Support falls to 40% in Germany and around a third (35%) in France, but in both cases those in favour of the boycott outnumber those opposed.
PA image