Fewer object to England athletes donning a 'Help for Heroes' message
The International Cricket Council recently banned England cricketer Moeen Ali from wearing wristbands saying "Free Palestine" and "Save Gaza" in a recent Test against India, citing rules against bearing political messages on the field of play. The England and Wales Cricket Board previously gave Ali permission to wear the wristbands on the basis that the message was humanitarian rather than political. Critics also accused the ICC of hypocrisy for allowing the England players to wear logos for "Help for Heroes", a charity for wounded soldiers, on their shirts the next day.
A new YouGov poll finds British people tend to see the two messages differently, leaving the public divided by the pro-Gaza message but mostly supportive of the Help for Heroes message.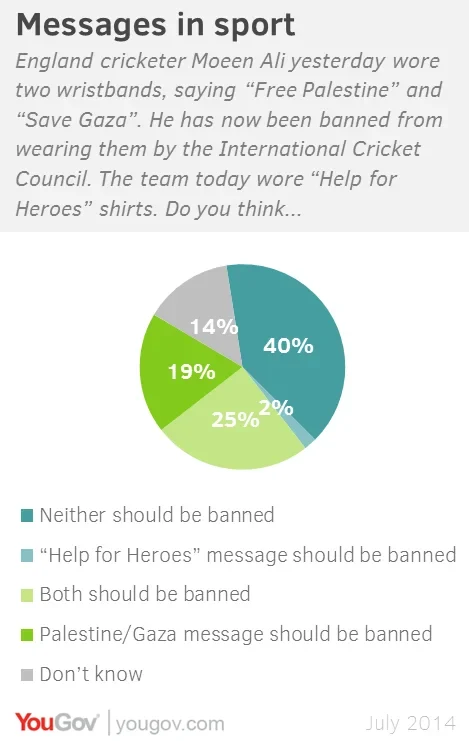 Respondents were given the option of banning one message but not the other, banning both or banning neither. 40% said neither should be banned, 25% said both should be banned and 19% said only the pro-Gaza message should be banned. Hardly anyone (2%) say only the Help for Heroes message should be banned. 14% don't know.
Taken together, the results find 42% either think neither should be banned or only the Help for Heroes message should be, compared to 44% who favour banning either both messages or just the pro-Gaza message.
By the same calculation, only 27% want the Help for Heroes message banned and 59% want it allowed.
While few people of any political preference want the Help for Heroes message banned on its own, UKIP and Conservative voters were much more likely than Labour and Lib Dem voters to specifically want the Gaza-related messages banned.
This follows the same pattern found in previous YouGov polling which has shown Labour and Lib Dem voters to be particularly sympathetic to the Palestinians in Gaza. Regardless of its political undertones, the most recent outbreak of Israeli-Palestinian violence has become a humanitarian crisis. The UN estimates 1,200 have been killed in the fighting, the majority of whom have been Palestinian civilians, and just today a UN shelter in Gaza housing thousands of refugees was attacked.
Image: Getty