Overall, British people like thunderstorms, but some groups find them scary more than others
A recent spate of hot weather in the UK led to warnings of not just heatwaves, but thunderstorms. Across Britain, storms gave fodder for dramatic pictures of lightning in the sky and stories of being woken up in the night by booming thunder. This week, news from California brought a reminder of the real danger posed by thunderstorms when a fluke lighting storm injured a dozen people and killed one.
A new YouGov survey finds that overall, most British people like (64%) rather than dislike (26%) thunderstorms.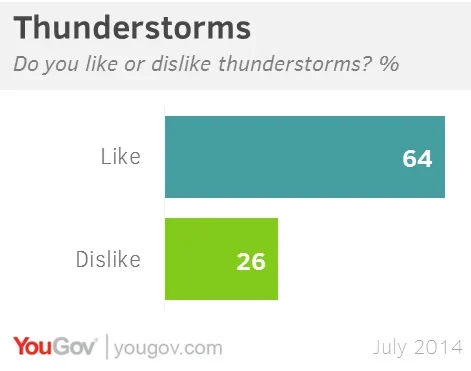 People are also much more likely to be excited by thunderstorms than scared by them. 72% say they are never scared by thunderstorms – at least when they are inside and relatively safe from being struck by lightning – while the same number (73%) say they sometimes find thunderstorms "exciting".
Some groups in Britain are fonder of thunder and lightning than others, however. 36% of over-60s dislike thunderstorms, for instance, the most of any demographic. Meanwhile, people in Scotland are among the most likely to like thunderstorms (71%) and find them exciting (80%), and the least likely to find them scary (16%).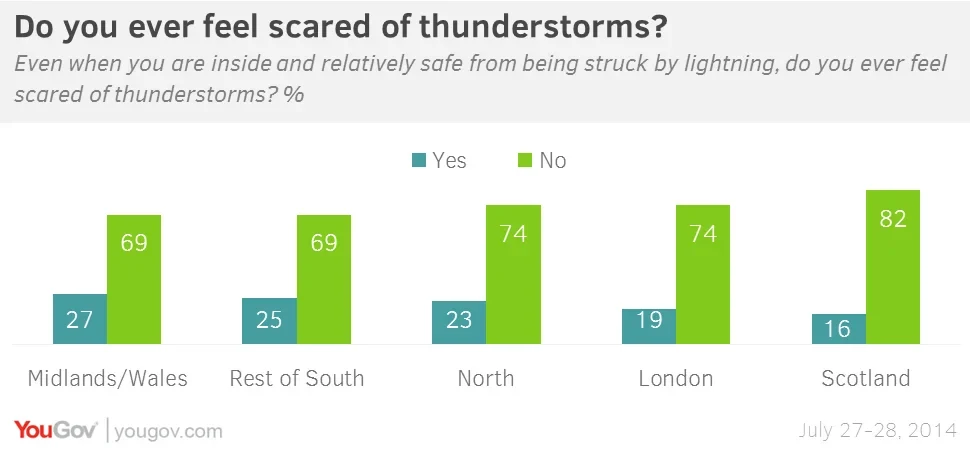 There is also a significant gender gap when it comes to feeling scared of the storms – 33% of women admit to finding some thunderstorms scary, even when safely inside, compared to only 13% of men.
British people also like thunderstorms more than people in the United States, where YouGov ran a parallel survey and found only 55% like them. However, the frequency of destructive storms like hurricanes and tornados there probably dampens some of the excitement.
The BBC reports that much of the humidity and high temperatures – and the thunderstorms that came with them – can be credited to the position of the jet stream north of the UK. However, the jet stream is now moving south, pushing temperatures down and increasing the chance of showers, but making the thunder and lightning seen in recent weeks less likely.
Image: Getty