But people tend to believe the same thing about several world leaders, including Tony Blair and George W. Bush
Former Deputy Prime Minister John Prescott wrote in the Sunday Mirror this week that Israel's "brutally disproportionate and grossly indiscriminate" bombardment of Gaza consititutes a war crime. Lord Prescott's claims echoed warnings by NGOs and UN human rights chief Navi Pillay that both sides in the conflict may be violating international law. There have been high civilian casualties during Israel's latest offensive in Gaza, but Ms Pillay and others also note Hamas' indiscriminate rocket campaign against civilians in Israel and their use of human shields.
A new YouGov survey reveals that the British public largely suspect both sides are guilty of war crimes, mirroring previous findings that both Israel's offensive and Hamas' rocket attacks are seen as unjustified. Two-thirds (65%) believe Hamas, designated as a terrorist organization by the US and the EU, is guilty of war crimes. Only 7% think Hamas is not guilty. Condemnation is only slightly less widespread against Israel, with 62% considering Israel guilty of war crimes and 12% thinking not.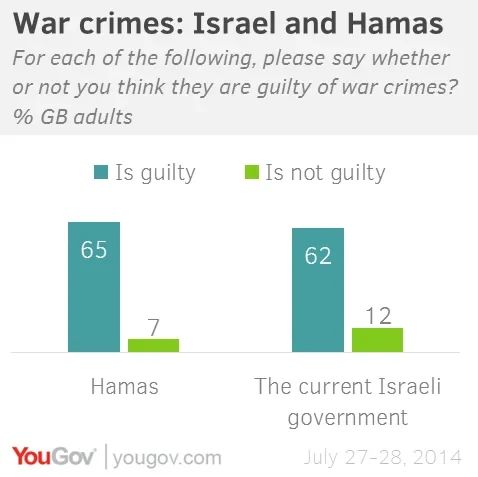 However, by even wider margins British people suspect that Russian president Vladimir Putin (66% guilty to 7% not guilty) and President Bashar al-Assad of Syria (69% to 4%) are themselves war criminals.
Prominent leaders in the West are not free from blame either, according to the poll. Half (50%) of the British public also believe George W. Bush is a war criminal and nearly as many (46%) say the same for former UK Prime Minister Tony Blair.
By contrast, only 34% believe the Ukrainian government, which is currently fighting against pro-Russian separatists in eastern Ukraine, is guilty of war crimes, slightly more than think the government is not guilty (26%). Only about a fifth of the public think the current British government (20%) or current US President Barack Obama (19%) are guilty of war crimes.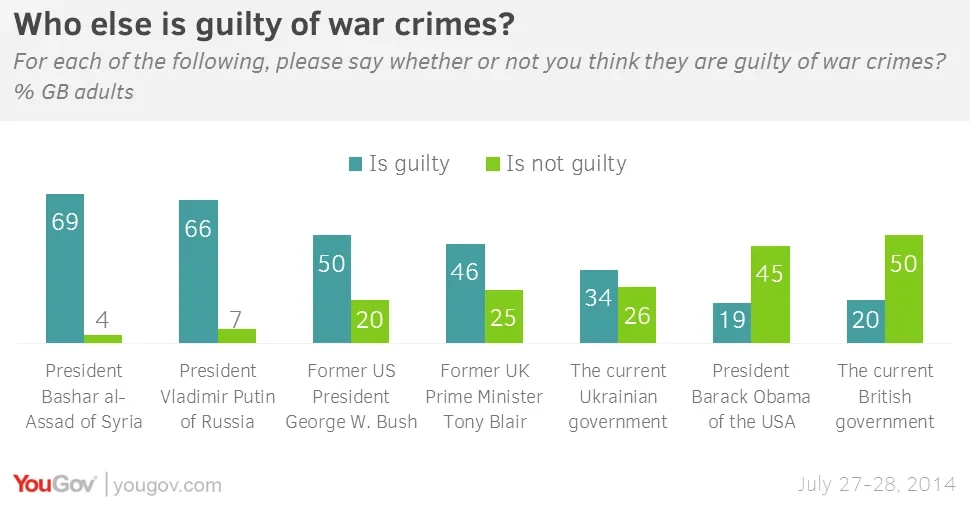 Ms Pillay's warnings came as the UN Human Rights Council, the UN's top human rights body, voted on whether to investigate alleged violations of international law in the Gaza Strip during the recent outbreak of violence. The probe will go ahead after 29 countries voted in favour. The United Kingdom abstained along with 16 other countries, while the United States cast the sole vote against the investigation.
Image: Getty