Both Hamas's rocket attacks and Israel's offensive in the Gaza strip are considered unjustified by the majority of the British public
At least five people were reported to have been killed and 70 injured today in an Israeli shelling of a hospital in Gaza, according to reports. On Sunday, the bloodiest day of the two-week conflict, 100 Palestinians were killed, pushing their death toll above 500. 20 Israelis, 18 of them soldiers, have also been killed.
Since YouGov begun polling on the Israel-Palestine conflict in 2003, there has generally been slightly less sympathy for the Israelis than for the Palestinians (14-23% today); however the most popular response has always been to sympathise with neither side (40% today).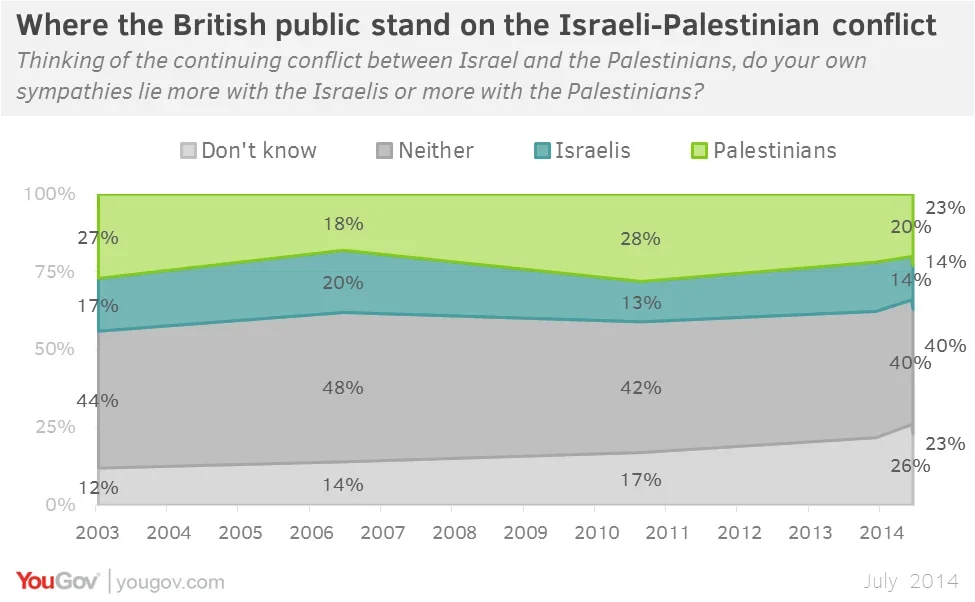 The latest research finds a consistent antipathy for the armed attacks on both sides, with the majority of British people seeing Israeli attacks on Gaza and Hamas's rocket attacks on Israel both as unjustified (51% and 60%, respectively). In this assessment of the military offensives of each side, however, people are more likely to say Israel are justified (15%) than Hamas (7%).