59% think William Hague did a good job as Foreign Secretary, while only 22% think the same of Michael Gove. Most do not have an opinion about Owen Paterson.
The latest cabinet reshuffle marks the biggest change in David Cameron's inner circle since the formation of the government in 2010. Among the most well-known figures leaving their roles are Michael Gove, who was Education Secretary, William Hague, who was Foreign Secretary and Owen Paterson, who had been Secretary for the Environment, Food and Rural Affairs.
The latest YouGov polling for The Times reveals how differently voters view the tenures of William Hague, Michael Gove and Owen Paterson on the eve of their departures.
Looking back, 58% give Michael Gove poor marks for his work at the Department for Education, while just 22% rate him positively. These numbers are virtually unchanged from February, when YouGov found Mr Gove's performance ratings to be the lowest among prominent Conservative politicians. Asked whether David Cameron was right to remove Mr Gove from his role, 63% agreed he was, and just 12% wanted Gove to remain as Education Secretary.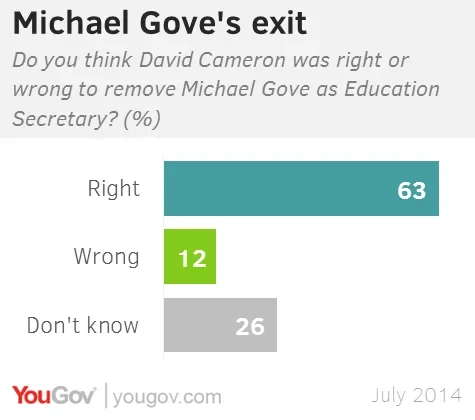 Owen Paterson's performance is also rated badly (34% to 12% well), and he even receives overall negative ratings among Conservative voters (26%- 22% well). However the majority of voters have no opinion about him.
By contrast, William Hague is both well-known and well-liked. 59% believe he did his job as Foreign Secretary well, and only 18% say he was doing it badly. These are impressive numbers not only when compared to Mr Gove and Mr Paterson. They top the latest job approval ratings for both David Cameron (51-40% well) and George Osborne (47-41% well).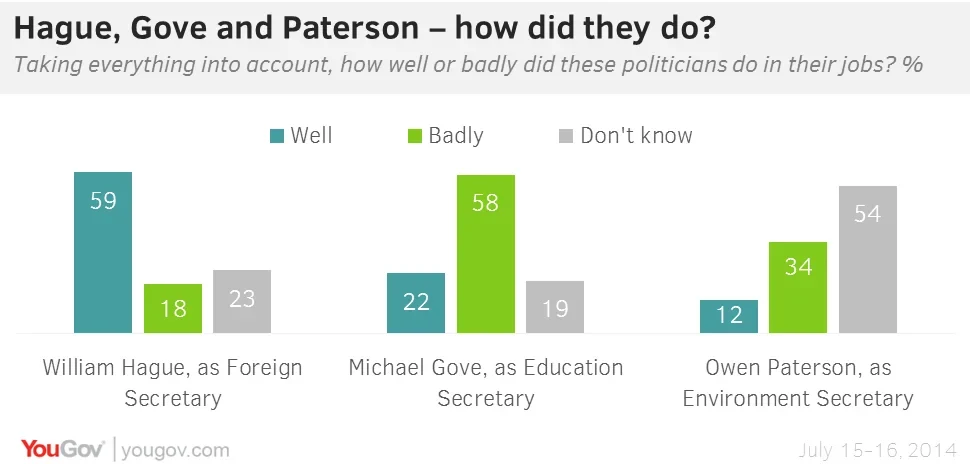 Although William Hague has announced he will be leaving politics altogether after the next general election, he will continue to play a role in government until then as Leader of the House of Commons and First Secretary of State. Michael Gove will also remain in a senior role as Government Chief Whip. Owen Paterson, however, will no longer be in government.
Image: Getty