More people now see the Conservative Party as employing women in senior roles, but they still lag behind Labour on this measure
Much of the attention – and many of the headlines – surrounding David Cameron's recently announced government shake-up has focused on the "middle-aged white men" who are on the way out, and the women on the way in. This includes promotions for three women – Nicky Morgan and Liz Truss and Esther McVey. Several high profile men, including the likes of William Hague, Ken Clarke and Michael Gove, will be leaving the cabinet altogether or be demoted.
A new YouGov poll for The Times suggests the move has convinced some voters that the Conservative Party includes women in senior positions, though the majority of people with an opinion on the matter still believe the party appoints few, if any, women to top jobs.
36% percent of people now describe the Conservative Party as one that puts at least some (31%), if not many (5%) women in senior roles. This is still an improvement over how people viewed the party following last October's reshuffle, when just over a quarter (27%) of voters believed the same thing.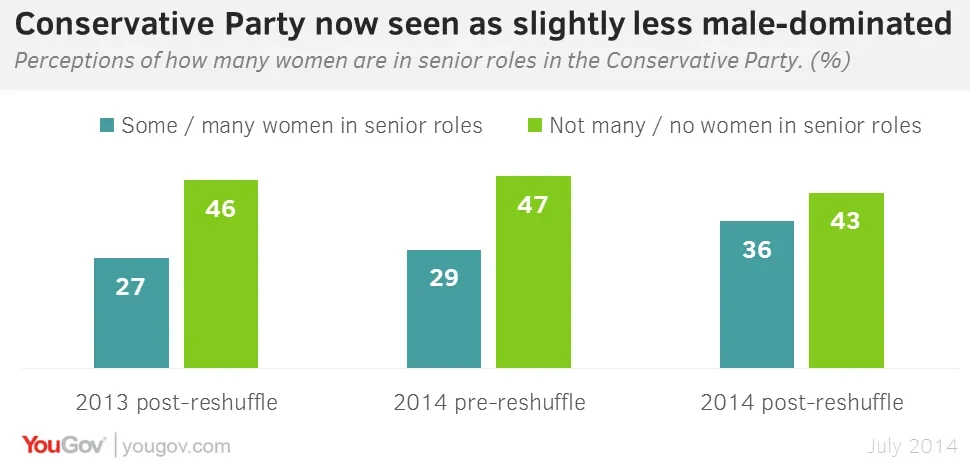 In this respect the Conservative Party still lags behind Labour by a significant 12-point margin. In reality, about half of the Labour-appointed shadow cabinet is made up of women compared to about three-tenths of the Conservatives in the cabinet.
Some of the shift may be as much due to the well-known male figures on their way out as much as the women moving up the ranks. Earlier this month YouGov found outgoing Foreign Secretary William Hague and Education Secretary Michael Gove to be among the four most recognisable cabinet secretaries, and their roles among the most senior-seeming. William Hague will be replaced with another man, Phillip Hammond, while Nicky Morgan, who became Minister for Women in April, will become the new Education Secretary.
Image: Getty