A plurality of 3G handset owners will consider upgrading to 4G services once their current contract ends, new research from YouGov reveals.
The "4G Tariffs, 2014" report highlights the current attitudes to upgrading among consumers currently on 3G – either on 3G-only or 4G enabled devices. The report shows that 44% of current smartphone owners own a 3G device that is not compatible with 4G and 20% are on 3G but own a handset that is capable of running 4G.
Among both groups, the most common attitude is that they will consider moving to the service once their current contract ends (34% of 3G-only and 31% of 3G/4G). Both groups of 3G users are similarly concerned about cost and both are just as likely to wait until the price of 4G falls before switching (26% of each group). Those who are using 3G on 4G-enabled handsets (22%) are more likely than 3G-only device users (17%) to consider moving to a new network to obtain a good deal when they upgrade to 4G.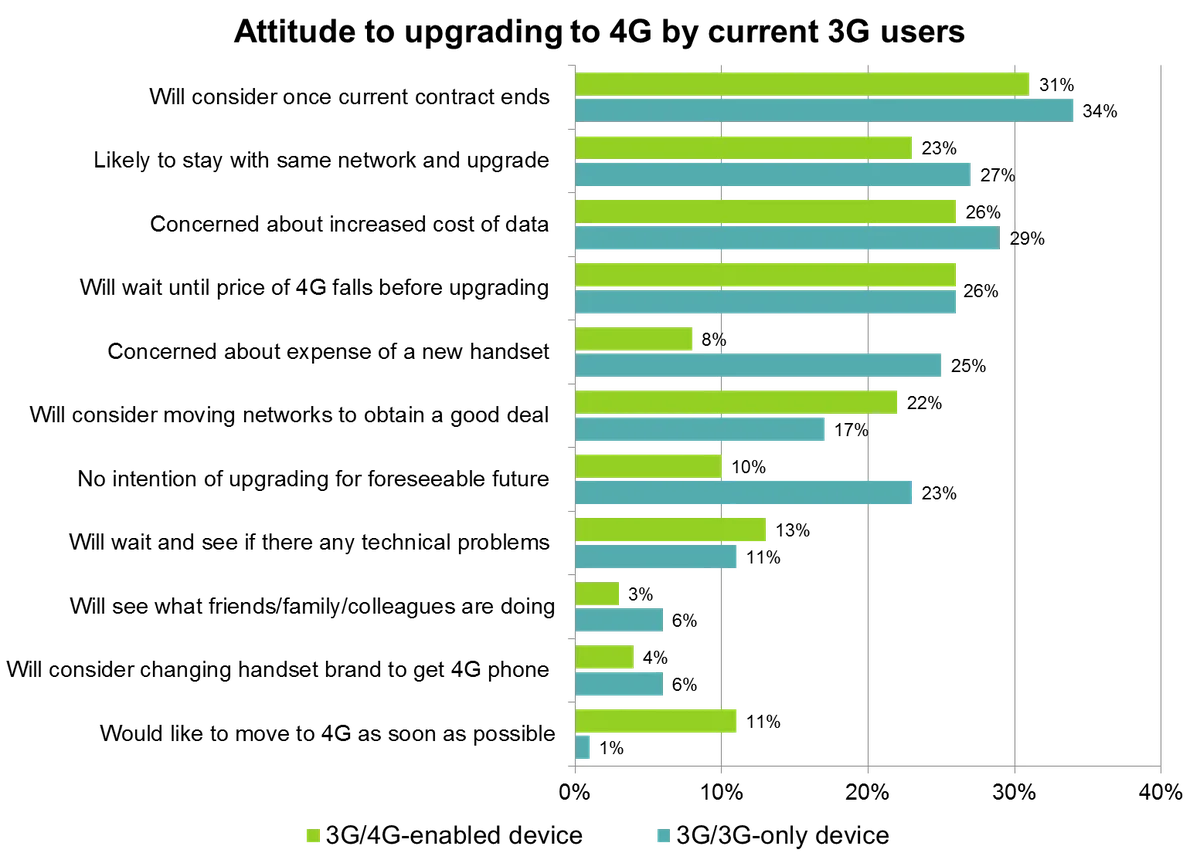 The report suggests that while the majority of current 3G users think they might upgrade, only a small number are highly likely to. A higher proportion of 3G/4G owners than 3G-only users say they are "very likely" to upgrade (18% to 8%), although similar numbers of both groups (17% of 3G/4Gs and 18% of 3G-only) reckon they are "quite likely" to make the move over to 4G. However, despite the lack of enthusiasm the number of people who say they are "unlikely" or "very unlikely" is relatively small.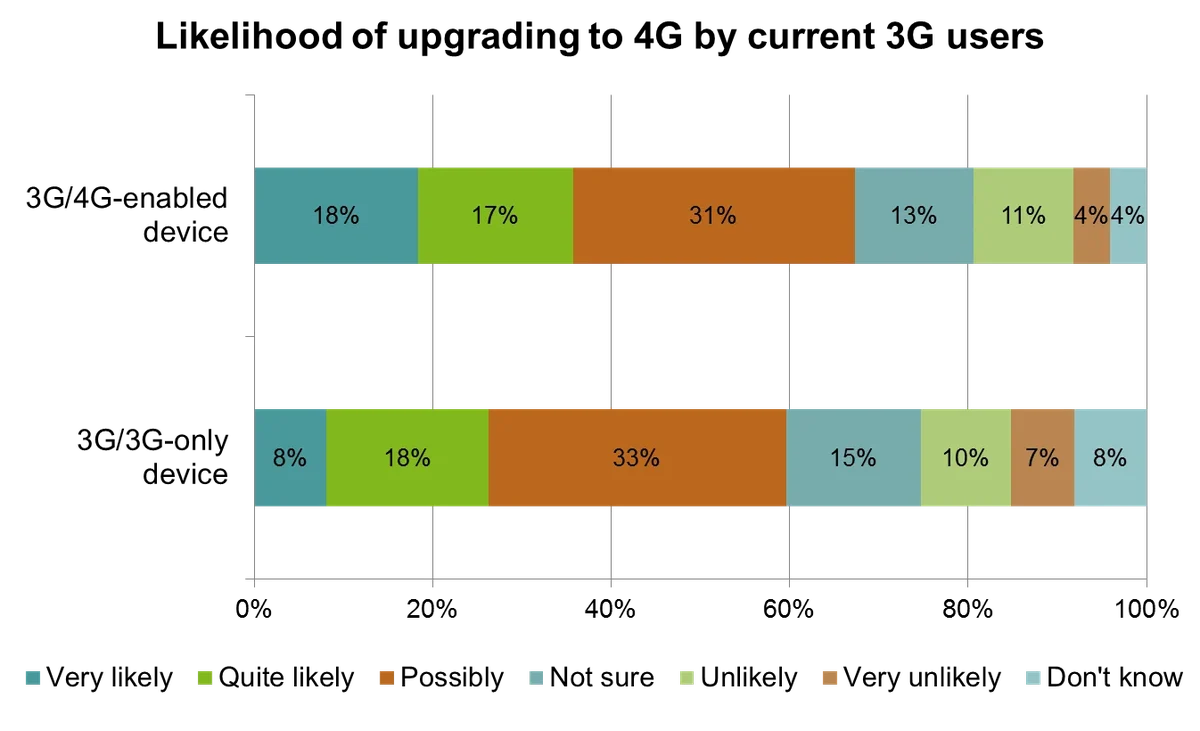 While the majority think they might upgrade, the reports suggests the change will be a slow evolution, with low levels of proactive enthusiasm about making the switch. Just over one in five (22%) of those with 3G-only devices and just under three in ten (29%) of consumers with 3G/4G-enabled handsets are excited about the capabilities of 4G.
Meanwhile four in ten (43%) 3G-only owners and over half (55%) of 3G/4G-owners say that while they would prefer to upgrade their service, they are not particularly excited by it. A large number (42%) of 3G-only owners can't see the point as 3G works well for their needs.
Fears over costs and a lack of knowledge of the benefits of 4G are prominent for current 3G owners. More than half (56%) of 3G-only (and over four in ten (44%) 3G/4G) owners believe upgrading would be too expensive. The majority (53%) of 3G-only owners also feel that they have not got enough information about the benefits of 4G, a figure that falls to just 28% of those with 3G/4G devices.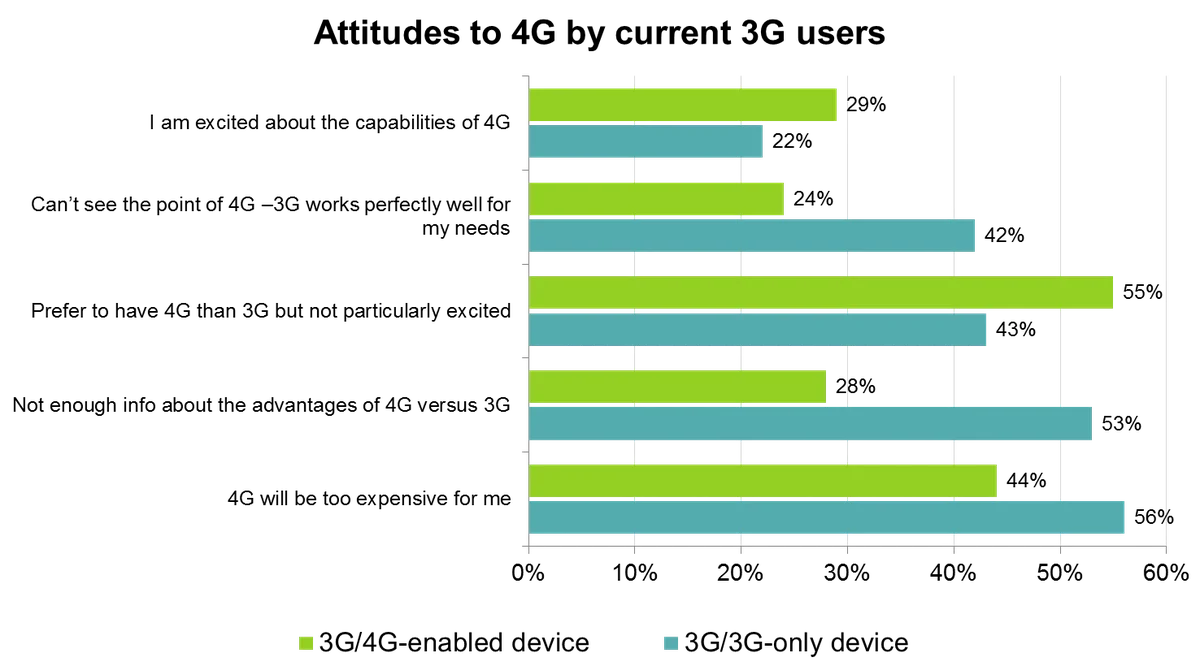 Russell Feldman, Director in Technology & Telecoms at YouGov, says: "Current 3G users are a key target group when it comes to the next wave of 4G adopters. However, while there are high levels of awareness of 4G and it seems likely that consumers will shift over to the service, the change will be more evolutionary than revolutionary. Although most think they might upgrade a lot of these late-comers are also not particularly excited by what 4G offers.
"There is definitely hope for operators here, though. Two of the main issues for current 3G users when it comes to upgrading are the potential cost and a lack of information over the benefits. As many networks are now offering free or cut-price deals on 4G, the next challenge is to communicate both the deals and the benefits of upgrading to consumers nearing the end of their contracts. If they do this they will stand a good chance of turning people who might be interested into those who will upgrade."
Go to the YouGov Reports website
Image from Getty