Chancellor, Home Secretary and Foreign Secretary are still seen by the public as the most senior jobs in Cabinet – but Michael Gove is as well-known
The three great offices of state other than Prime Minister - Chancellor of the Exchequer, Home Secretary and Foreign Secretary - are still identified by the public as the most important jobs in politics, and their present incumbents are the most identifiable politicians aside from David Cameron. However, there is a new addition to the top tier in the form of Education Secretary Michael Gove, who perhaps through a combination of controversy and strength of personality has become almost as widely identified in government as his senior colleagues.
The three top jobs, as perceived by the British public, are Chancellor (78%), Home Secretary (53%) and Foreign Secretary (45%), and the MPs who fill the roles are all highly-known: 66% know George Osborne, 60% know Theresa May and 58% know William Hague. But fully 57% can also identify Michael Gove as Education Secretary. There is then a big jump down to 36% for Iain Duncan Smith as Work and Pensions Secretary and 28% for Jeremy Hunt in Health.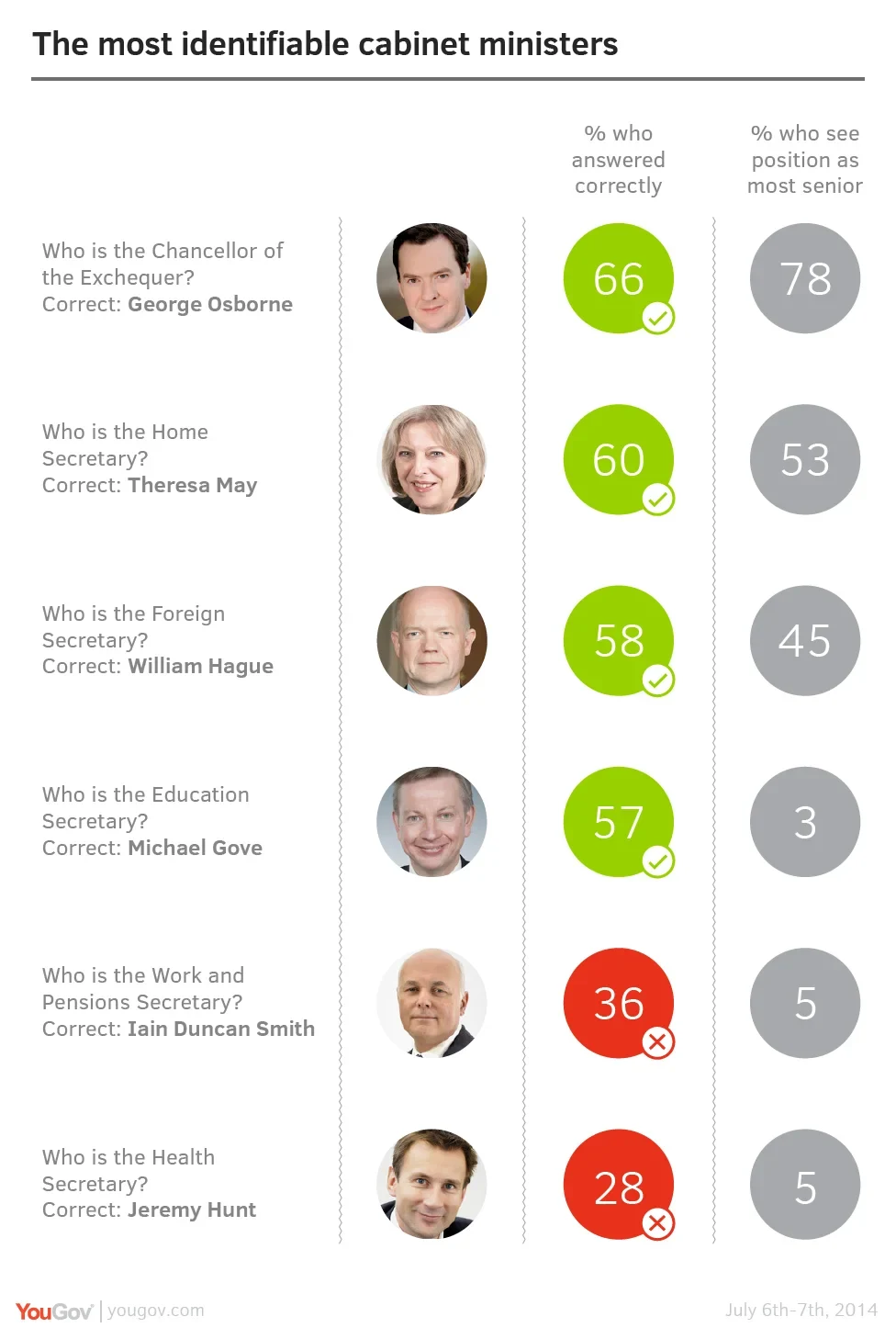 When Tony Blair threatened to move Gordon Brown from the treasury, he admitted the only other post he would accept was the Foreign Office. Now, too, the current Chancellor is said to be eyeing a move there, but it is actually Home Secretary that British people see as more senior (53%) than Foreign Secretary (45%).
William Hague, who lead his party from 1997-2001, may be well known and his job may be perceived as senior, but some claim that he hasn't risen to eminence. "Britain hasn't really had a foreign secretary under William Hague", said one commentator, "Posing with Angelina Jolie is, at present, the high point of his time in office."