After David Cameron's attempt to revive Tony Blair's 'Cool Britannia' party this week, we asked which party leaders since 1997 are now seen as 'cool'...
In 1997 Tony Blair attempted to defy the laws of politics, as stars like Noel Gallagher and Vivienne Westwood descended on No. 10 to bring New Labour into the fold of 'Cool Britannia' (although the party "wasn't cool", said Noel at the time). This week David Cameron had less success: after Benedict Cumberbatch and Harrison Ford declined, he was joined by Cilla Black and Ronnie Corbett in a celebration of "the best of Britain's creative industries".
History is studded with attempts by politicians to act cool, and a new YouGov survey confirms that all the attempts in recent years have failed. But who is the least uncool of the party leaders?
David Cameron and Tony Blair are seen as the joint coolest, although it is a dubious honour as they are both still firmly in negative territory: 27% say they are cool and 63% say they are uncool.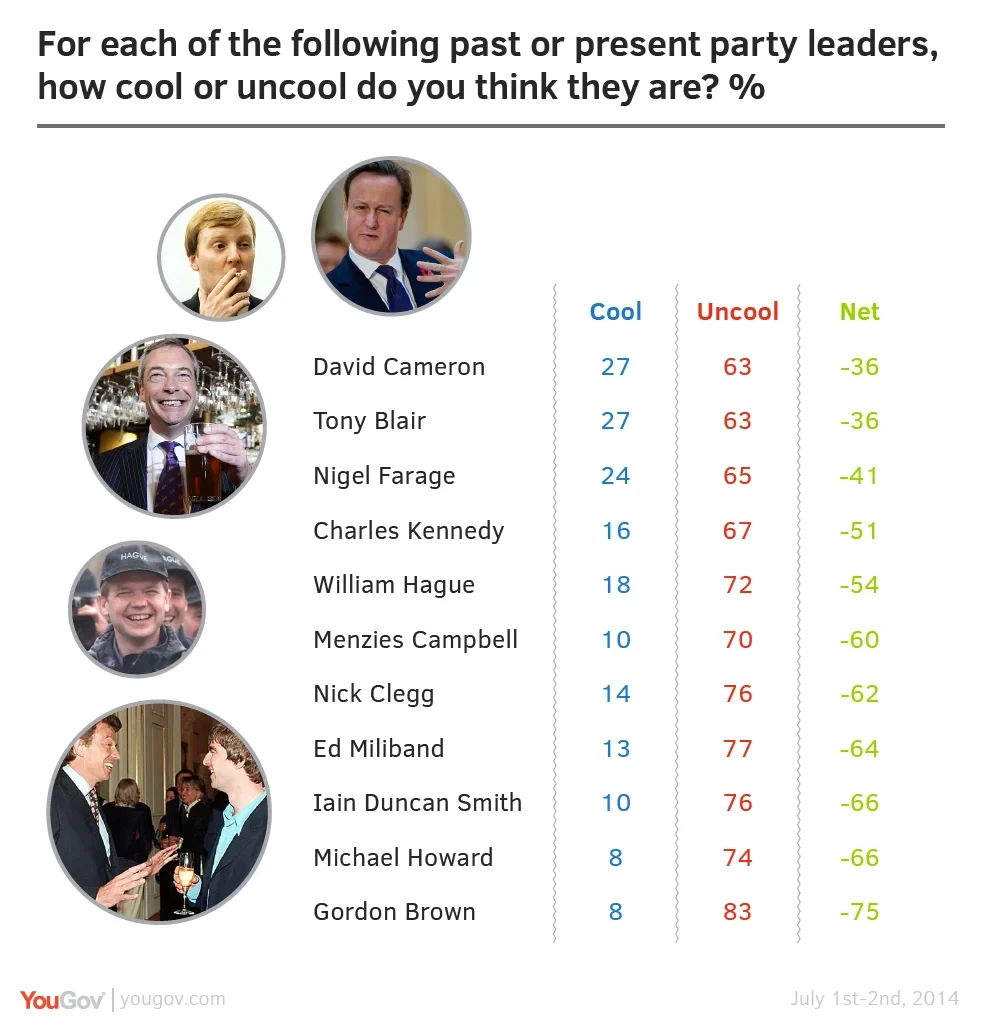 Nigel Farage – the so-called everyman – proves that even smoking and countless photo-ops in pubs cannot make a politician cool. 24% regard him as cool and 65% uncool. Clearly he has convinced someone, however, as 75% of his supporters regard him as cool. This is by far the highest rating given by any group to any politician.
Voters of every other stripe are less captivated: Conservative supporters give David Cameron 59%, Liberal Democrats give Nick Clegg 49% and Labour voters give Tony Blair 45% (their current leader, Ed Miliband, they give 30%).
But by far the most uncool is Gordon Brown. At net -75, his coolness rating is 9 points behind Michael Howard's and Iain Duncan Smith's (both -66), 11 points behind Ed Miliband's (-64) and 13 points behind Nick Clegg's (-62).
William Hague had perhaps the biggest cool-flop when, attempting to salvage the party's fusty look, he donned a baseball cap, rode a log flume and attended the Notting Hill carnival in 1997. Over the pond they've perhaps had more success: in 1992, while running for office, Bill Clinton played the saxaphone on the Emmy Award-winning Arsenio Hall show, a slot usually filled by the likes of director Spike Lee and comedian Bill Crosby. And in 2012, while fighting for his second term, Barack Obama was invited to party in the "breathtaking" 40/40 club with Jay-Z and Beyonce. Could he be the coolest party leader in the world?