65% of British people say the appointment of Jean-Claude Juncker as EU president was out of David Cameron's hands – and most people think he was right to vote against him, even if it was unsuccessful

Labour accused David Cameron of leaving the UK's European renegotiation strategy "in tatters" this week, after the Prime Minister's attempts to block Jean-Claude Juncker's European Parliament presidential bid failed last Friday. Ed Balls said that efforts to stop the appointment of the federalist former Luxembourg leader were "cack-handed" and risked pushing Britain closer to an EU-exit – "a catastrophe for Britain and the British national interest".
But a new YouGov poll finds Mr Cameron's reputation unharmed by the defeat over Juncker, with most British people viewing the selection as out of the Prime Minister's hands and supporting his outspoken approach.
Although David Cameron failed to convince enough countries to vote with him against Mr Juncker, only 14% support the view that had he built better alliances and performed better at negotiation he could have blocked the new president. 65%, on the other hand, say that the other countries had already made up their minds and no improved negotiation could have changed them. The majority of supporters of all parties back this view.
Most people also oppose the view, held by only 20%, that while Mr Cameron was certain to be outvoted, speaking out against Juncker needlessly damaged the UK's relationship with Europe. 60% say the Prime Minister was right to speak out, even if it was futile.
Future renegotiation
David Cameron now admits that the result makes renegotiating the UK's relationship with Europe, to be voted on in 2017 if the Conservatives retain power, "harder and it makes the stakes higher".
The public divide 35-36% over whether opposing EU politicians as an outsider makes them more or less likely to negotiate with the UK. And there are clearer political divides here than with the Prime Minister's handling of Juncker.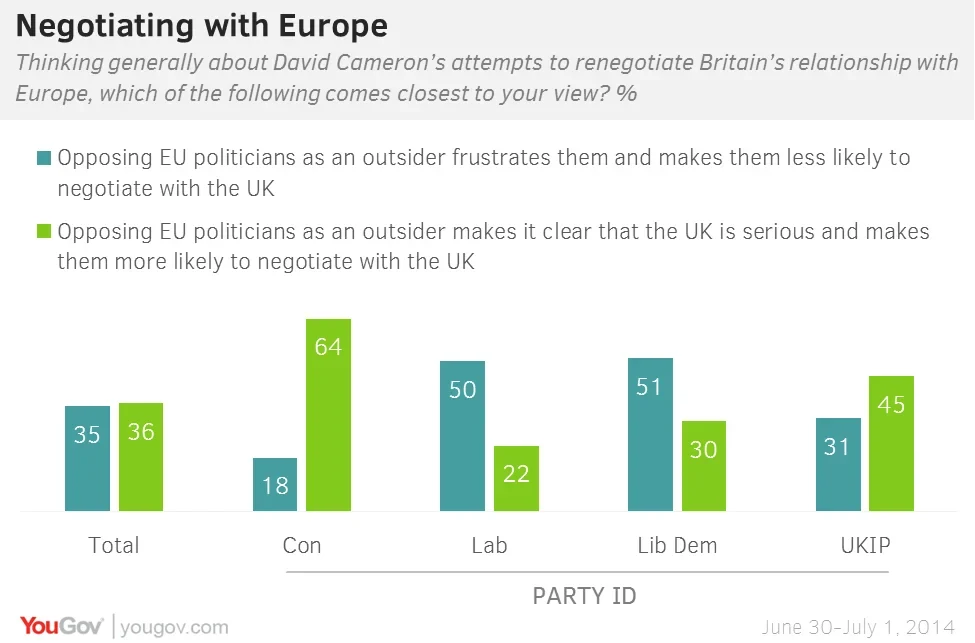 Prior to the selection of Mr Juncker as president, David Cameron and British minsters launched an outspoken opposition, describing him as an outdated Brussels politician unwilling to listen to voters' desire for reform. The two spoke by phone on Saturday, however, signalling an end to hostilities, and the Prime Minister now says he can "do business" with Juncker, noting that the new president had said he was ready to give Britain a "fair deal".
Image: Getty