The phone hacking inquiry may have been among the most expensive in history, but the public largely think it has been worth it
Former News of the World editor Rebekah Brooks has said she feels "vindicated", following her not-guilty verdicts in the phone hacking trial that ended last week. Andy Coulson, another former editor of the News of the World, was found guilty of conspiracy to hack voicemails, bringing one of the most expensive investigations in history closer to an end.
In a YouGov survey conducted for the Sunday Times, the majority (53%) of the British public take the view that the phone hacking investigation has been worthwhile, even given the cost. Only a third (33%) think the police "should have investigated other, more serious, crimes instead". 14% don't know.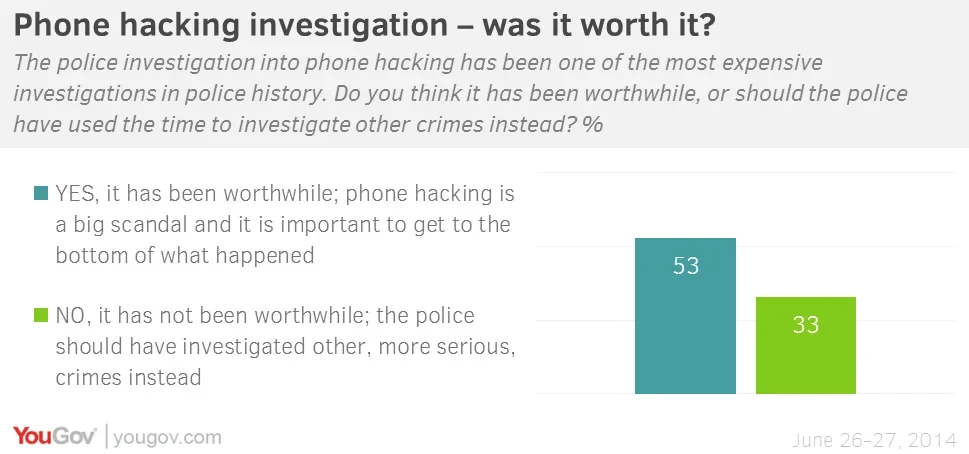 According to recent estimates, the police inquiry into phone hacking and ensuing prosecutions could cost up to £100 million. Some have raised questions on whether the focus on these high profile prosecutions has led to investigations into other crimes being scaled back.
The ordeal is not over yet, however. The police are also reportedly conducting further investigations into phone hacking at the News of the World and the Mirror group.
While most people think the investigations have been worthwhile so far, a slightly smaller group (49%) thing they should continue. 36% think the investigations should now be stopped.
Image: Getty