Proposals for a high speed rail link between Manchester and Leeds are opposed by 42-32% – and there is little hope that the North will become an economic powerhouse
George Osborne outlined a proposal to build a high speed rail link between Manchester and Leeds on Monday, to help to create a "northern global powerhouse" to rival London. The idea, dubbed HS3, would be to make travel between the string of Northern cities from Liverpool to Manchester, Leeds and Hull much faster, in order to boost Northern economies and "create the equivalent of travelling around a single global city".
Despite the relatively low cost of the project, and the promise of investment outside of London, a new YouGov survey uncovers scant support for the idea, and scepticism towards the North becoming an economic force like London.
HS3 is opposed by 42-32%. In contrast, the controversial HS2 rail link, to run between London and Birmingham and then on to Manchester and Leeds, was opposed by 48-30% when YouGov last asked people in April. The opposition to the two projects is surprisingly similar, despite the fact that HS2 was quoted to respondents as costing £50bn while HS3 is quoted as costing around £7bn.
There is slightly more optimism in HS3 having a positive effect on the North (43%) than there is for HS2 (35%), and fewer people think HS3 will have no effect on the region (39% compared to 46% for HS2).
But considering the importance of the North in driving the industrial revolution, there is little hope that it can regain its standing. By 48-39% the general public say the North could not be an economic force like London. And even in the North itself people are divided 45-43% against its prospects at rivalling the Capital.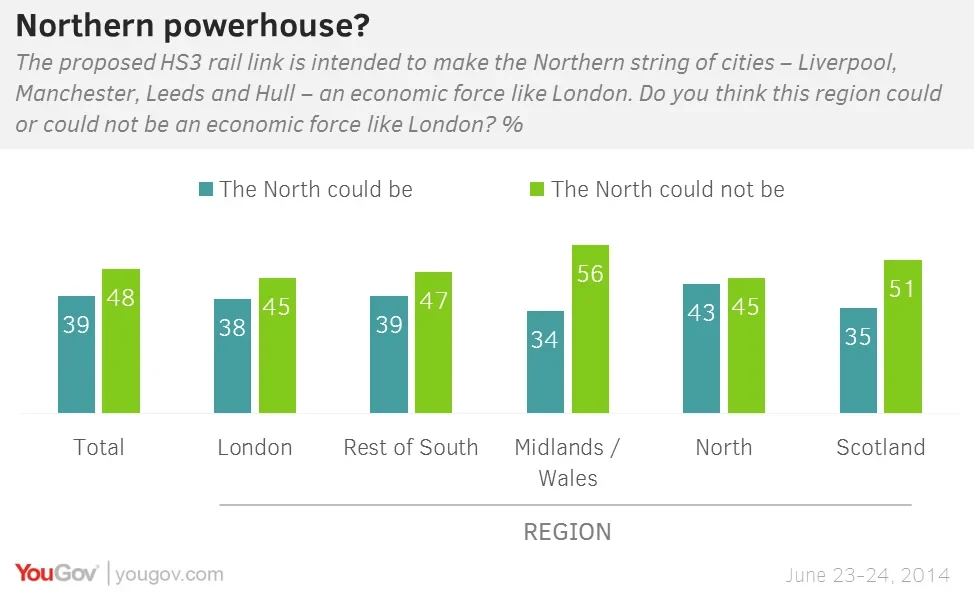 According to official data, the 284 mile journey from London to Paris is quicker to cover than the distance between Liverpool and Hull, which is half as long. The fastest train to travel the 36 miles between Manchester and Leeds takes 49 minutes, while Reading-London (the same distance: 37 miles) takes 28 minutes. HS3 intends to equalise the journey time.
Image: Getty