Wayne Rooney was seen as the worst player in England's match with Italy, but against Uruguay he was seen as the best – and Steve Gerrard the worst
Wayne Rooney has attracted substantial criticism this World Cup, despite setting up England's first goal against Italy and scoring its second, and last, against Uruguay. Commentators claimed his time is nearly up for England; that he is no longer the side's best striker. After such pressure had mounted, Rooney himself even said he didn't take starting for England for granted: "I don't expect to play".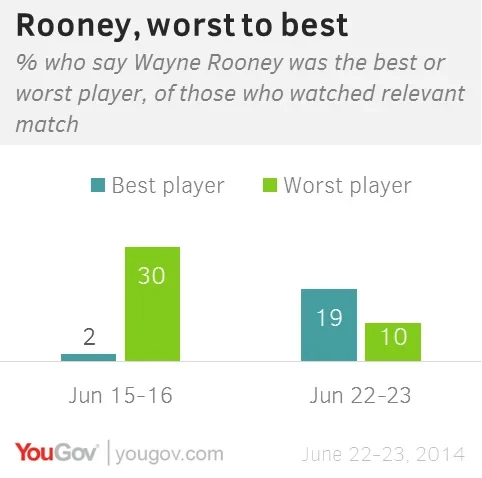 But a new YouGov survey finds that public opinion has shifted dramatically in Rooney's favour between England's first and second defeats.
After the England v Italy match, Wayne Rooney was voted England's worst player by 30%, and was given a performance rating of 5, the worst of all the players and the manager. A mere 2% said he was the team's best player.
After the England v Uruguay match, however, he was voted the best player by 19% (ahead of Daniel Sturridge on 16%), and had the second best performance rating, 5.6 – only slightly behind Sturridge's 5.9.
Steven Gerrard, in contrast, was voted the worst player in England's match against Urguay by 20%, and had the lowest perforance rating of the players: 4.7, a tie with Phil Jagielka.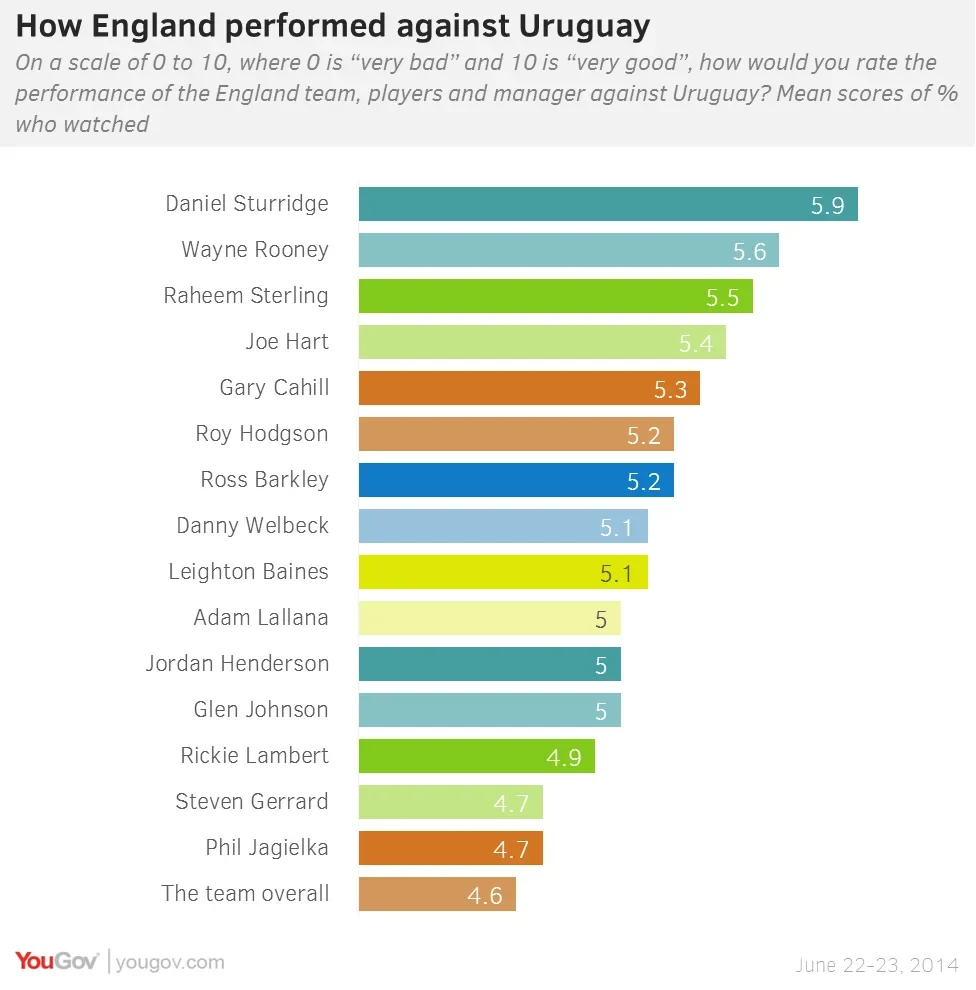 But while Rooney's approval has recovered, England's has not. The side had a performance rating of 6.4 after their first match – after their second it dropped to 4.6, the lowest of all the player's and the manager.
England play Costa Rica tonight at 5pm, after which they will fly home to the UK.
Image: Getty