The overwhelming majority of America's lesbian, gay, bisexual and transgender adults (90%) believe that same sex couples should be allowed to marry, and 45% of those who have not yet married, would like to get married at some point in their lives.
The numbers are much higher for the younger (18-34), Millennial generation, with 65% of lesbian, gay and bisexual Millennials wanting to marry compared to 68% of younger heterosexuals.
Fewer than half (45%) of heterosexual adults believe that gay and lesbian couples should be allowed to marry in the US, compared with double the proportion of LGBT people (90%). 93% of LGBT Americans believe that same sex couples should be allowed to parent and raise children; only 49% of heterosexuals agree.
Far more heterosexuals (62%) already have children compared to 35% of LGBT people, but similar numbers of younger people in both groups would like to have children in the future. 43% of LGBT Millennials who do not currently have children would like to have them one day, compared to 40% of younger heterosexuals.
Lesbian, gay and bisexual relationships seem to be nearly as long-lived as heterosexual relationships. 79% of heterosexual people in relationships have been in them for more than 5 years compared to 76% of LGBT relationships.
I currently have no children but would like to have some in the future.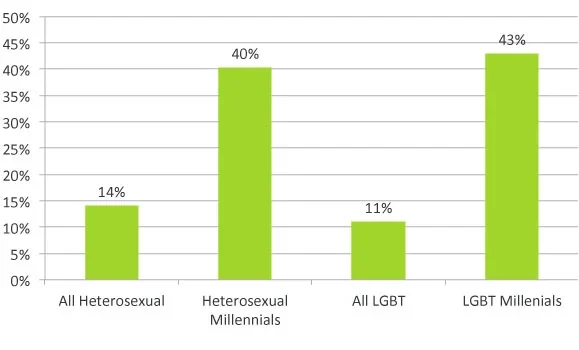 Myth Busters
While it may be dubious as to where some myths about lesbian and gay people come from, there seems to be more than a grain of truth to some of the stereotypes about the LGBT community.
Gay men are gym rats: Lesbians played softball as children
Lesbian women were indeed more likely to play softball as children – 52% compared to 22% of heterosexual women. They were also more likely to have played basketball (43% compared with 15% of heterosexual women). Gay men were more likely to have participated in swimming and diving (28%) than the heterosexual men (26%). Gay men are also more likely to be gym rats (24% compared to 18%).
Men change tires: Lesbians unfazed by flat packs
Tire changing seems to be strongly the domain of men. Three quarters (75%) of heterosexual men can change a tire, compared to 30% of heterosexual women, 74% of gay men and 61% of lesbian women.
77% of lesbian women are confident of their abilities with IKEA furniture and an Allen key, compared to 48% of heterosexual women and 58% of heterosexual men. Gay men are pretty handy too with 72% claiming competence with a flat pack. Lesbian women's DIY confidence extends to unblocking drains 87%, compared to 78% of heterosexual men, and putting up shelves (81% compared to 78%).
Thinking about DIY which of the following tasks can you do?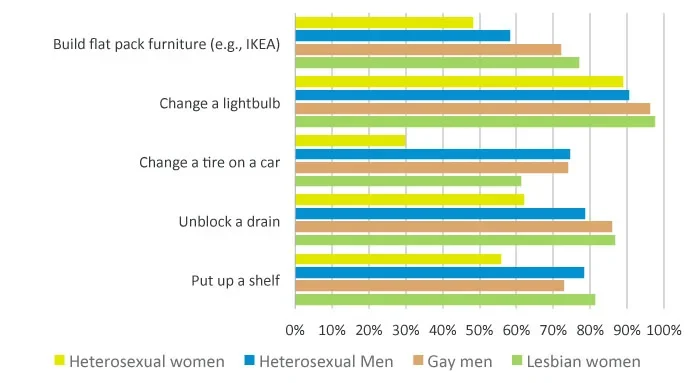 In the Media
We asked both groups how well the media portrays "..people like you - people you identify with in terms of age, sex, race, sexual orientation etc."
Three quarters (73%) of the LGBT community feels under-represented. The feeling is clearly not unique, as the most of the heterosexual community also feels under-represented, with 62% failing to identify themselves with the people they see and hear in the media.
A large majority of LGBT responders feel that there are far too many attractive (72%), rich (66%) people in the media. Skinny (42%). white (43%), young (38%) people were also frequently felt to be over-represented. Numbers who felt there were too many beautiful people were similar for both lesbian women (77%) and gay men (70%).
Although around half of heterosexuals think there are too many attractive (56%), rich (49%) people in the media, there was also a much broader range of categories where a significant number of heterosexual responders felt there was over-representation. 40% of American heterosexuals feel that gay men are overly represented in the media and 34% feel there are too many lesbian women. One quarter of heterosexual adults (25%) think that there are too many black people in the media, while around one in five thought there were too many white (20%) and too many Hispanic (18%) people.
Only 10% of the LGBT community thought there were too many gay men in the media.
Which segments of society do you feel are overly represented in the media?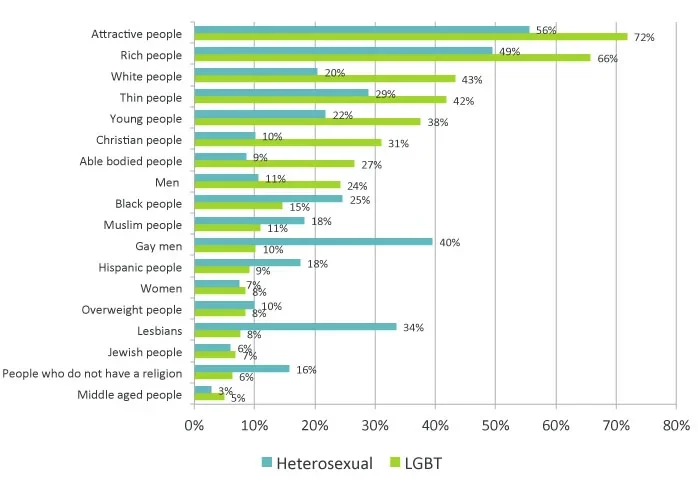 For further information about poll results, and for details about methodology and omnibus services, please email omnibus.us@yougov.com.
Find the full results here.
Image courtesy of Getty