A new YouGov children and parents Omnibus survey reveals that while adults are pessimistic after years of tournament disappointment, children are relatively optimistic about England's chances in the Brazil World Cup.
In the 8-17 age group, over a third (36%) believe England will progress to the quarter finals or further. But the older the participants are, the less optimistic they are about England's chances in the world cup. 45% of children who think England will win are 8-10 year olds, compared to only 1% being 16 year olds.
The poll found that 5% of children think that England will win, and 22% think that England will get knocked out at the second round. A plurality (38%) think Brazil will win the tournament. This compares with our pre-tournament survey which revealed that just 1% of British adults said they had a very good chance of winning.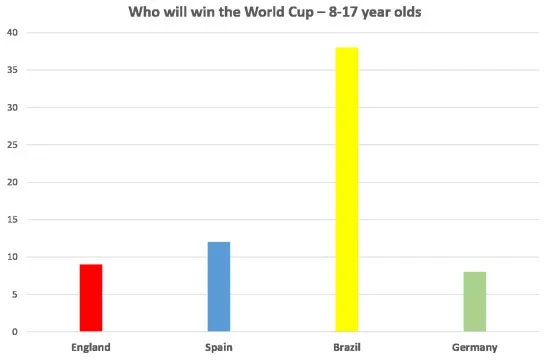 During the World Cup, one would think the British children would all come together and support England solely. But the survey found that only 67% of age 8-17 year olds supported England while one in five 21% don't think they will support any teams at all and 15% plan to support the Seleção (Brazil).
Stephanie Frost, Senior Researcg Executive, Omnibus, said, 'It is great that the younger generation has not suffered the disappointment of past England defeats and are still positive about their chances, how long this outlook lasts may well depend on performances this time around!'
Image: Thinkstock
Go to Children and Parents Omnibus