Following a 2-1 defeat against Italy doubt is building over England getting out of the group stage – but Raheem Sterling wins the public vote for England man of the match
The general consensus in football punditry is that while England's defeat was no doubt disappointing, the team were at least exciting, and the defeat was by no means crushing. The team may have to win both of their next two matches to get out of the group stage, but many see Roy Hodgson's effort as offering promise for the side.
A new YouGov survey asks viewers of the match to score the players, the team overall and their manager out of 10, where 0 is very bad and 10 is very good.
Raheem Sterling clearly wins the public vote for England man of the match. He has the highest mean performance rating (7.5, ahead of Daniel Sturridge's 7.3 and a point clear of Danny Welbeck's 6.5 for third place), and is voted as the best player by 52% – ahead of Sturridge on 16%.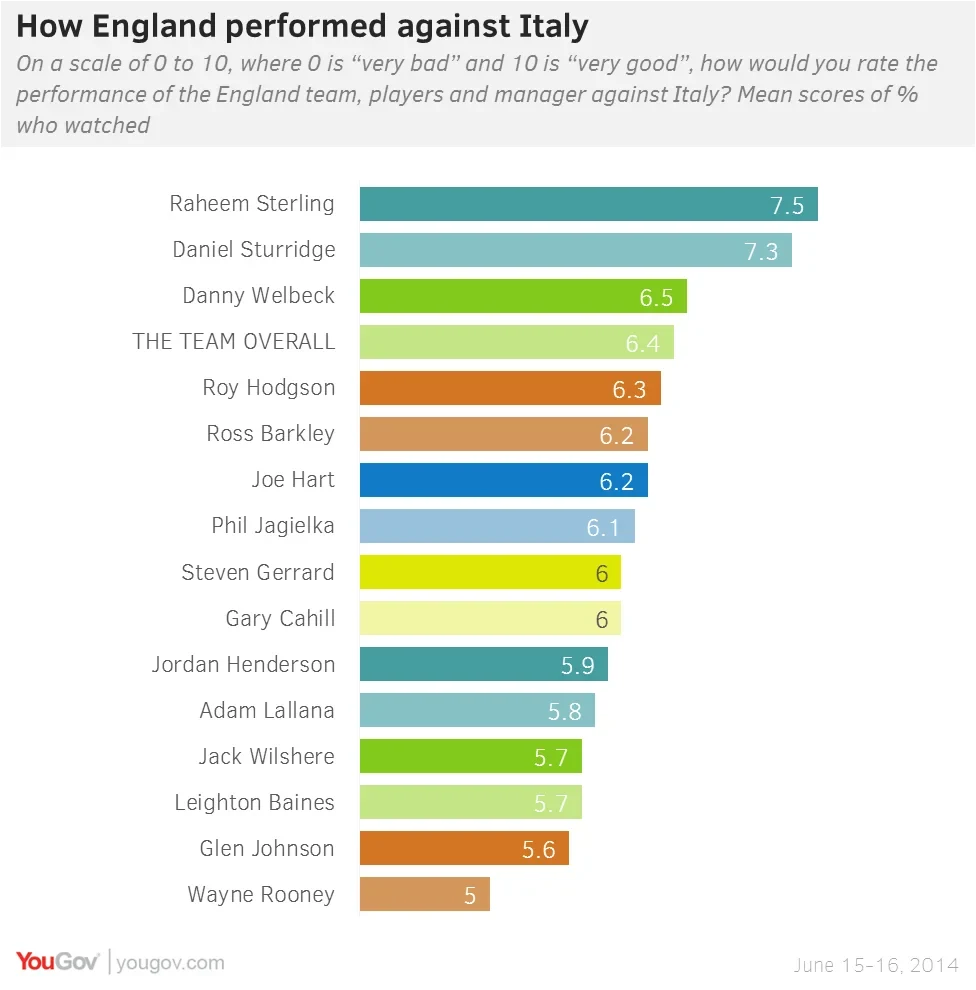 Overall, the England side have a mean rating of 6.4, while Roy Hodgeson just about matches the players on 6.3.
Wayne Rooney accepted his place was not guaranteed on Sunday. Despite setting up Sturridge's equaliser, he has the worst performance rating, at 5, and is voted England's worst player against Italy by 30% – well ahead of Glen Johnson and Leighton Baines who are tied for joint second on 9%. Football fans are tied 43-43% on whether he should start against Uruguay on Thursday.
But despite media enthusiasm for the England team, the loss on Saturday has shaken public confidence. While a day ahead of the match only 21% thought England would be eliminated in the group stage, that figure has jumped 15 points to 36%. 34% before and 31% after the game thought England would get to the second round, while the proportion hopeful for an entry into the quarter finals has dropped from 20% to 13%.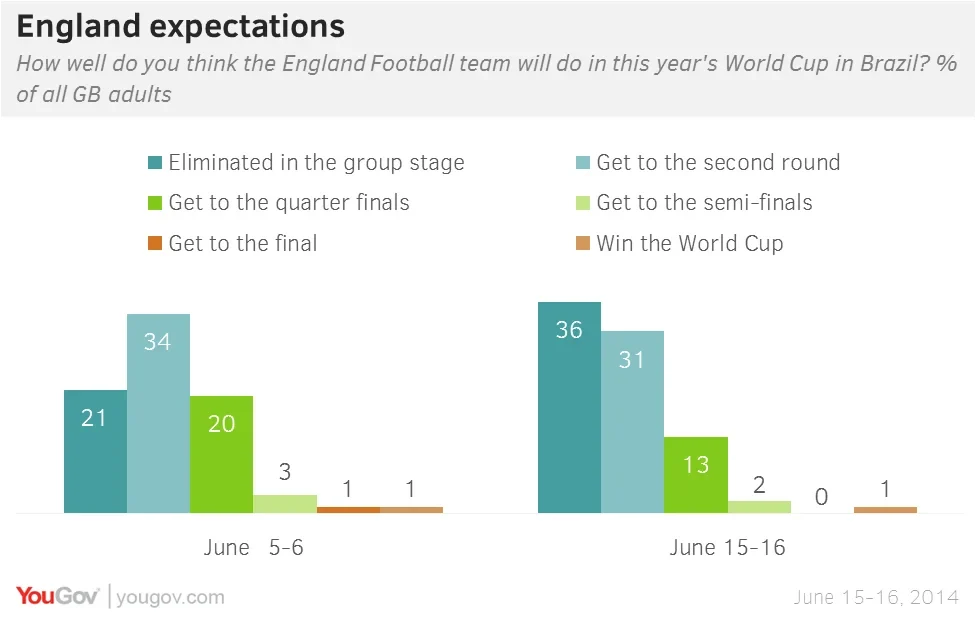 43% of viewers say Italy were the better side on Saturday and the final score was about right, while 38% say England were the better side and deserved at least a draw.
The TV audience for England's opening game on Saturday peaked at 15.6m, compared to a 20.1m peak for their first match against the USA in 2010. That game started at 19.30, however, compared to a 23.00 kick off this year. England play Uruguay at 20.00 this Thursday.