In the latest YouGov voting intention poll, only 6% of voters say they are voting for the Liberal Democrats, the party's worst showing since YouGov began polling on voting intention in 2001
Two weeks ago Nick Clegg's approval rating were found to have fallen to a new low, with only 13% of voters giving the Liberal Democrat leader and deputy prime minister positive marks.
YouGov's latest voting intention survey for The Sun brings another grim milestone for the Lib Dems: their support has fallen to 6%, the lowest ever found in a YouGov survey. By implication, if the election had been held at the time the poll was conducted (June 10th-11th), the Lib Dems would receive barely a quarter of the votes they received in the 2010 general election (23%).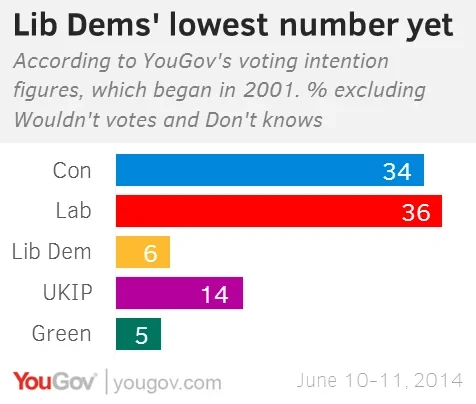 The survey also finds the Green Party just one point behind the Lib Dems. With 14%, UKIP more than double the Lib Dems' support.
Of course, the significance of the finding is mainly symbolic, at least for the time being. YouGov has recorded the Lib Dems at 7% many times, and support generally varies from day to day (they were at 8% in the previous day's poll).
However, the new low in voting intentions comes at a particularly difficult time for the Liberal Democrats. With only a year before the general election, the coalition party have come in fifth place in the European Parliament elections, behind Labour, the Conservatives, UKIP and the Greens. More recently, the Liberal Democrats also had to defend a sixth-place showing in the Newark by-election (there was an independent candidate standing), in which the party's support collapsed 17 points from 2010.
Image: Getty
See the latest Sun voting intention results
See historical voting intention results here, here and here.