With less than 100 days to go until the Scottish independence referendum, most people – including Scots – expect the Union to stay together
There are 98 days to go until the Scottish independence referendum, on Thursday 18th September 2014, and in the latest development Harry Potter author JK Rowling has today donated £1m to the pro-Union Better Together campaign. Gordon Brown also suggested a more positive approach to the 'No' campaign's 'patronising' financial arguments this week, arguing instead that the campaign should focus on the shared benefits of the UK.
A new YouGov survey finds that 63% of British people think the most likely outcome of the referendum is that Scotland will remain a part of the UK, compared to 19% who expect Scotland to become independent and 18% who have no opinion.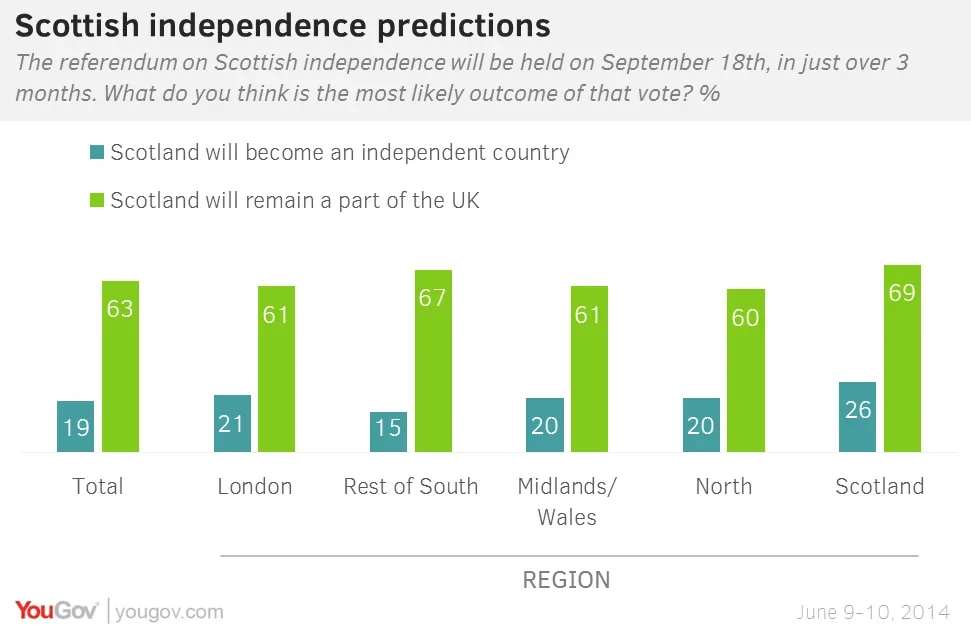 Scottish people themselves also expect the 'No' vote to succeed, with 69% expecting the Union to stay together and 26% expecting it to split. While elsewhere in England people are less likely to predict independence, they are also more likely to be unsure.
Gordon Brown caused controversy earlier in the week when he said "I think it would be a good idea if David Cameron did debate Alex Salmond" at a Westminster lunch. The Prime Minister's official spokesman, however, said: "The Better Together campaign have said that what should come about is Alex Salmond accepting Alistair Darling's invitation to debate, and that's very much the PM's view too." The last time YouGov asked Scottish people if Scotland should be an independent country, in April 2014, 37% said yes and 51% said no.
Image: Getty