Back in 2010, four times as many people as today thought England had a chance of winning the World Cup
At the end of 2009, Paddy Power's odds for England to win the 2010 World Cup were 11/2. Selected to an easy group, containing Algeria, Slovenia and the USA, an optimism surrounded the team: "Fans genuinely believe England have a chance with Fabio in charge", said the bookie.
But this year England's odds are 28/1, and a new YouGov survey finds that pessimism has slashed the degree of hope for the England side.
While in 2010 35% thought England had a very or fairly good chance of winning and 48% thought they had little or no chance, now British people are pessimistic by 72-8%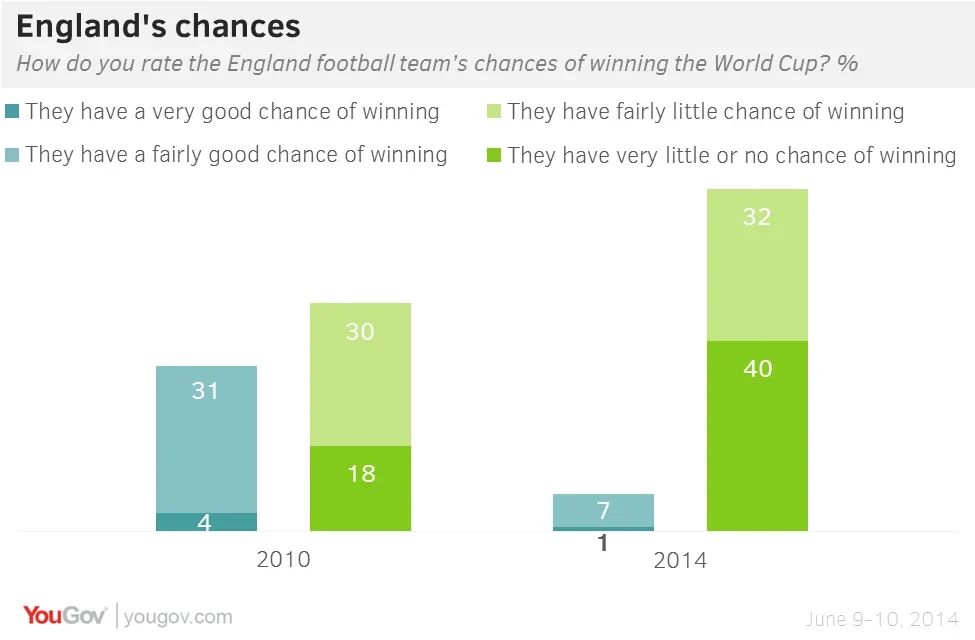 Although there were as many moderate pessimists (who say England have fairly little chance) then (30%) as now (32%), twice as many (40%) now say the team have very little or no chance of winning as did in 2010 (18%).
The survey also finds that overall interest in the competition has dropped slightly. In 2010 people tended to be interested in the World Cup by 54-46%; now, however, they tend not to be interested by 53-47%.
As teams from the US, Spain and Argentina flew into Brazil on Monday, its most populous city – Sau Paulo – saw protests, fires and teargas as subway workers went on strike. The strike has now been suspended, but the unions will later vote to decide whether it will resume on Thursday, as the tournament's first match is played in the city.
Image: Getty